Serious Games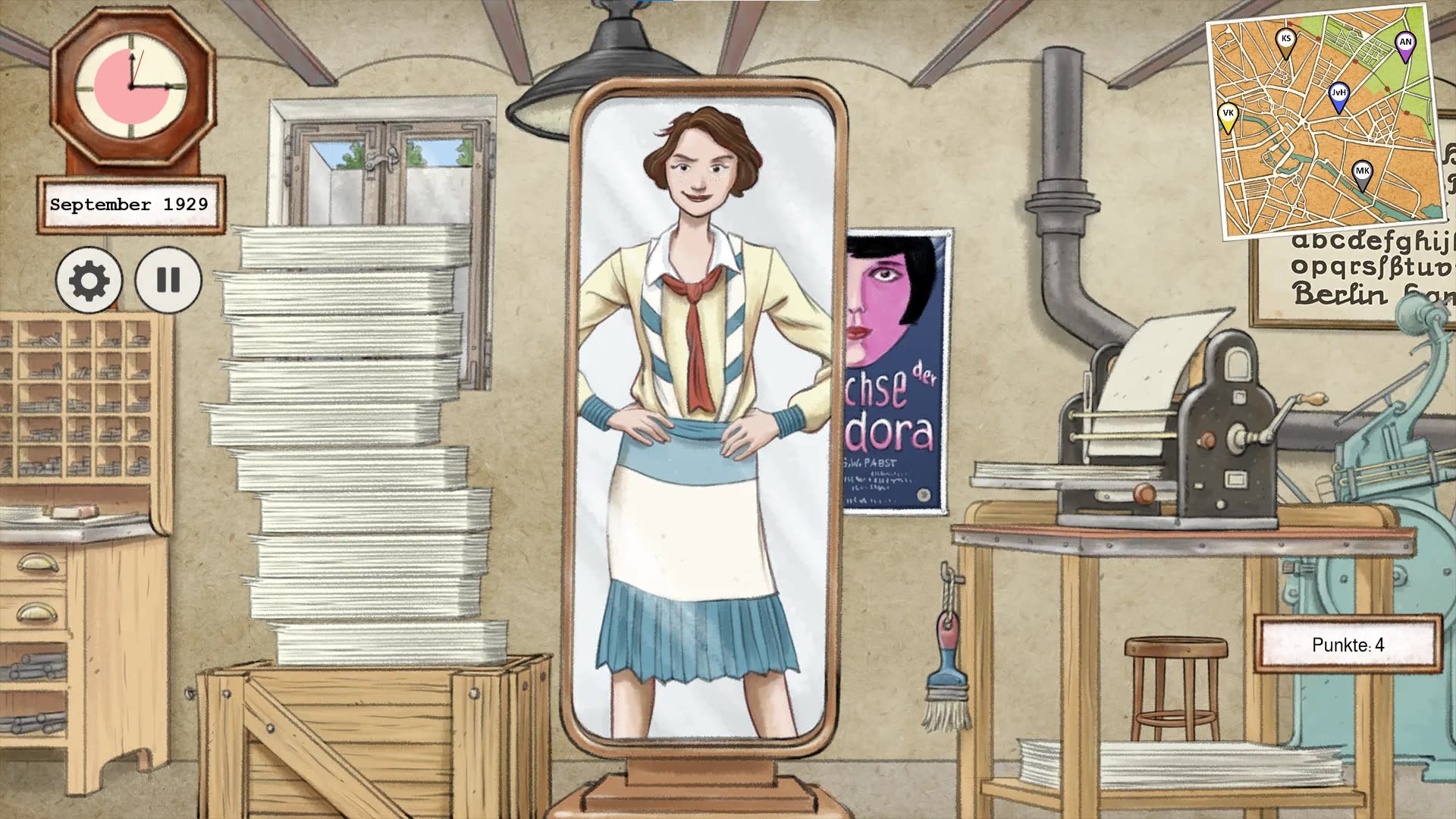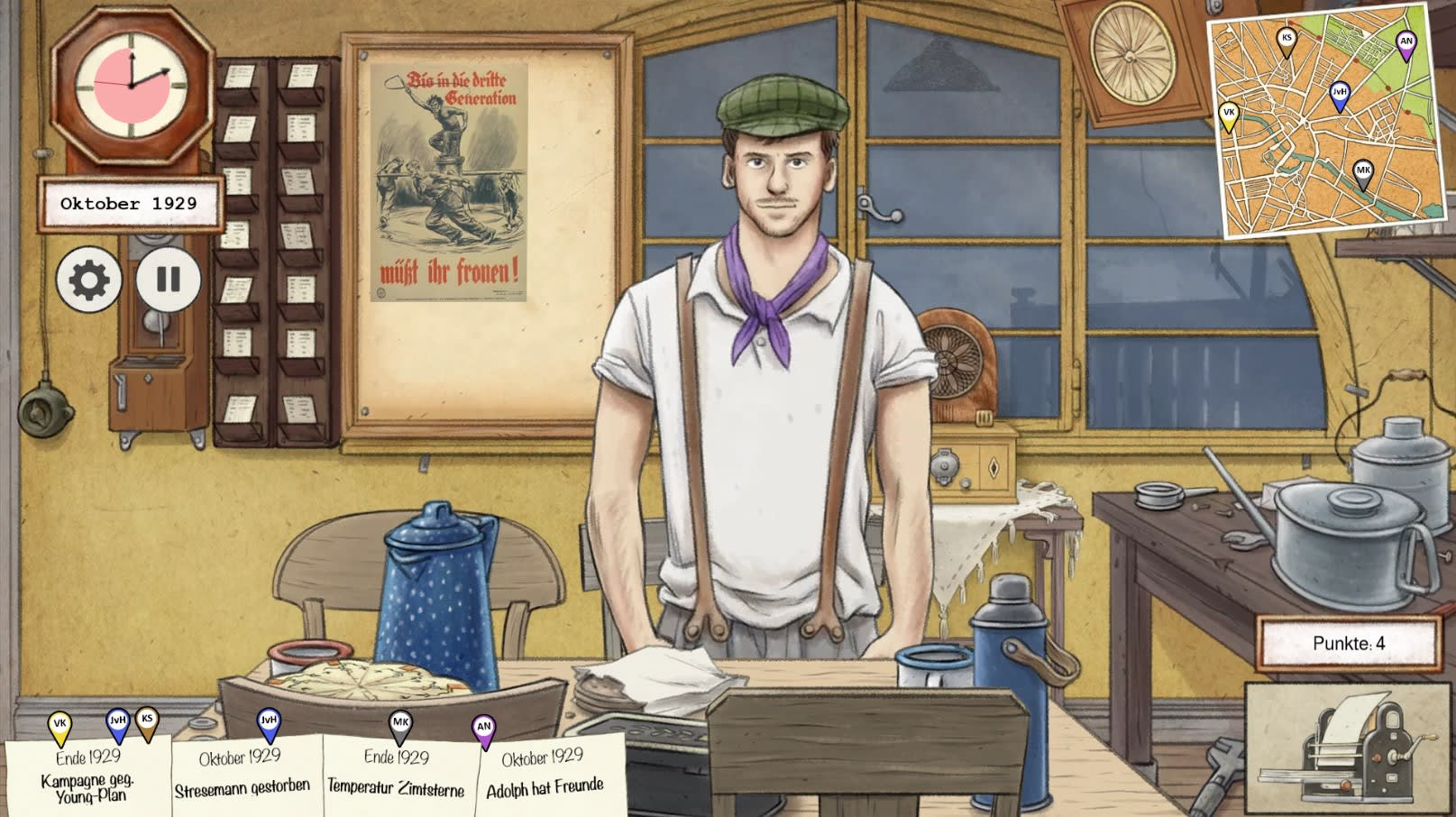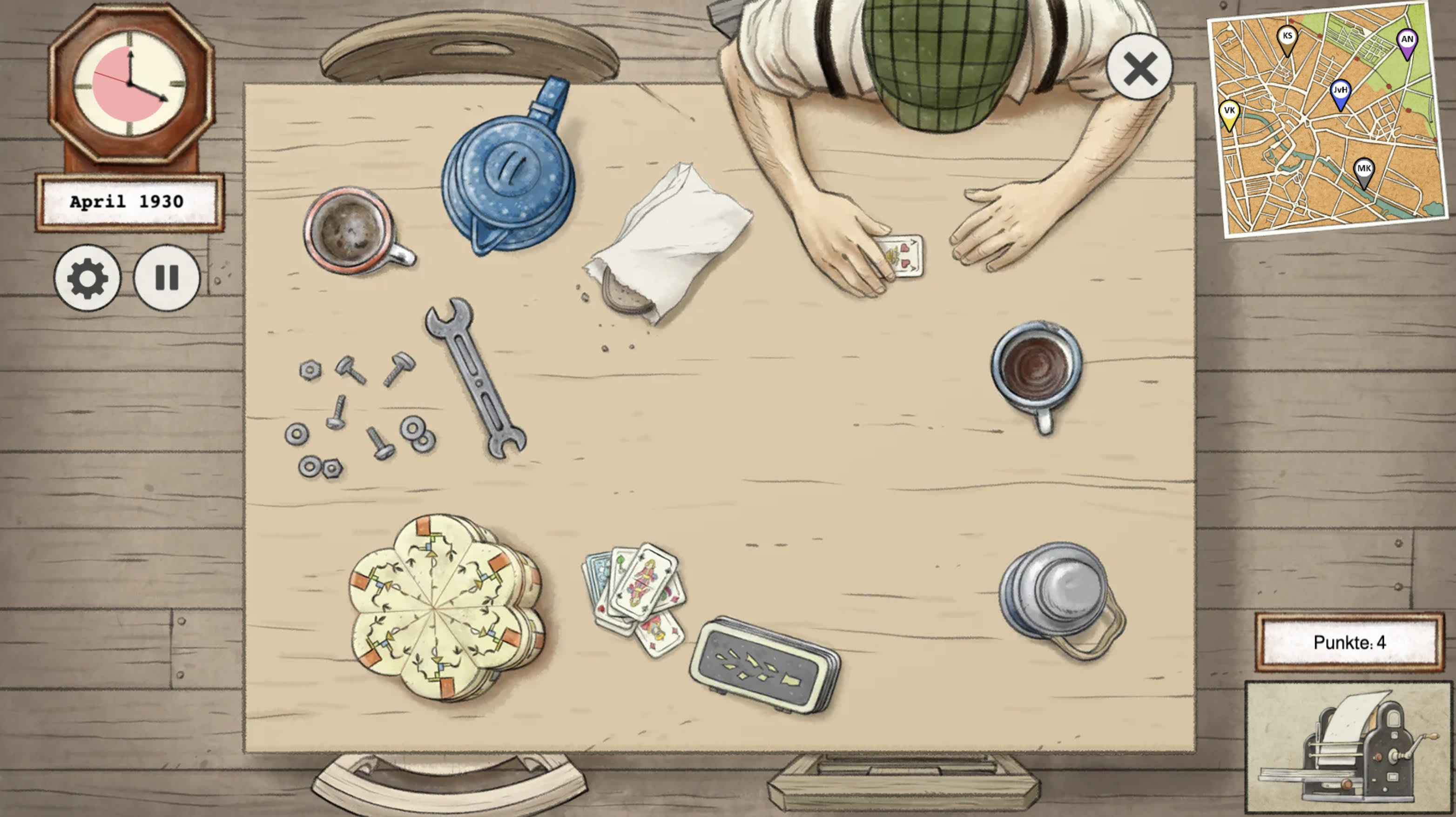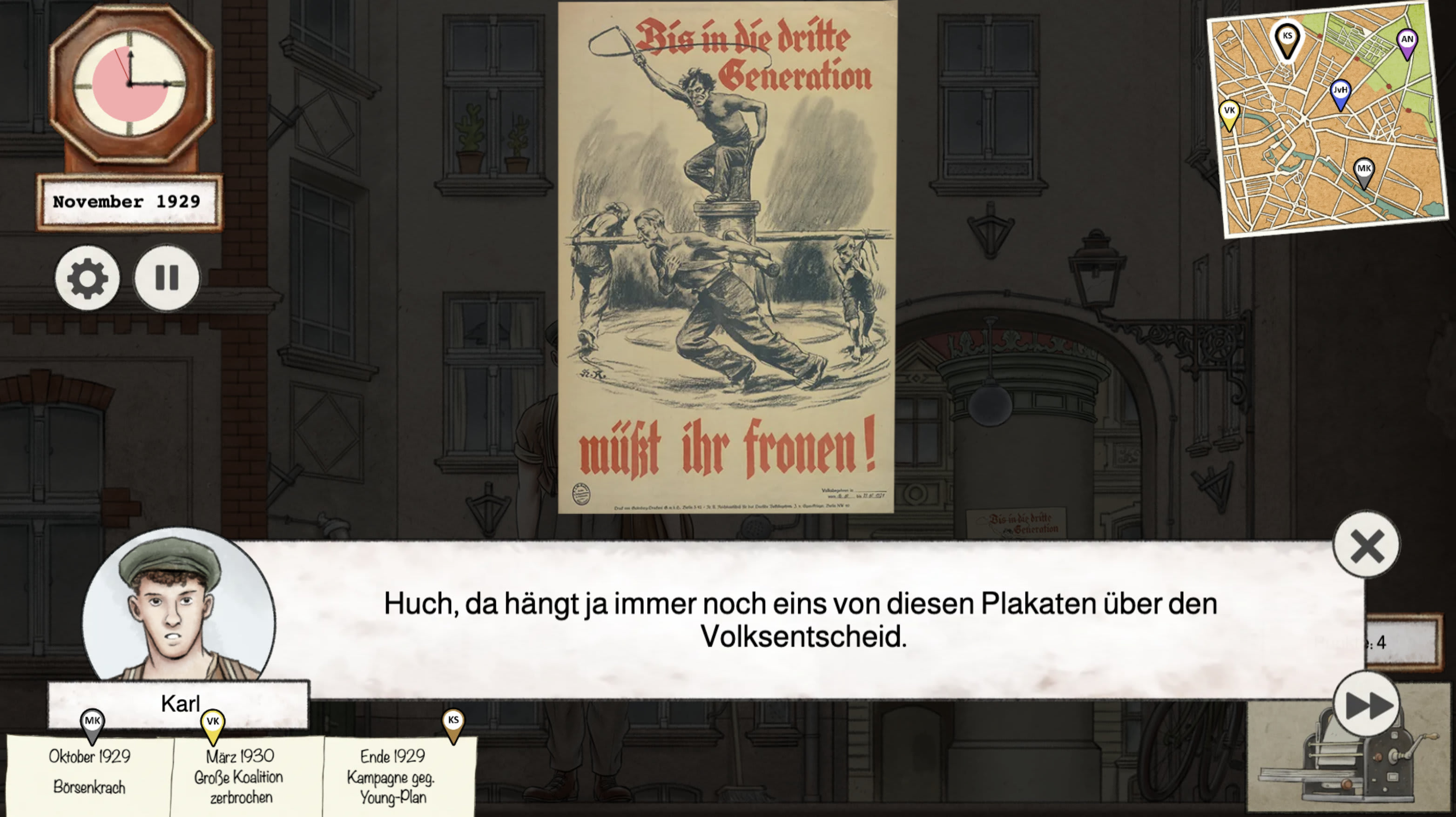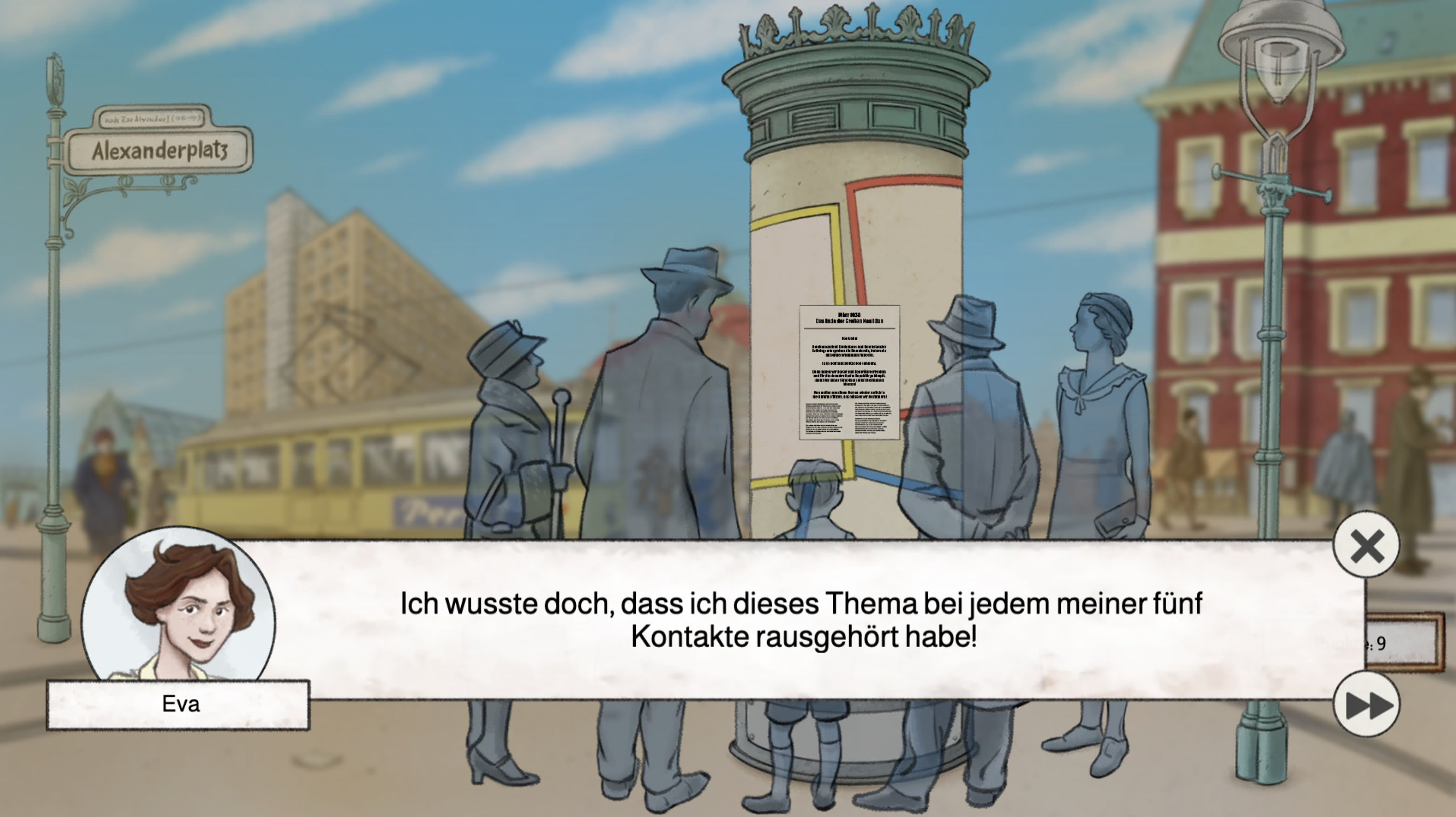 Mission 1929
Freiheit unter Druck
The year is 1929, and the Weimar Republic celebrates its 10th birthday in August. As a young Berlin journalist, you have spent the last few years enjoying the prosperous life. But something is bothering you: The young democracy around you seems to crumble and you ask yourself: Where is the resistance? Why do people stand idly by while their republic and their freedom are attacked? Therefore, you set yourself a goal: you will shake people up, warn them about the growing dangers to democracy! Go to the people and find out what is going wrong. Print leaflets that strike a nerve with the people! You have to warn as many as possible about the impending doom while you still can...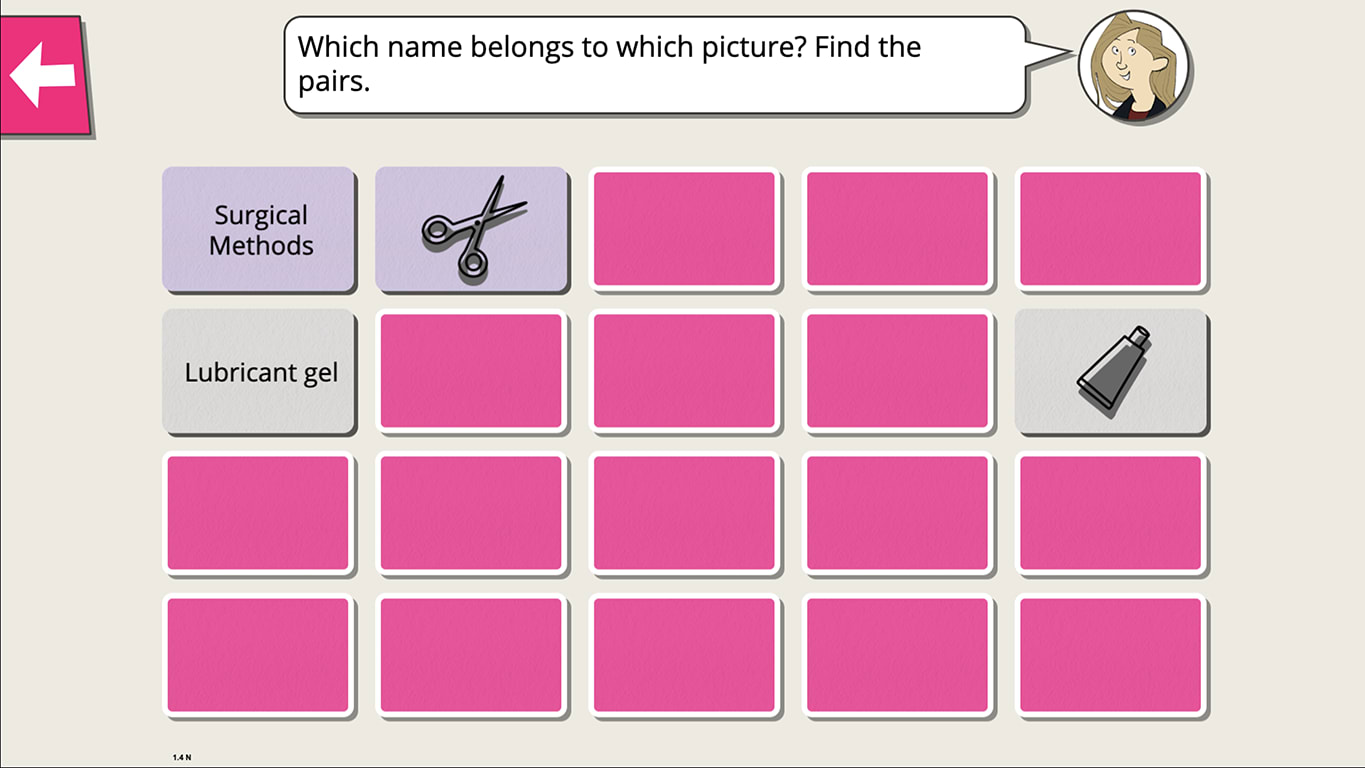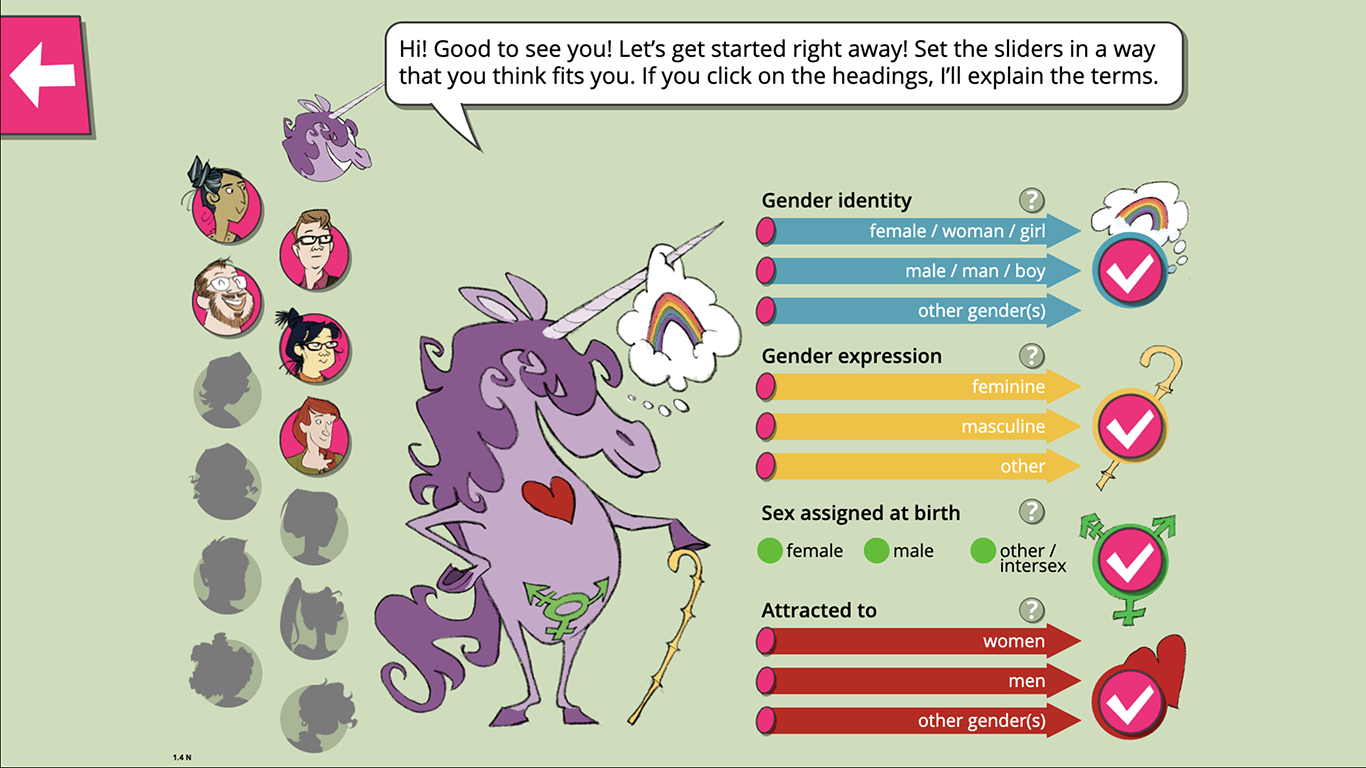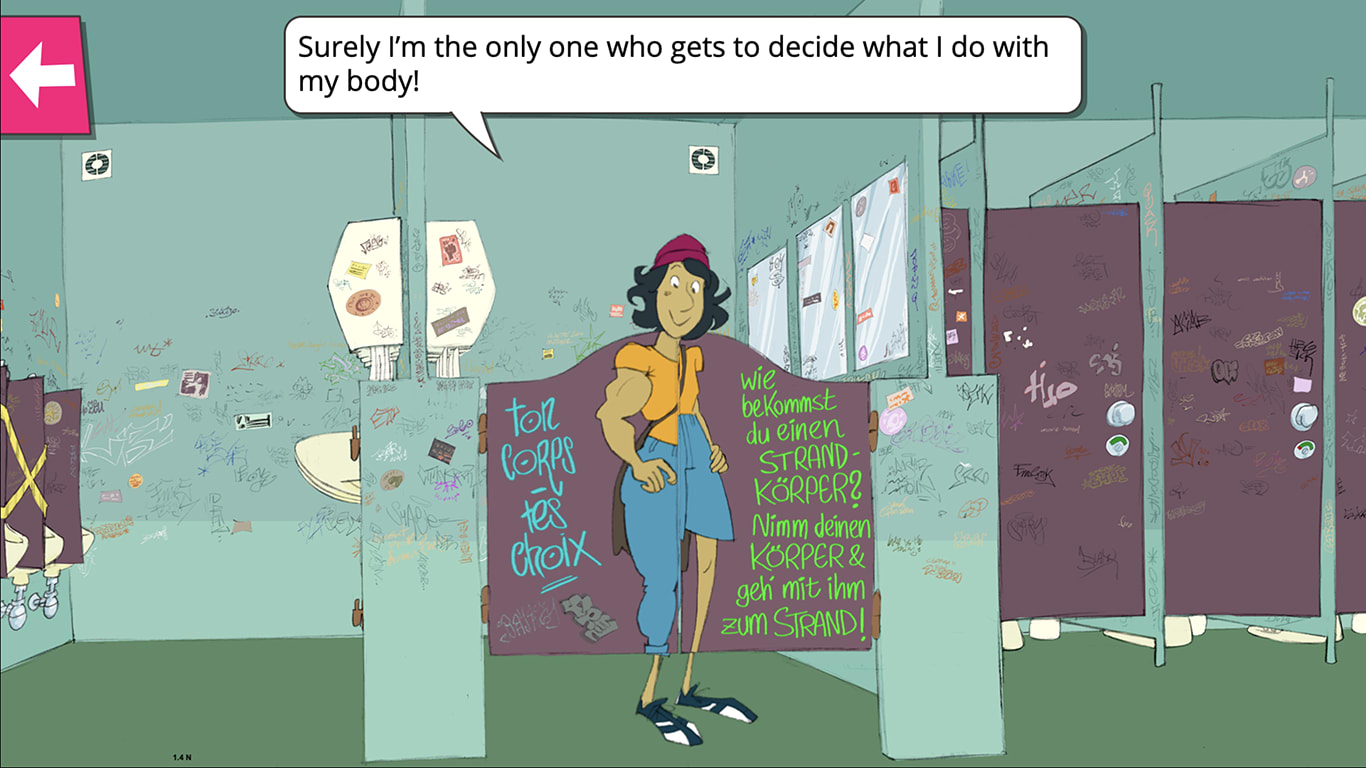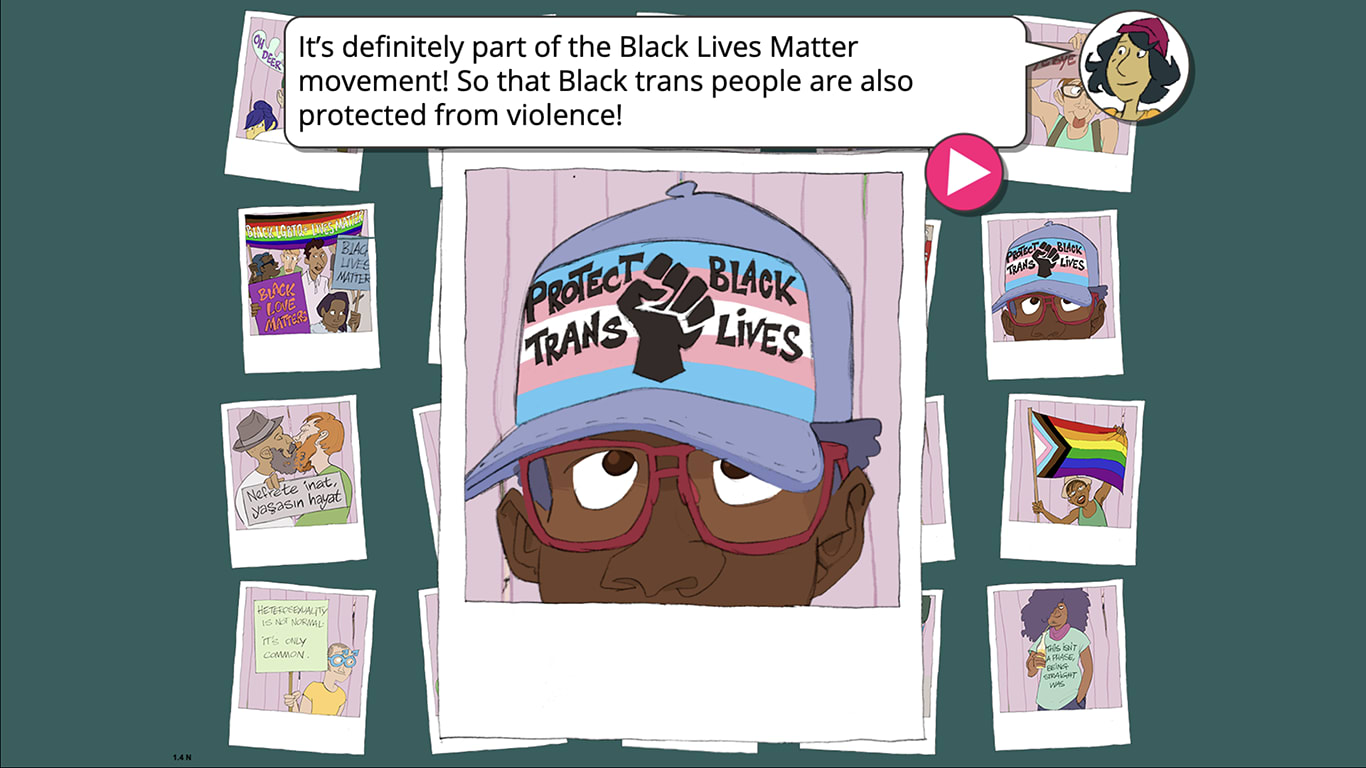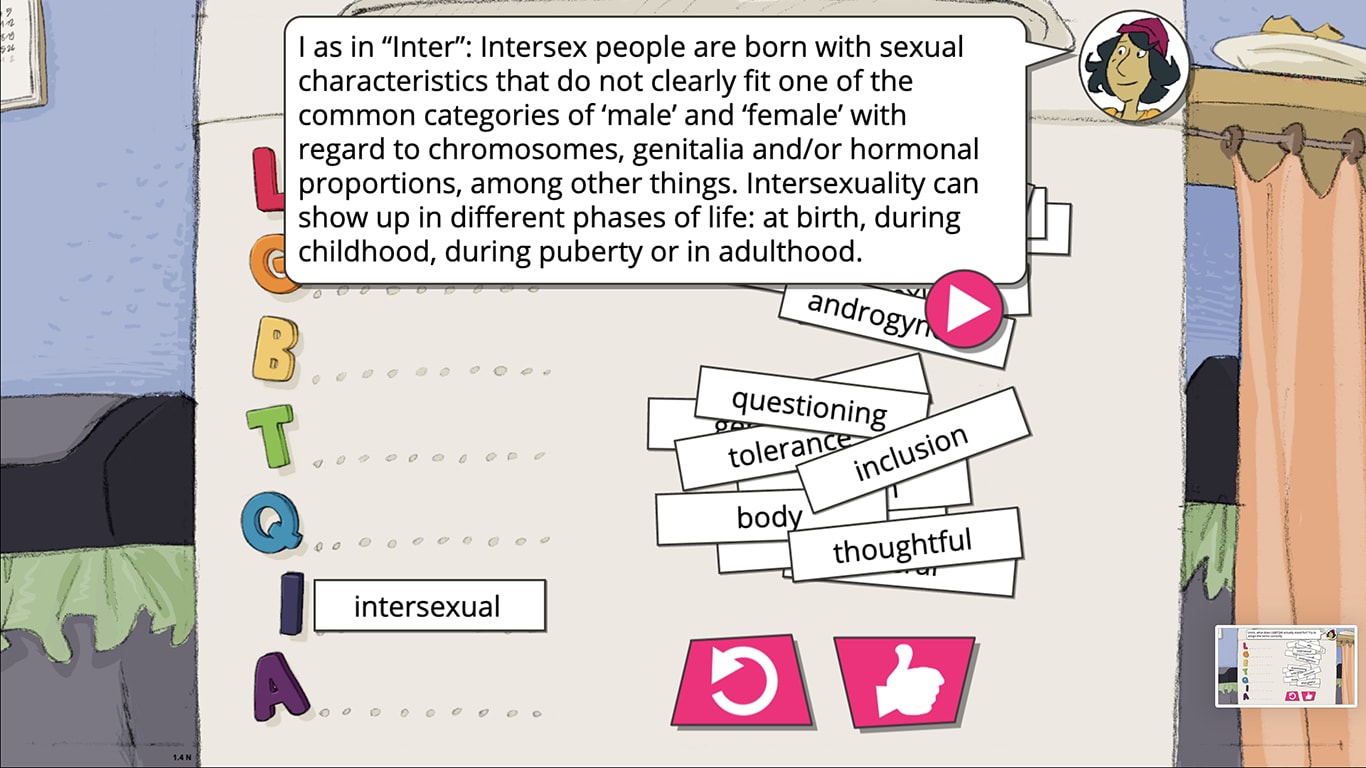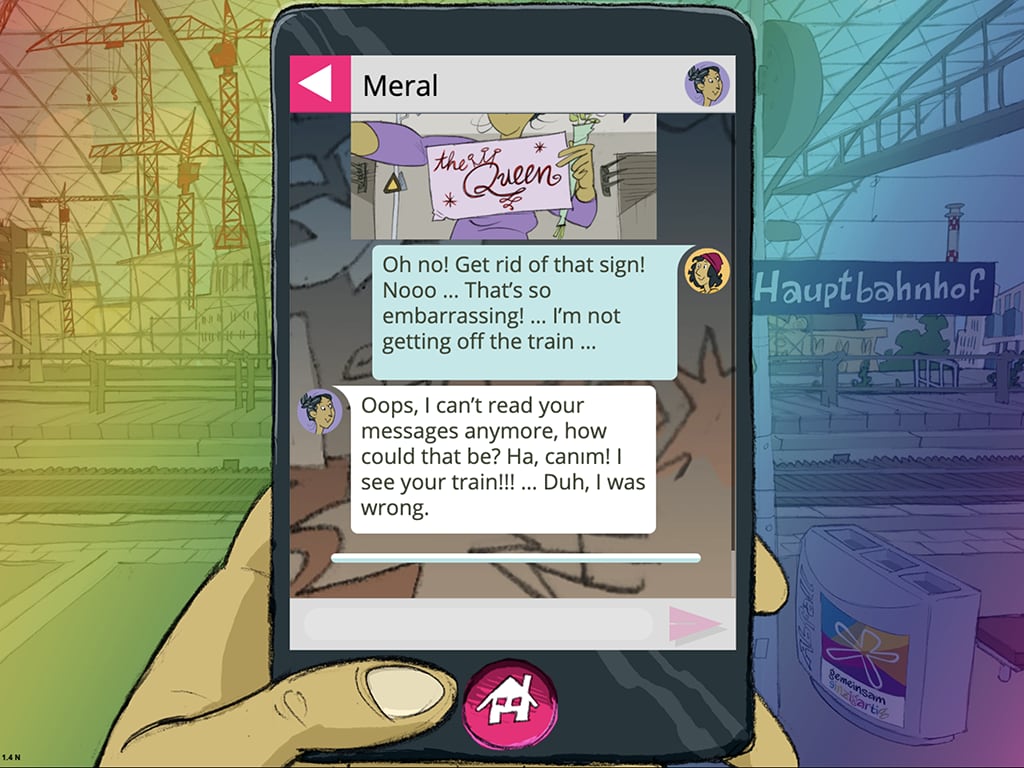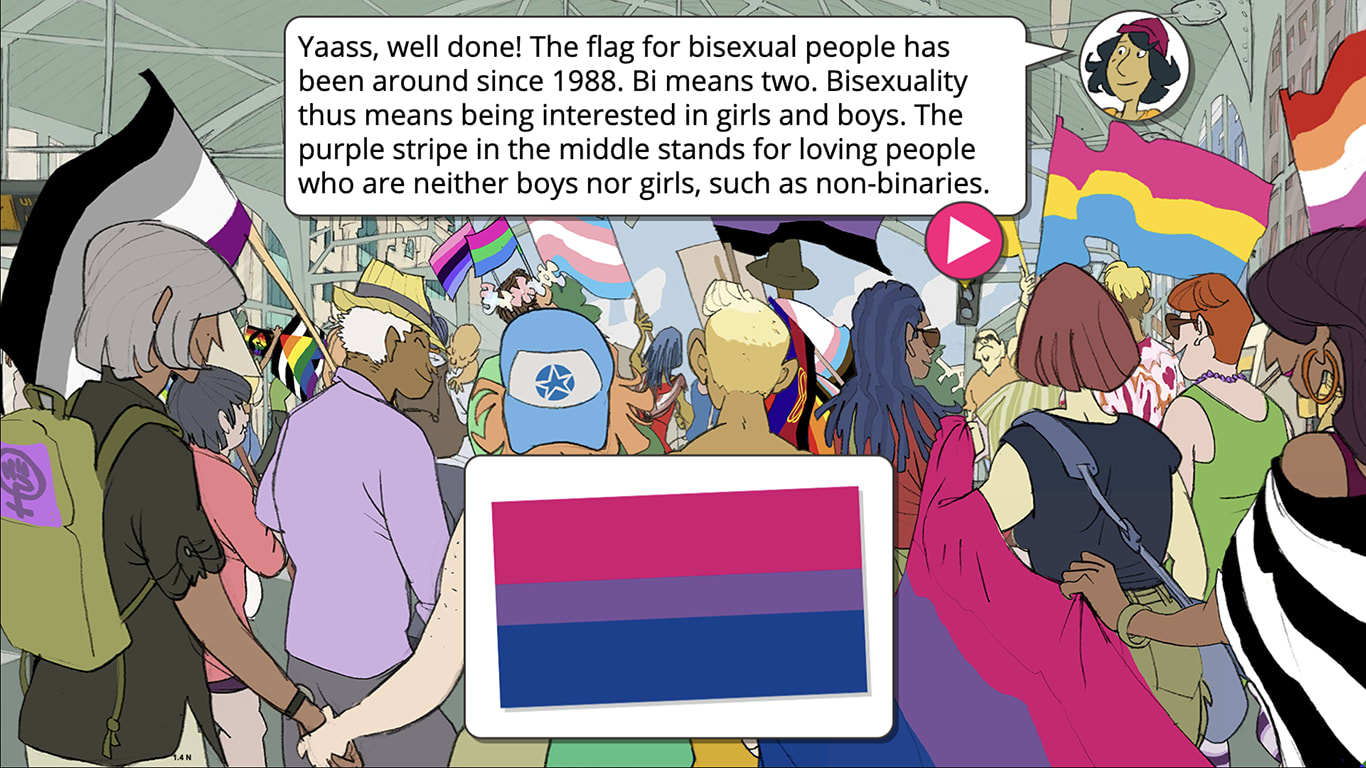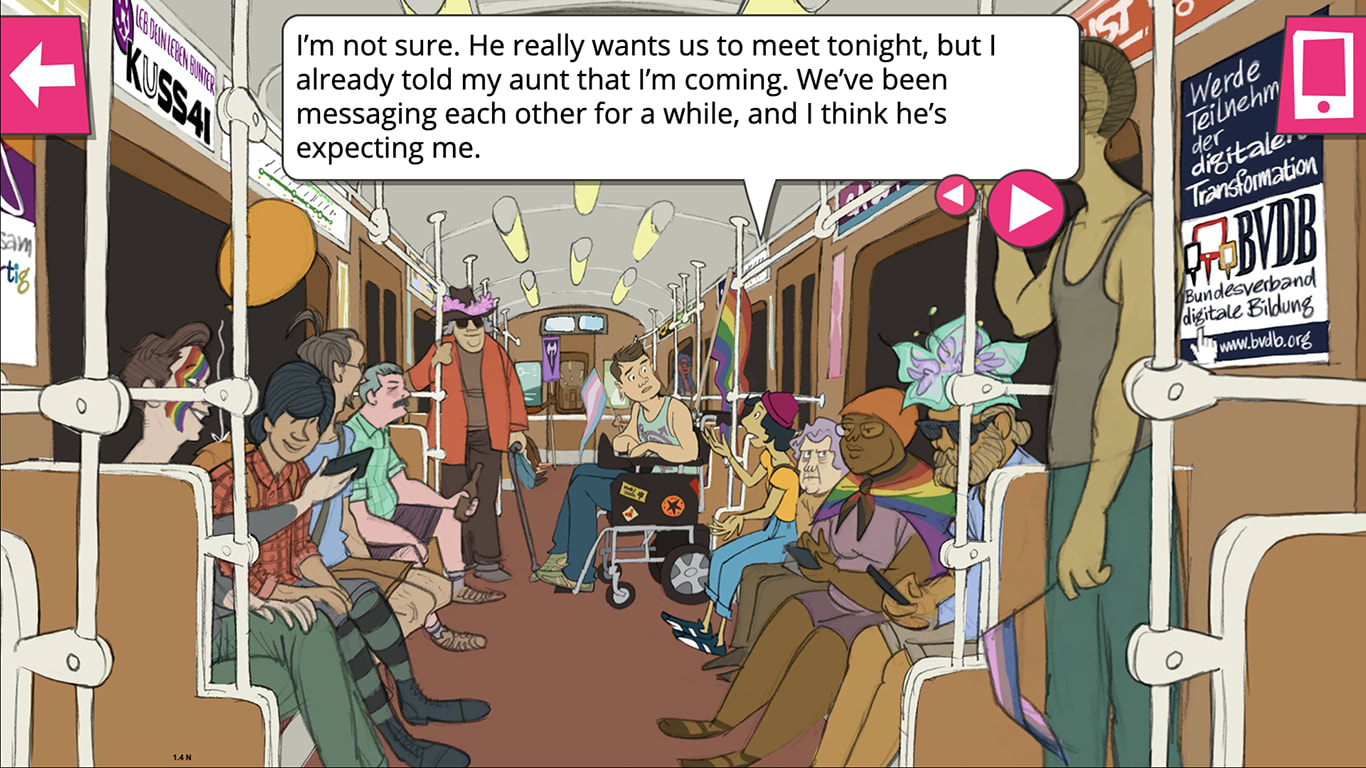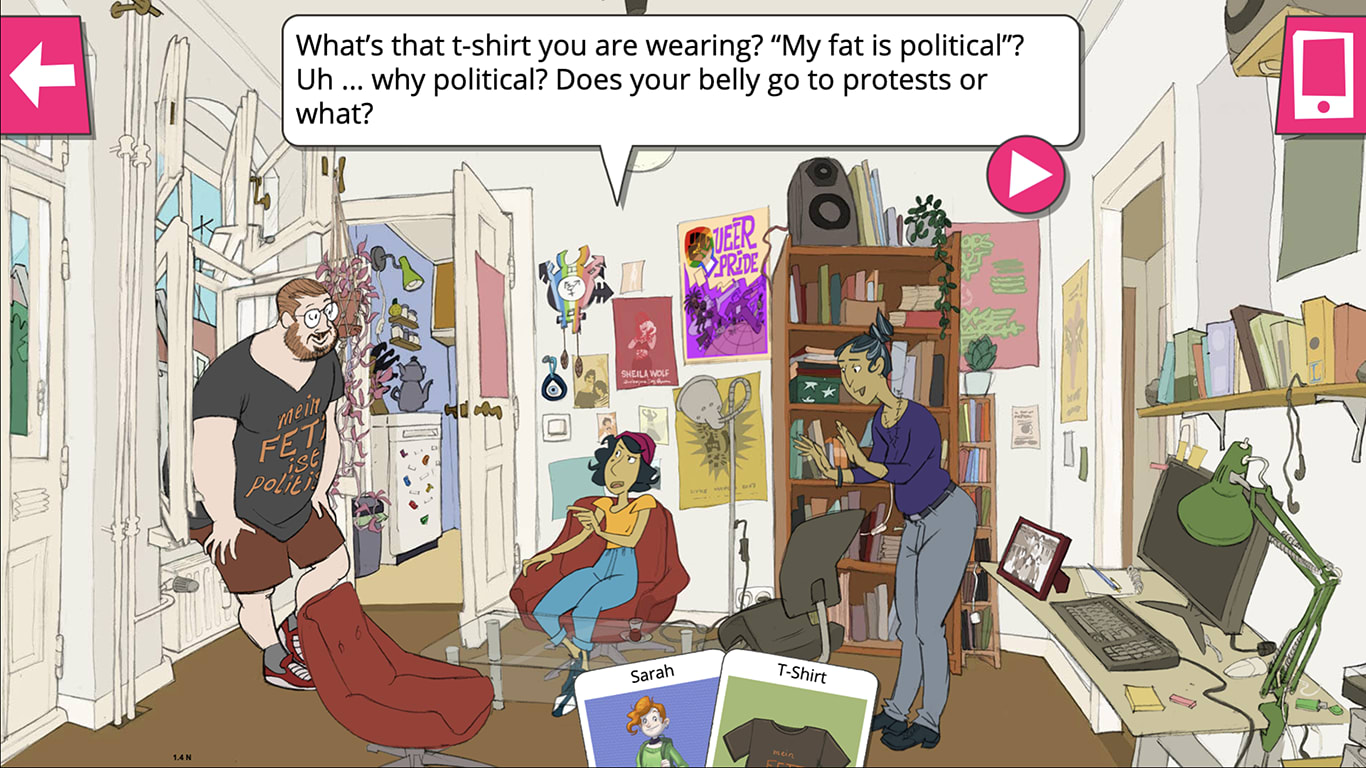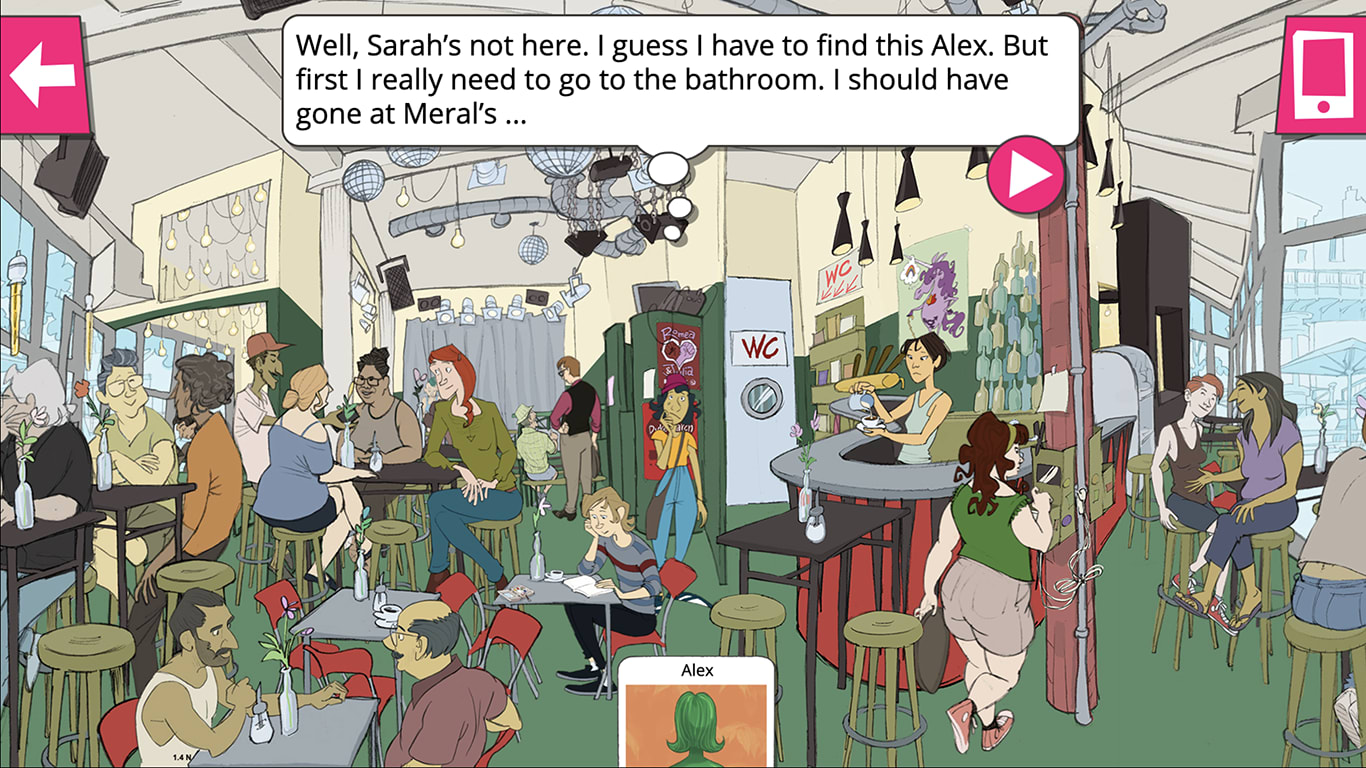 Sibel's Journey
Approaching the subject of sexuality and gender in early adolescence can be scary, overwhelming, and often shameful. As a countermeasure, Sibel's Journey taps into the potential of mobile games as a proven method for self-learning. The players interactively explore the content without having to ask an adult. As players' engagement with the game increases, their motivation and ability to remember the learning material improves. The game follows 13-year-old Sibel, who meets interesting people during an exciting weekend in Berlin. She gets to know their different ways of living and loving, then finally discovers the secret of her best friend Sarah. Adopting an intersectional approach, Sibel's Journey provides young people with sound knowledge and a positive attitude about topics such as anatomy, body image, communication, contraception, gender identity, and healthy relationships.
rewired!
rewired is an asymmetric cooperative VR escape learning game in which at least two players have to repair the electrical systems of a space station to prevent a crash. Game players must work together to learn fundamentals of electrical engineering and demonstrate their knowledge in an action-oriented manner. Properties of electric current can be explored in a safe virtual 3D environment.
Sphery Racer
[ExerCube]
The Sphery Racer is controlled with holistic functional training movements with scalable intensity (moderate to HIIT). Functional training is known for its overall training effects to increase endurance, strength and coordination. The additional cognitive challenge provided to the player through various audio-visual stimuli makes Sphery Racer a holistic body and brain workout. STORY TRAINING PLAN Enter cyberspace as a bit-runner and battle your way through 15 varied training missions. Hack deep into the system core and collect all the data that crosses your path while raising your fitness level to new heights. But beware, a crazy A.I. is rampaging through cyberspace and has it in for you.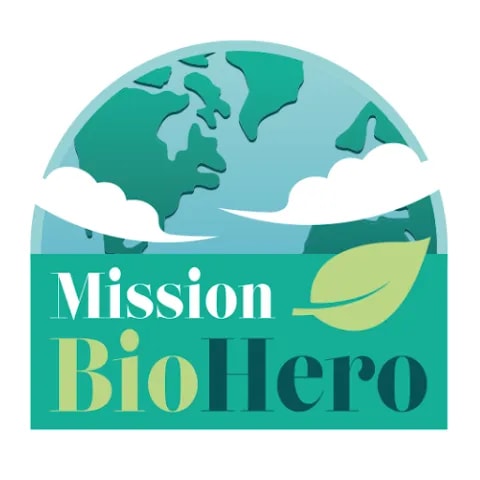 Mission BioHero
The player assumes the role of a divine being sent to Earth to destroy it after it is deemed beyond saving by the elders. The character arrives on Earth and experiences a change of heart. Instead, he decides to help the humans save their planet. Displeased, the elders strip the player of his powers, which he must regain over the course of the game. Both this and helping humanity save the world are the main objectives of the story. The game is divided into campaigns, each of which revolves around a main theme related to sustainability and bioeconomics. Complete these game missions to save the planet!
Die Müll AG (Trashmonsters)
Welcome to the world of the trashmonsters
When it comes to the topic of waste separation, many citizens are able to judge by which types of waste are sorted in their hometown, but when it comes to assigning concrete waste products to the correct bin, most soon reach the limits of their own knowledge. The educational children's game "Die Müll AG", starts where waste separation is to be learned for the first time, in primary school. With its well-thought-out concept and lovingly elaborated story, it appeals to waste sorters of all ages, to whom it introduces correct waste separation as well as the wider world of waste management through its playful approach. The app is packaged as an interactive adventure game, on whose adventure journey the players get to know the charismatic trashmonsters, with whom they overcome all hurdles together.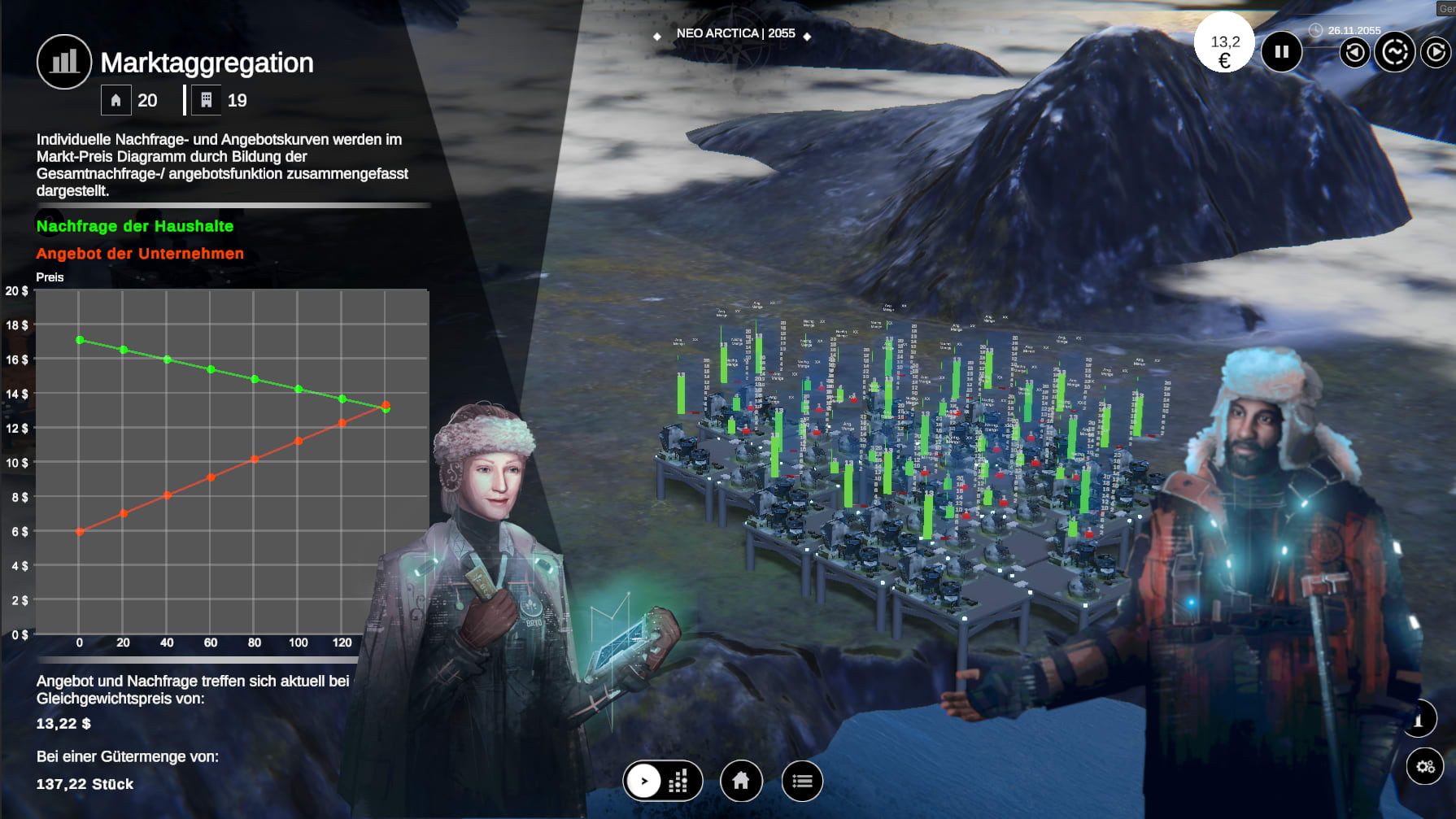 Arctic Economy (Prototype)
Arctic Economy is comparable to a construction strategy game in the entertainment sector. The game starts with a trailer depicting a dystopian scenario with floods and refugee disasters due to rising sea levels. The player is now faced with the challenge of building an efficient economy, starting with no refugee camp, in Antarctica, which is now arable due to ice melt. He must place households, businesses and other buildings in such a way that a goal-oriented market equilibrium is achieved. In the process, three different characters explain more about market processes and the wider story context to him. In the course of the game, quests (tasks) have to be completed and questions about the contents conveyed have to be answered. The goal is to build an economy in which as many refugee households as possible can be accommodated and supplied. The project is currently in prototype status.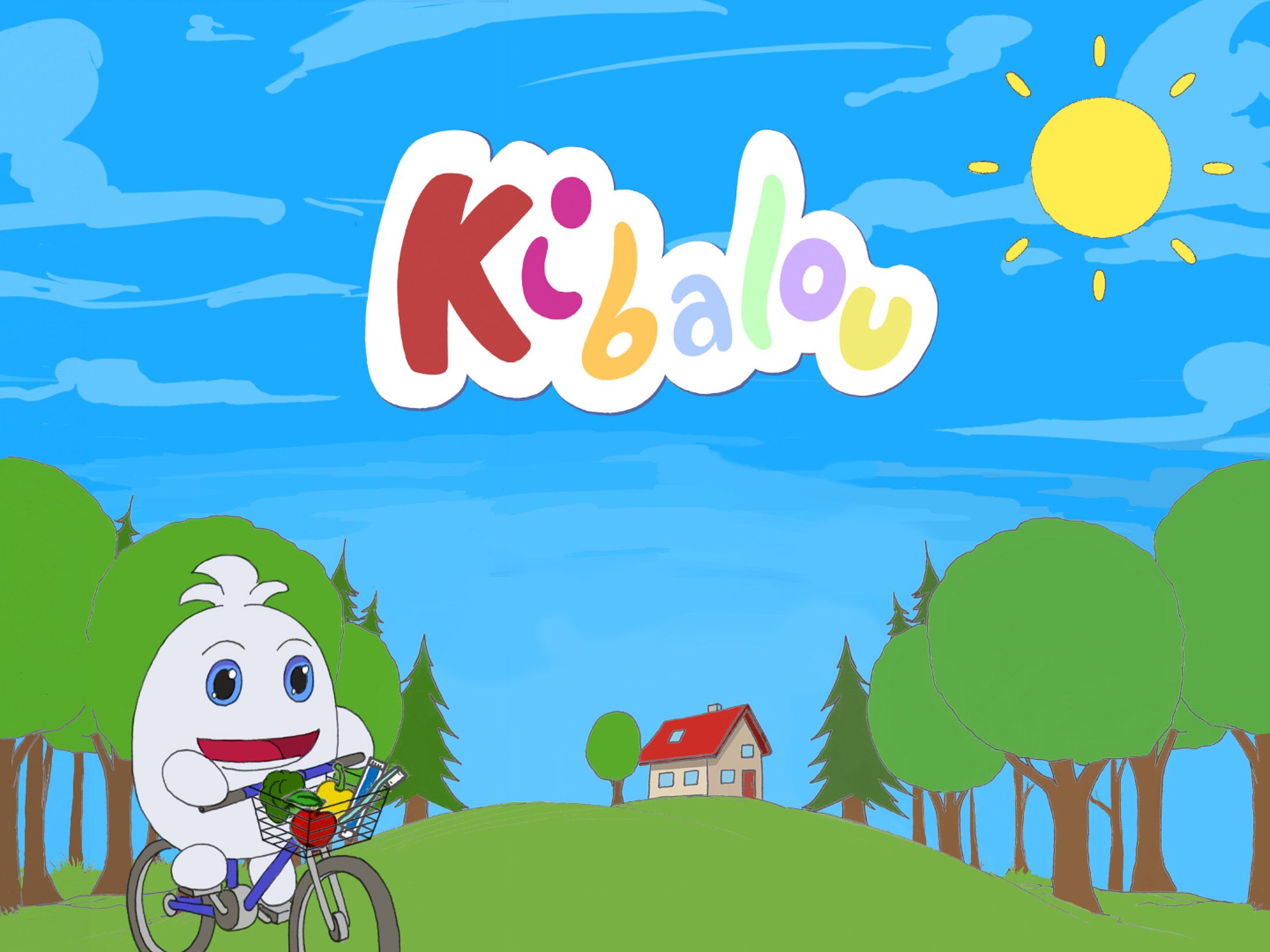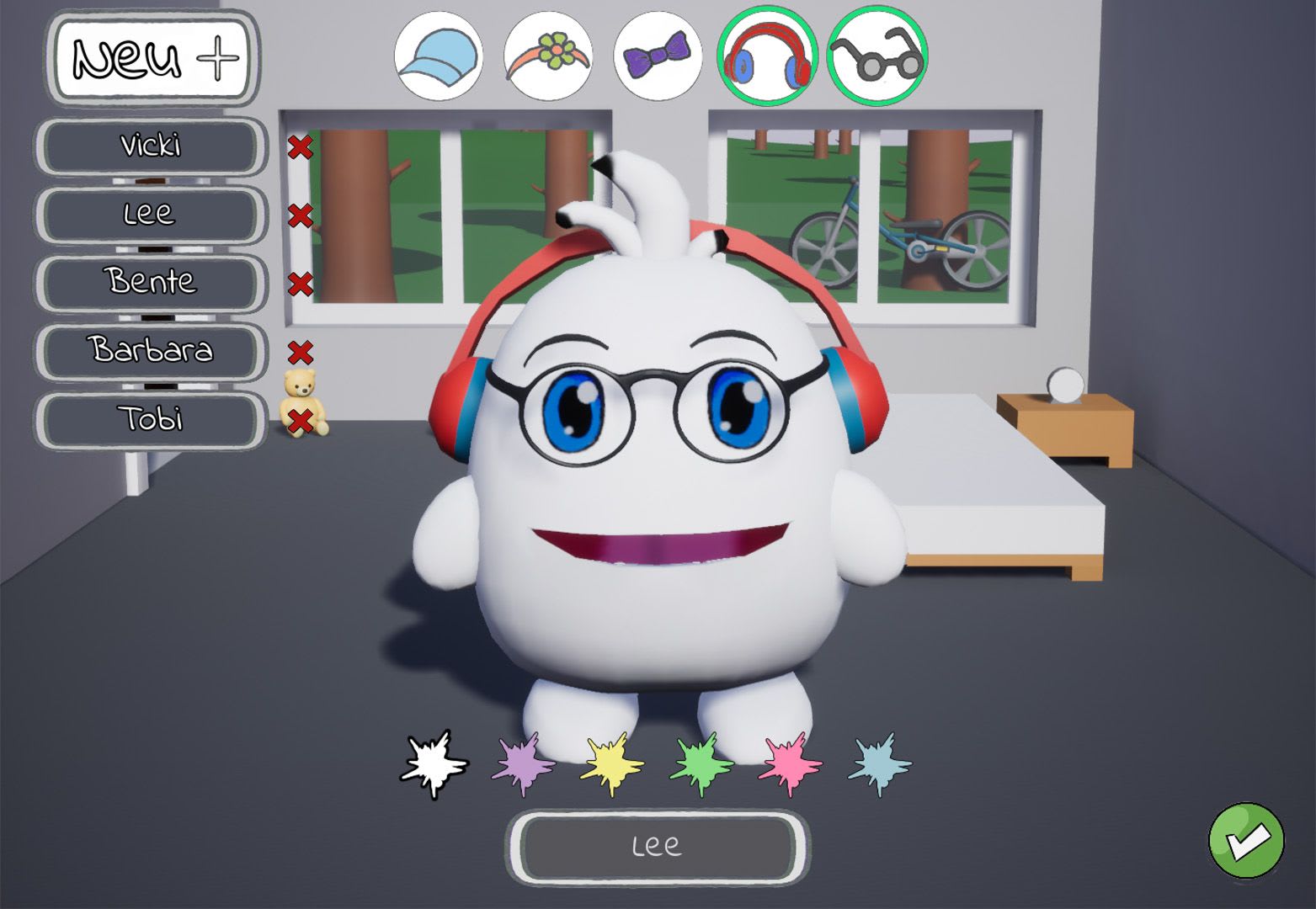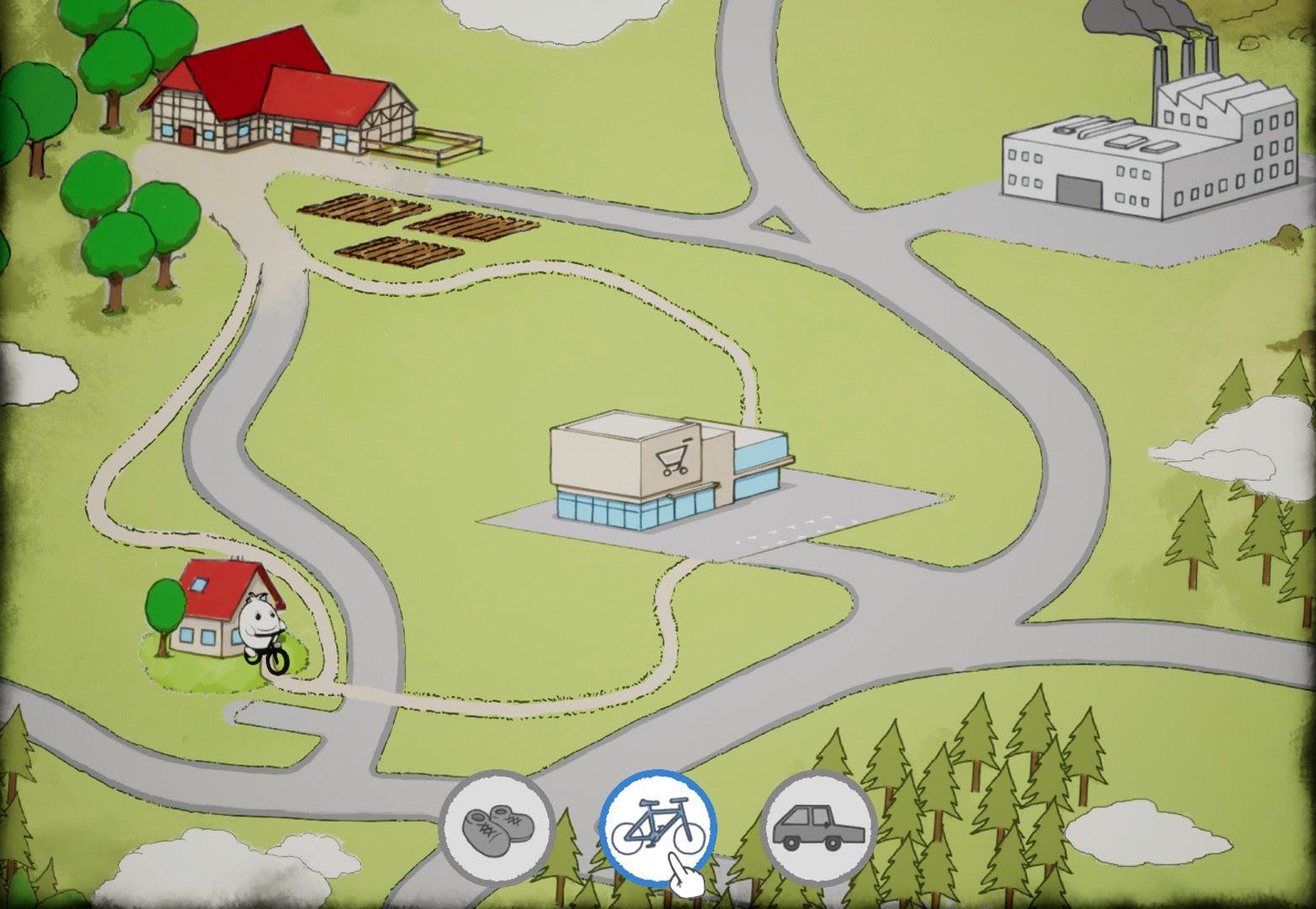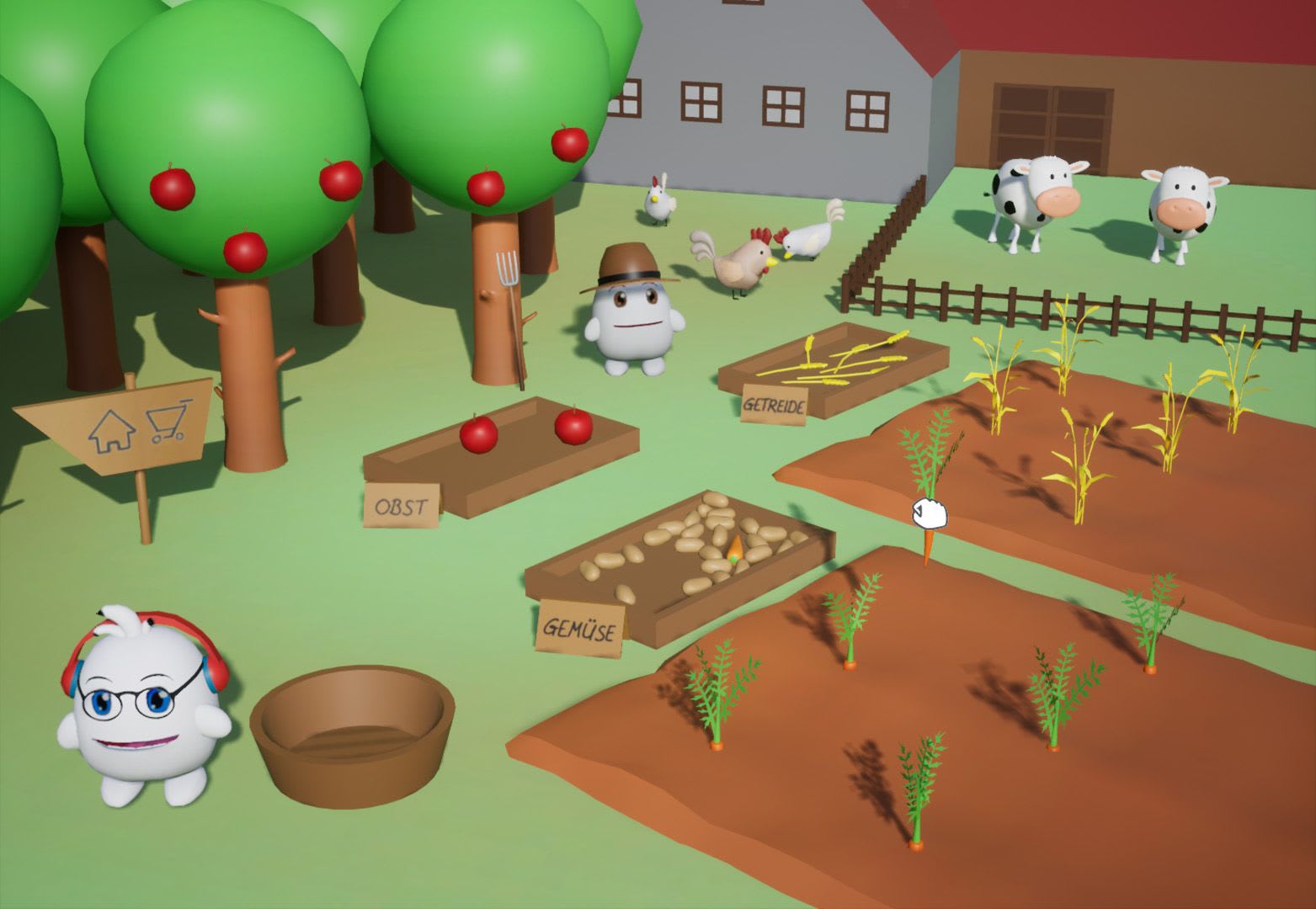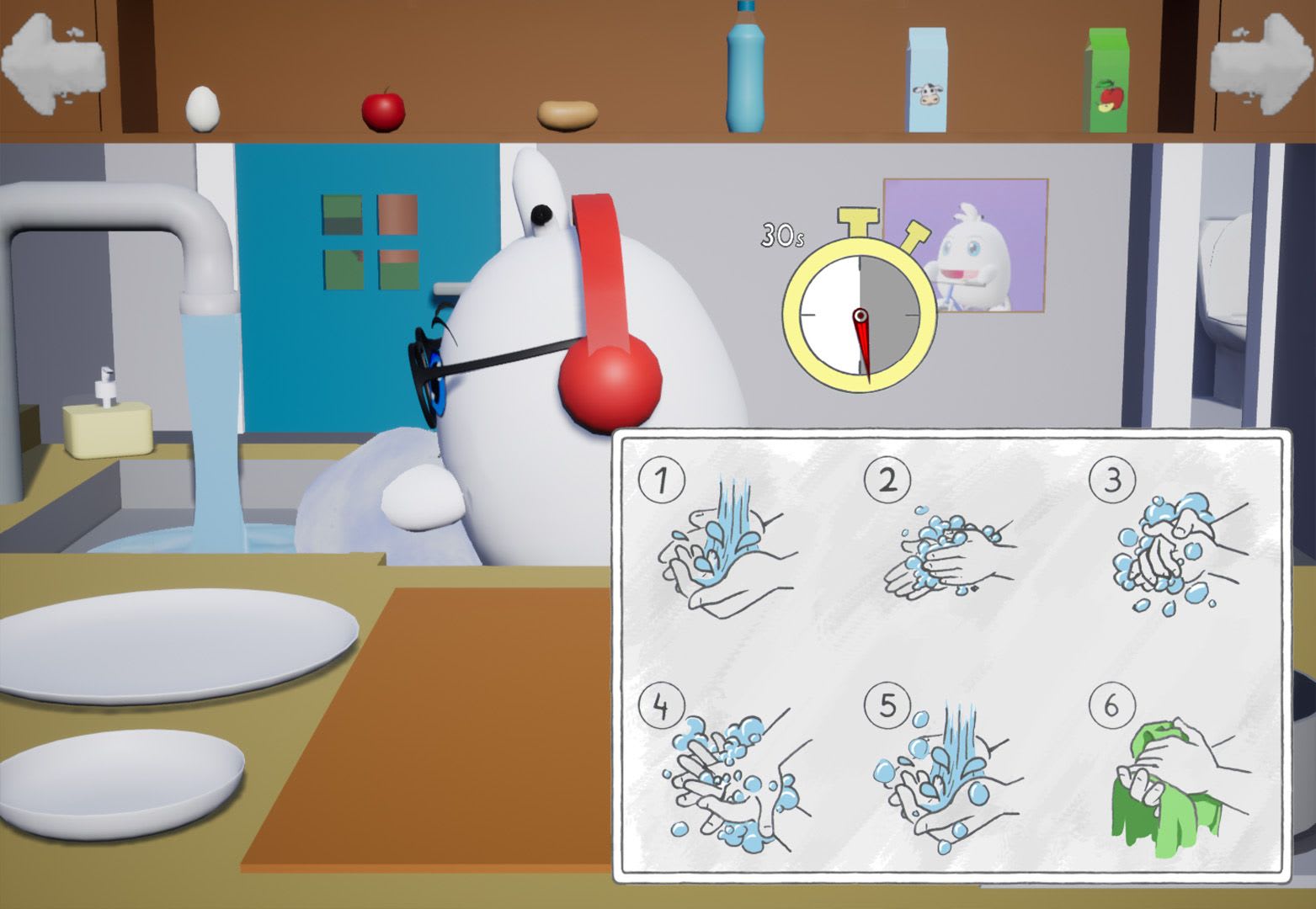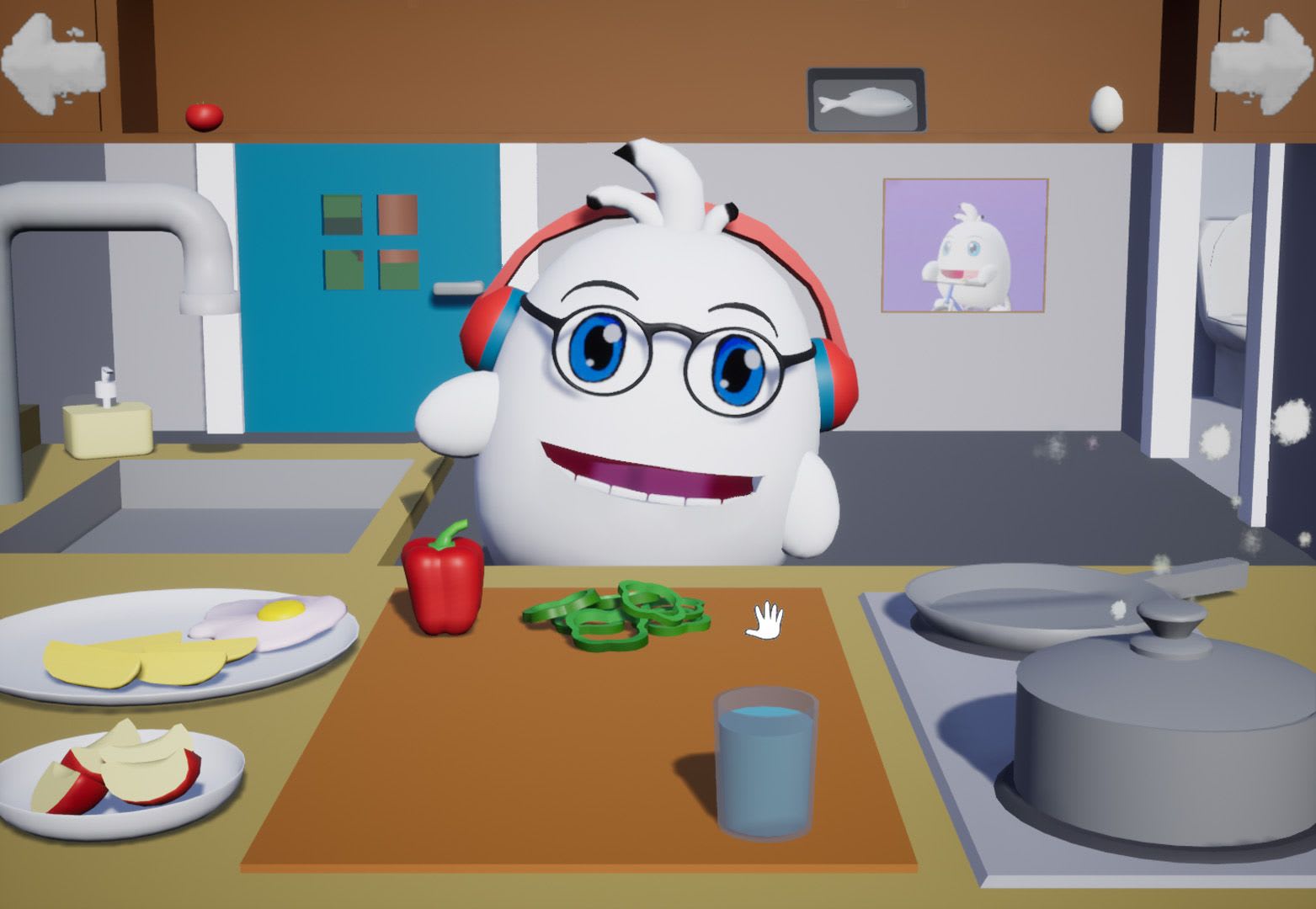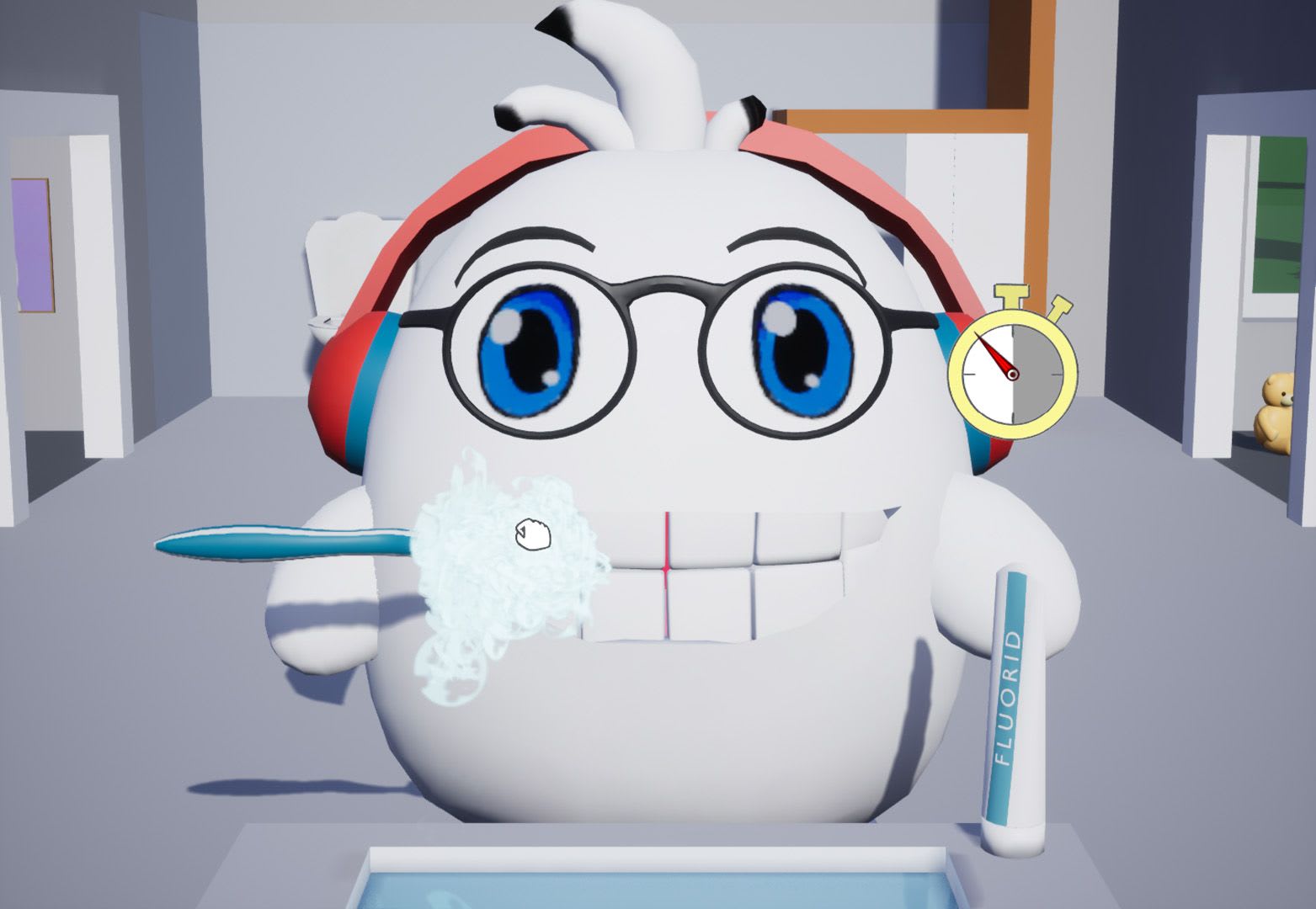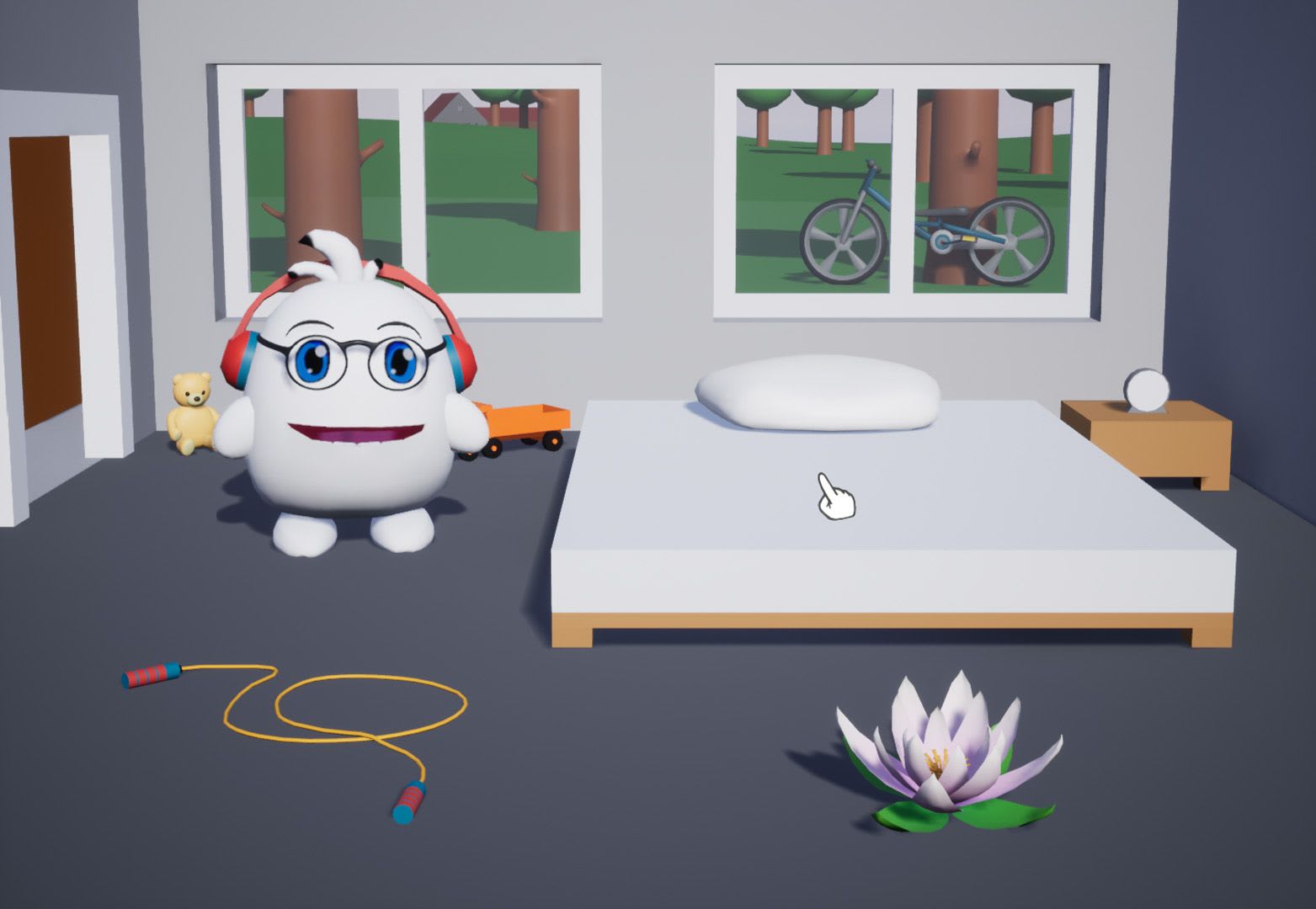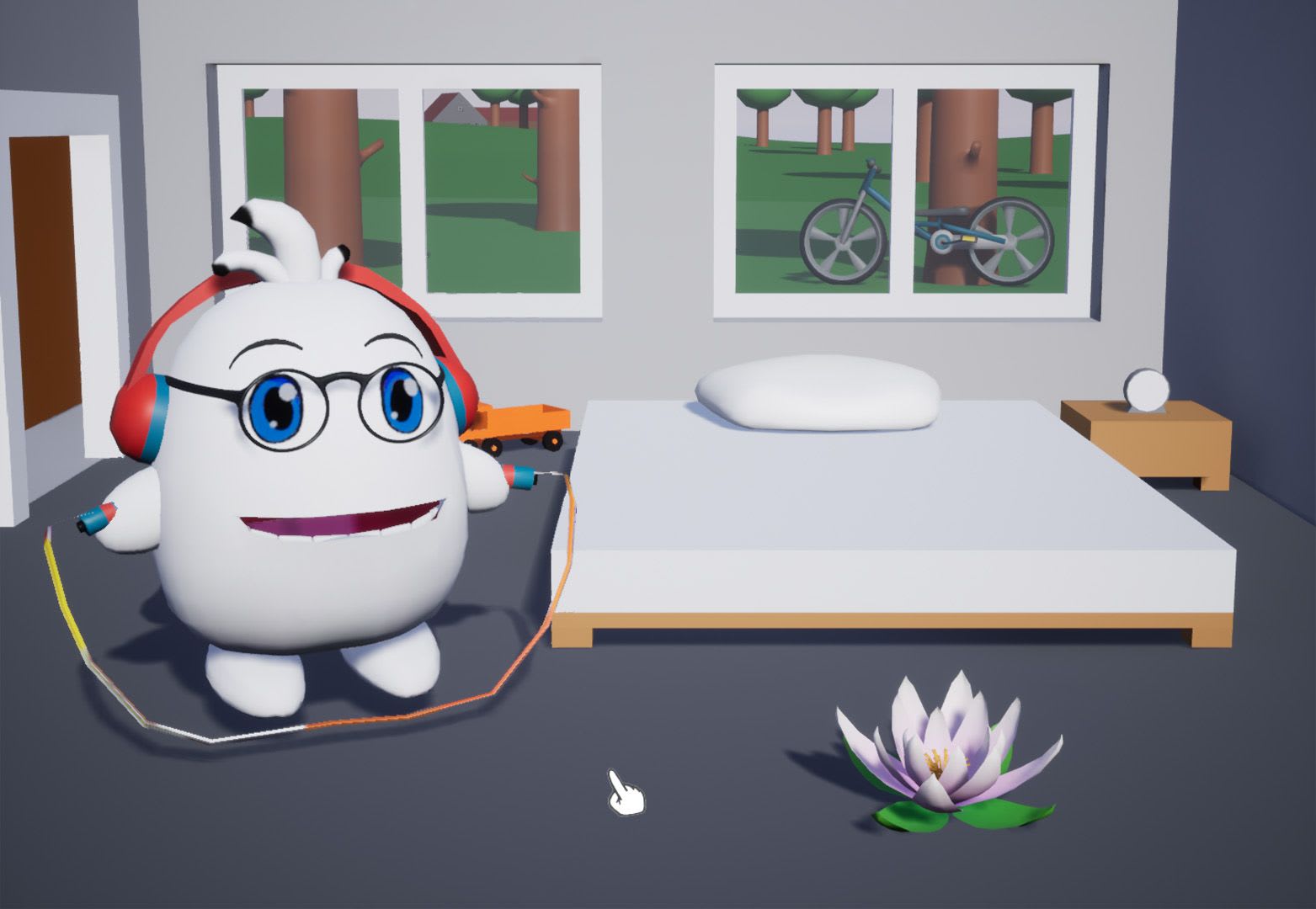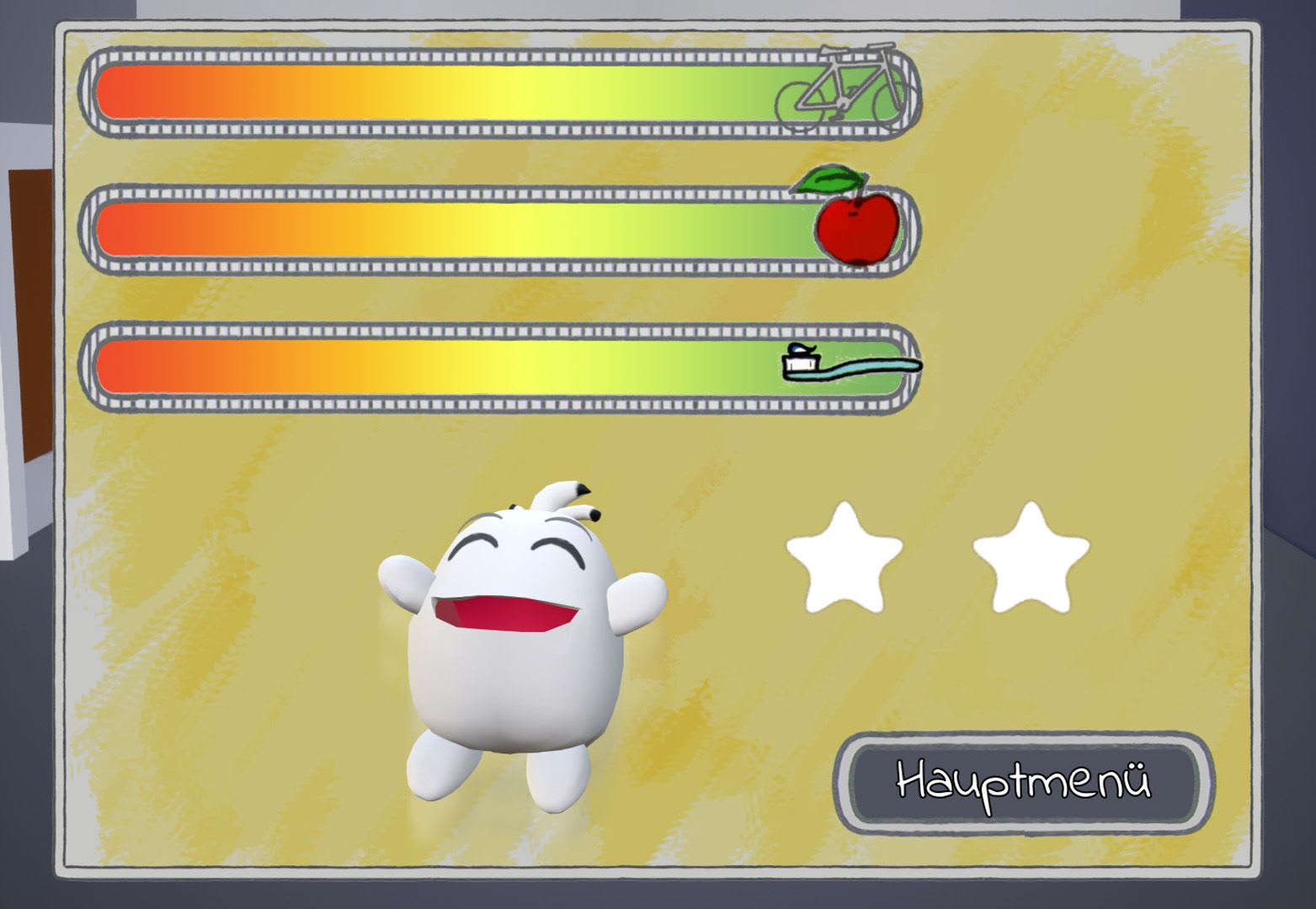 Kibalou
Kibalou is a learning adventure for children aged five to seven, in which players are encouraged to adopt a health-conscious lifestyle. In the game, learning content on the topics of nutrition, food chains, hygiene and exercise is taught in a playful way. The game is named after the main character, an avatar whose color, accessories and name can be modified as desired at the beginning of the game. During the game, which represents a day from the avatar's life, players can choose to behave in a healthy way, but also in an unhealthy way. Whenever a healthy decision is made that is good for the avatar, players earn a star. With each star gained, players advance in the categories of nutrition, hygiene or exercise. The progress of the game is always displayed to the players and evaluated at the end of the game. On the game map, players find three places: the farm, the supermarket and their home. Players walk or drive to the places by selecting them on the map. It is healthier to go on foot or to take the bike instead of the car. At the farm, players can help the farmer plant vegetables and harvest his crops. In the process, players also learn how the food is further processed and eventually gets to the supermarket. In the supermarket, players can buy all kinds of food and some hygiene items. Healthy purchases are rewarded. Once home, the groceries can be whipped up into a delicious meal: Food can be unpacked or cut on the countertop and prepared in the pot or pan. Then the food can be arranged on plates and eaten. Those who eat healthy food will receive stars. If players also wash their hands and clean their fruits and vegetables before eating, they get more stars. After eating, players go to the bathroom to brush their teeth. To do this, toothpaste is put on the toothbrush and then the teeth are brushed until the dirt visible on the teeth has disappeared. The players are instructed with arrows on how to brush. However, to be on the safe side, parents also brush again. In the bedroom, the players can exercise so they get really tired. To do this, they can jump rope or do child-friendly yoga exercises, which gives stars once again. Afterwards, the players go to bed and can view their daily feedback.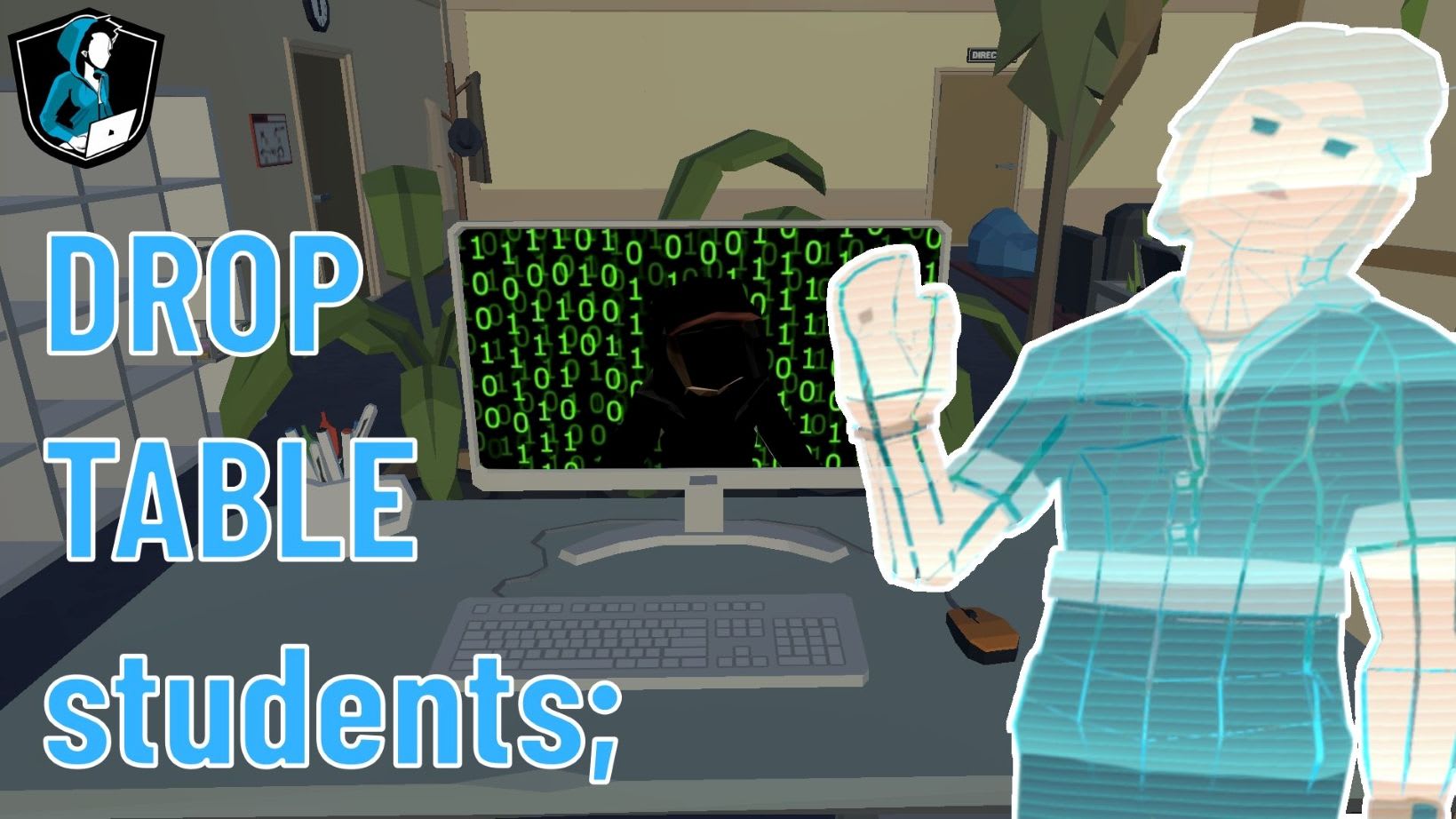 DROP TABLE students;
IT-Security Game
Newly hired at an educational institution that has ... let's say... "optimization opportunities" in digital skills, YOU will make sure that no data leaks out or malicious software is installed on company devices! ... right? In classic point'n'click style, players move through the building of an educational institution and help different personalities with their problems. Sharp-witted students try to adjust their ratings or access inappropriate content, some students don't yet understand what can be learned about them if they simply pass on a company device without logging out, and on top of that, external people try to access the devices! Adaptive and personalized, the game recognizes when you are over- or under-challenged and adapts the challenges to you, so that you always continue to learn and successfully become a master in IT workplace security!
The Great Climate Challenge
Polar ice caps are melting, sea levels are rising, weather extremes are in the news every day – climate-related hazards are becoming more intense, longer and more frequent. Climate scientists agree that humans are causing global warming and climate change. But where do scientists work in the field to get the facts on climate change? And how do they gather and analyze data from the atmosphere, oceans and land? To find out about these often neglected subjects, the user travels to four remote research stations all over the world (and space) to meet four young scientists in the field. There, many tasks have to be solved by the user to finally receive the "license to have a say in the climate debate".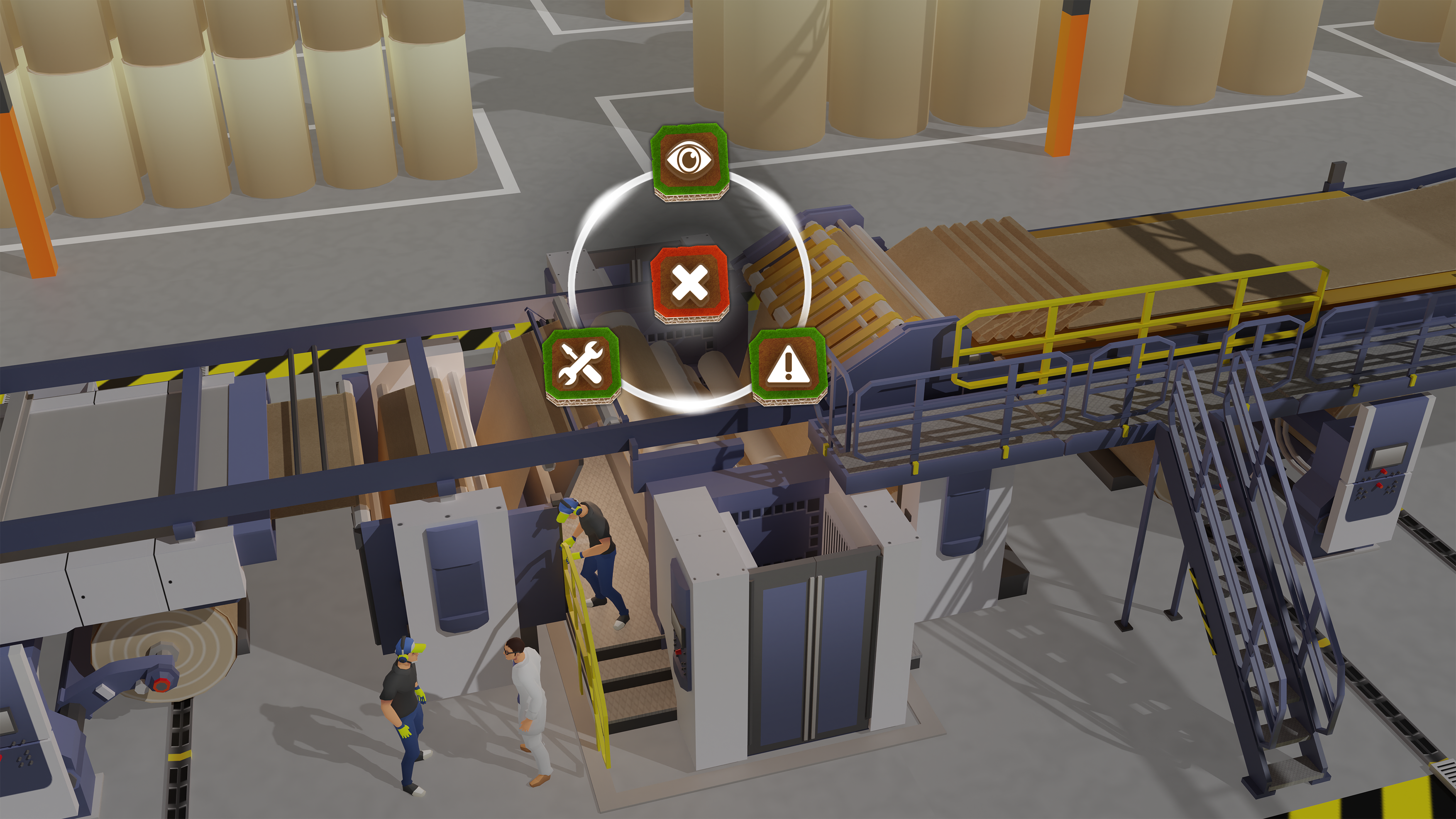 Corrugated
The Corrugated Service Game ("Corrugated") is a mobile serious game with the purpose of testing and teaching service workers in the field of Corrugators (machine that produces cardboard) about the working processes and common problems and their solutions.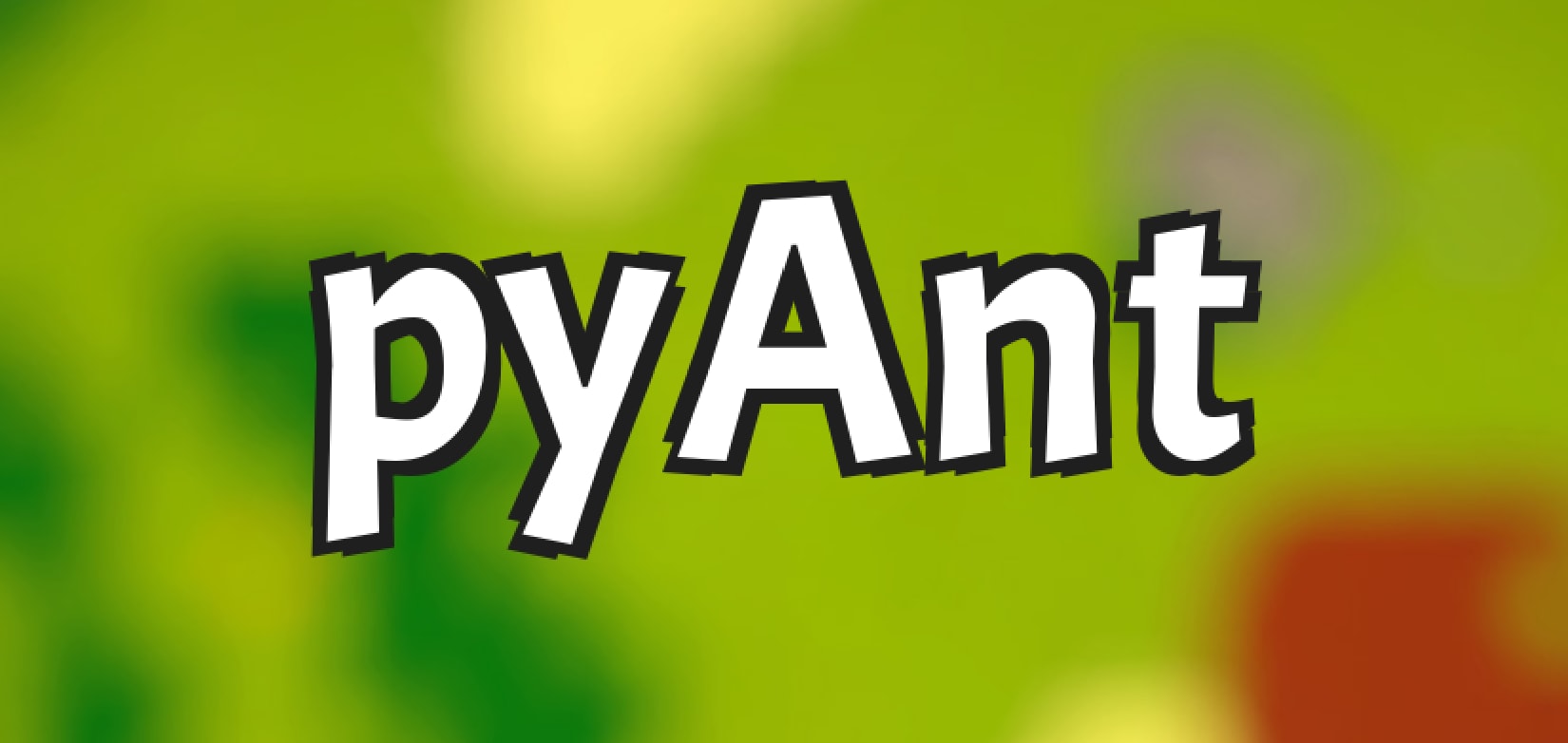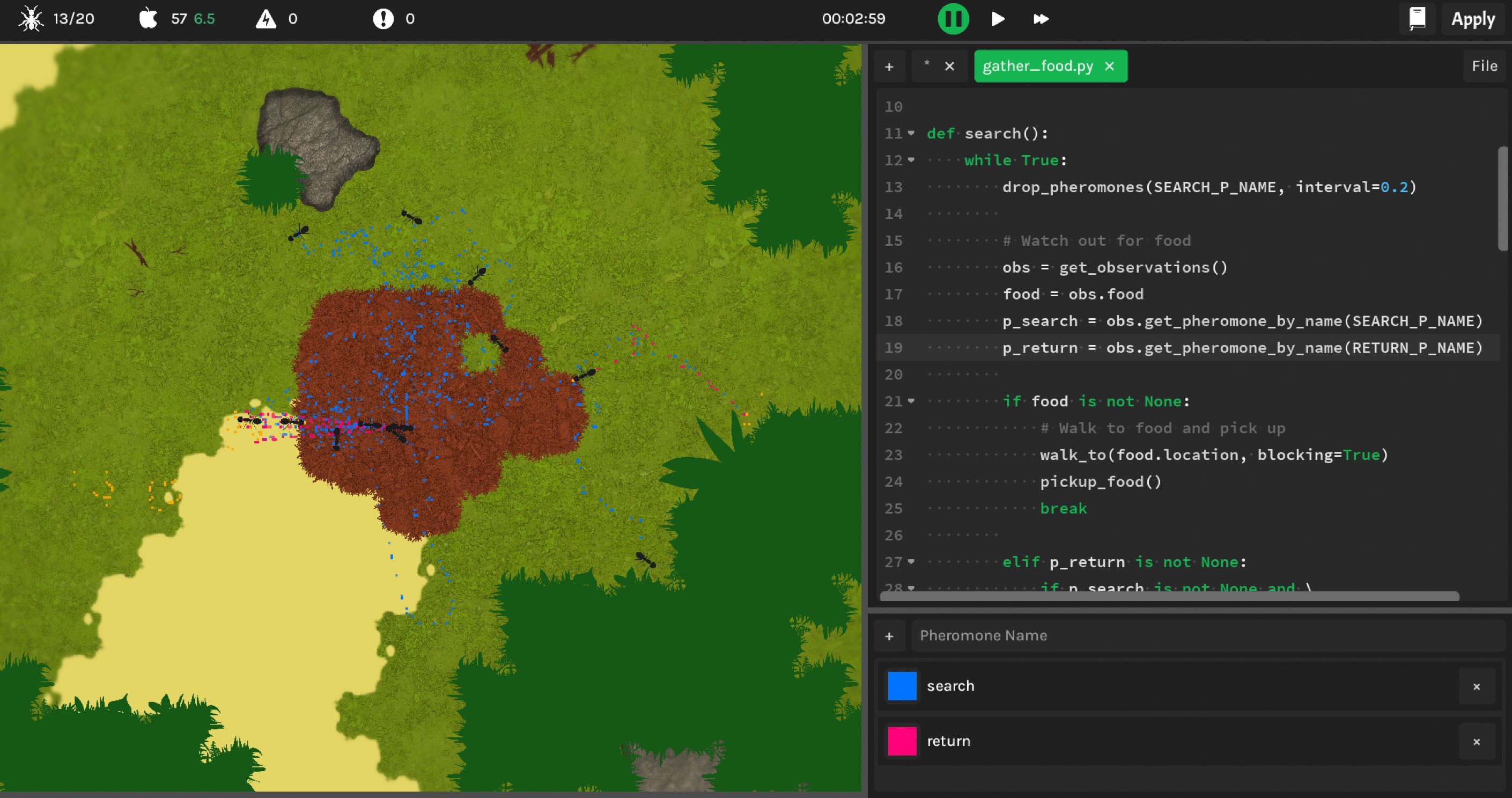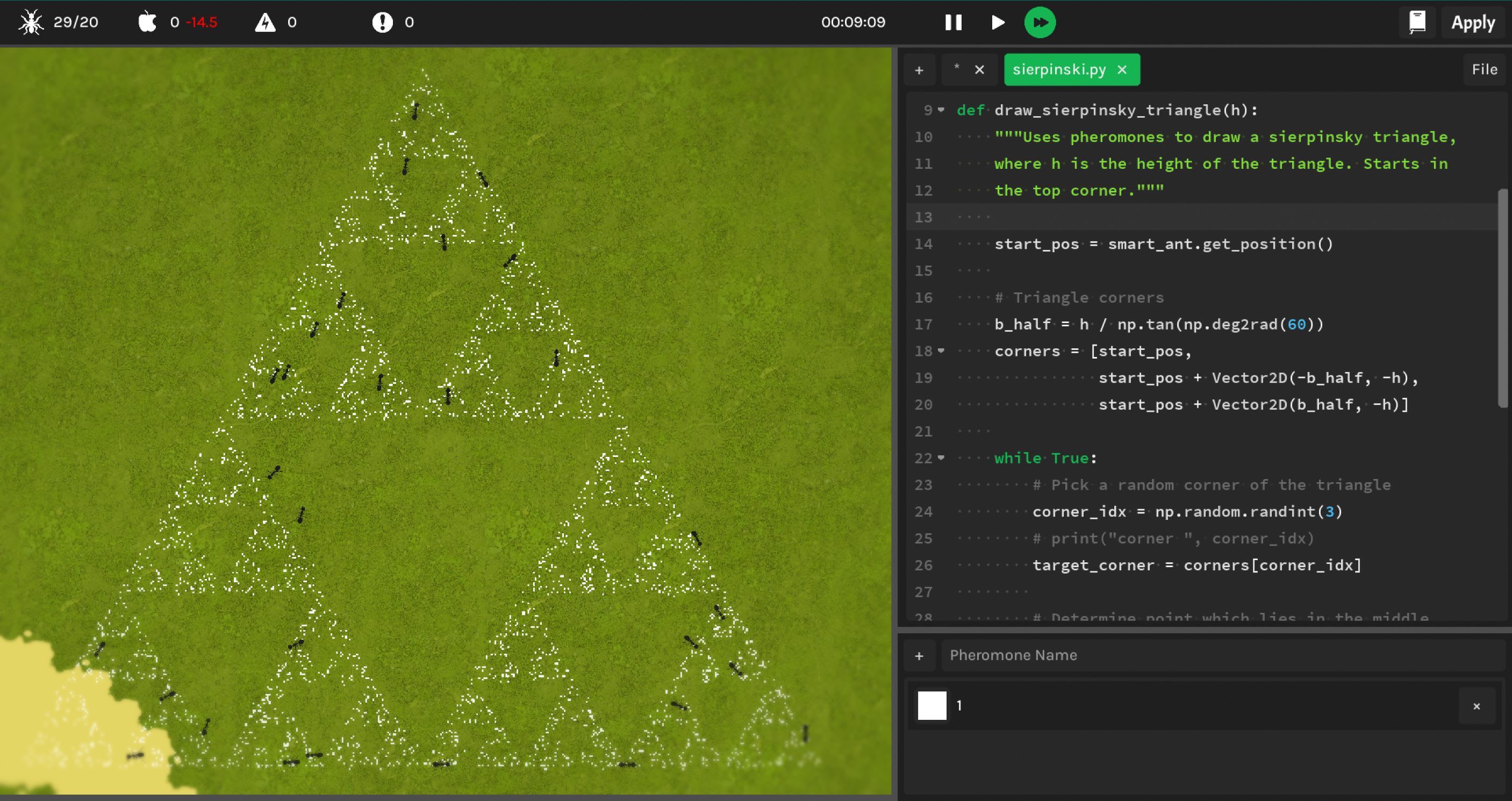 pyAnt
Success through code
Write Python scripts in order to command your ants. Your colony will follow your code, but will it find prosperity? In this RTS Serious Game, the goal is to make you having fun and learning something about Python.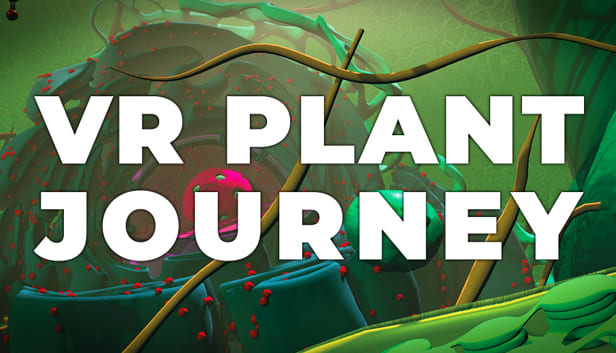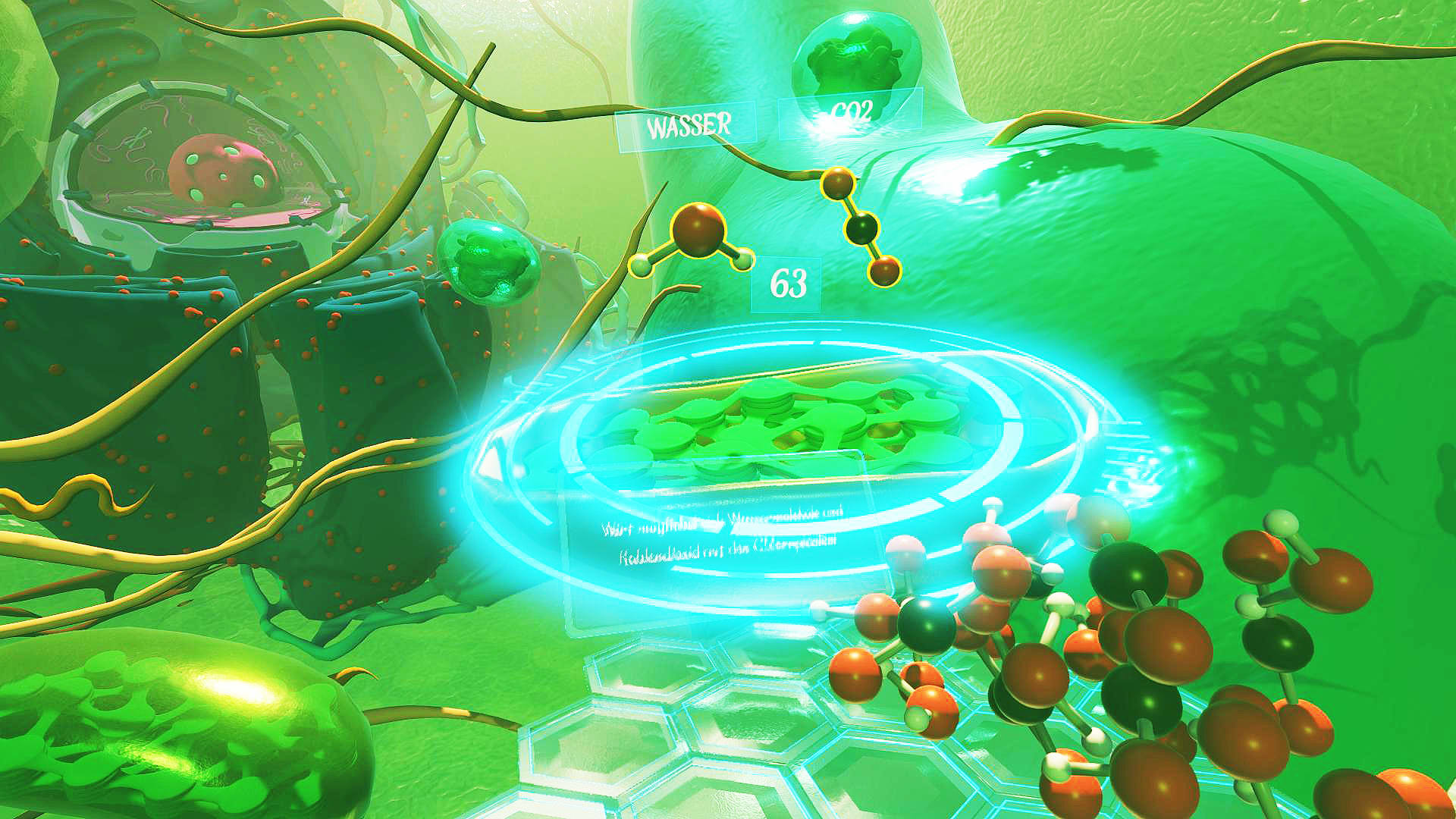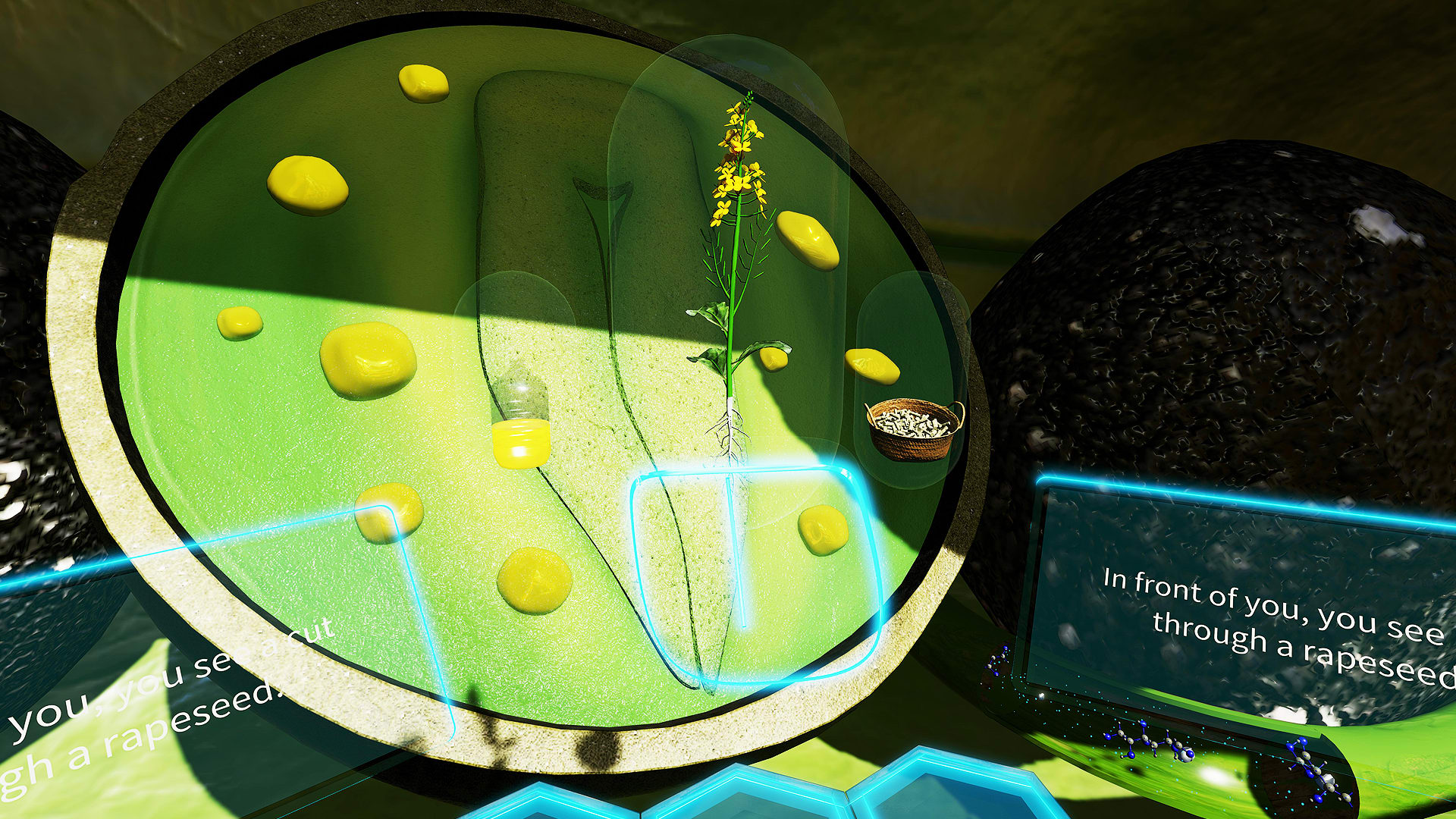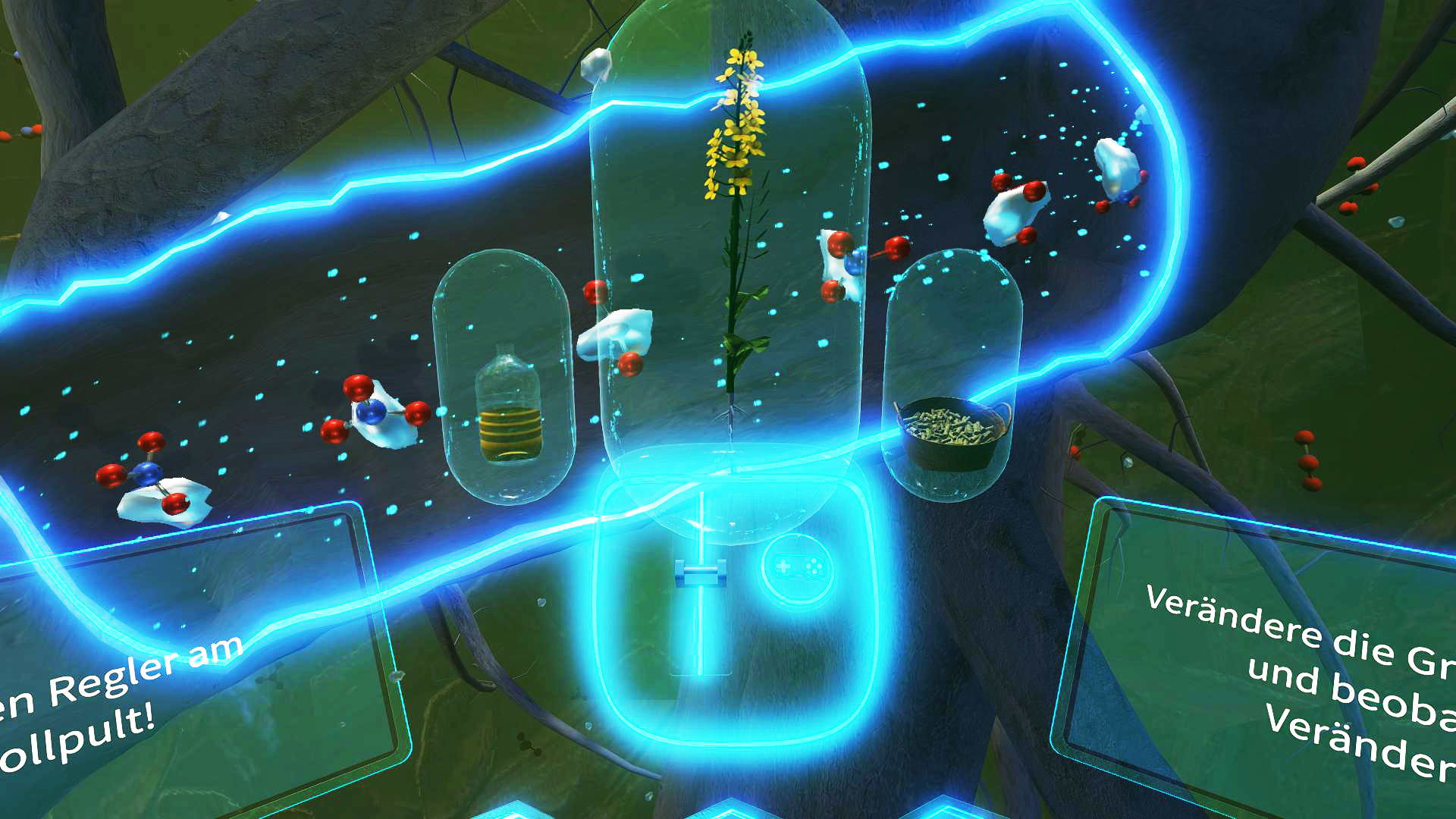 VR Plant Journey
In this virtual reality adventure, you'll explore the inner workings of a canola plant from root to flower. What does canola need to thrive optimally? Learn about the processes in plant cells, playfully help it grow, and become an excellent plant scientist. LEARNING CAN TAKE PLACE ANYWHERE AND AT ANY TIME Together with plant researchers:inside the Leibniz Institute of Plant Genetics and Crop Plant Research, Breakpoint One and Simmation have created a high-quality educational experience. VR Plant Journey "Die Reise in die Pflanze" teaches children biological knowledge in a playful way. Thanks to fully immersive virtual reality (VR), players:inside are completely immersed in the inner workings of a canola plant, experience the events up close and can even control them. EDUTAINMENT MEANS ENTERTAINING LEARNING In three chapters - root, leaf and seed - you test out how an optimum of nutrients must be regulated for the development of plant organs. The unusual learning unit is lightened up by playful elements. In the leaf, for example, chloroplasts are thrown with the basic substances of photosynthesis, carbon dioxide and water; in the root, ammonium and nitrate, important plant nutrients, have to be assembled; and in the seed, oil bodies have to be hit with a bow and arrow so that they grow. The high-quality implementation of the concept is reflected in several internationally renowned award nominations: 2019 for the VRnow Award "Best Learning Solution", 2020 for the Auggie Award "Biggest Societal Impact" and 2020 for the Laval Virtual Award in the category: "VR/AR for Learning and Training".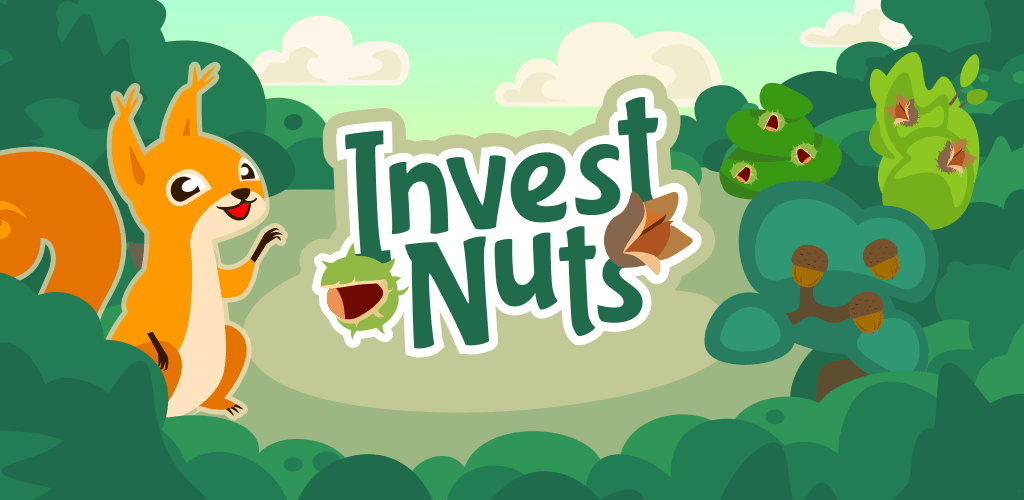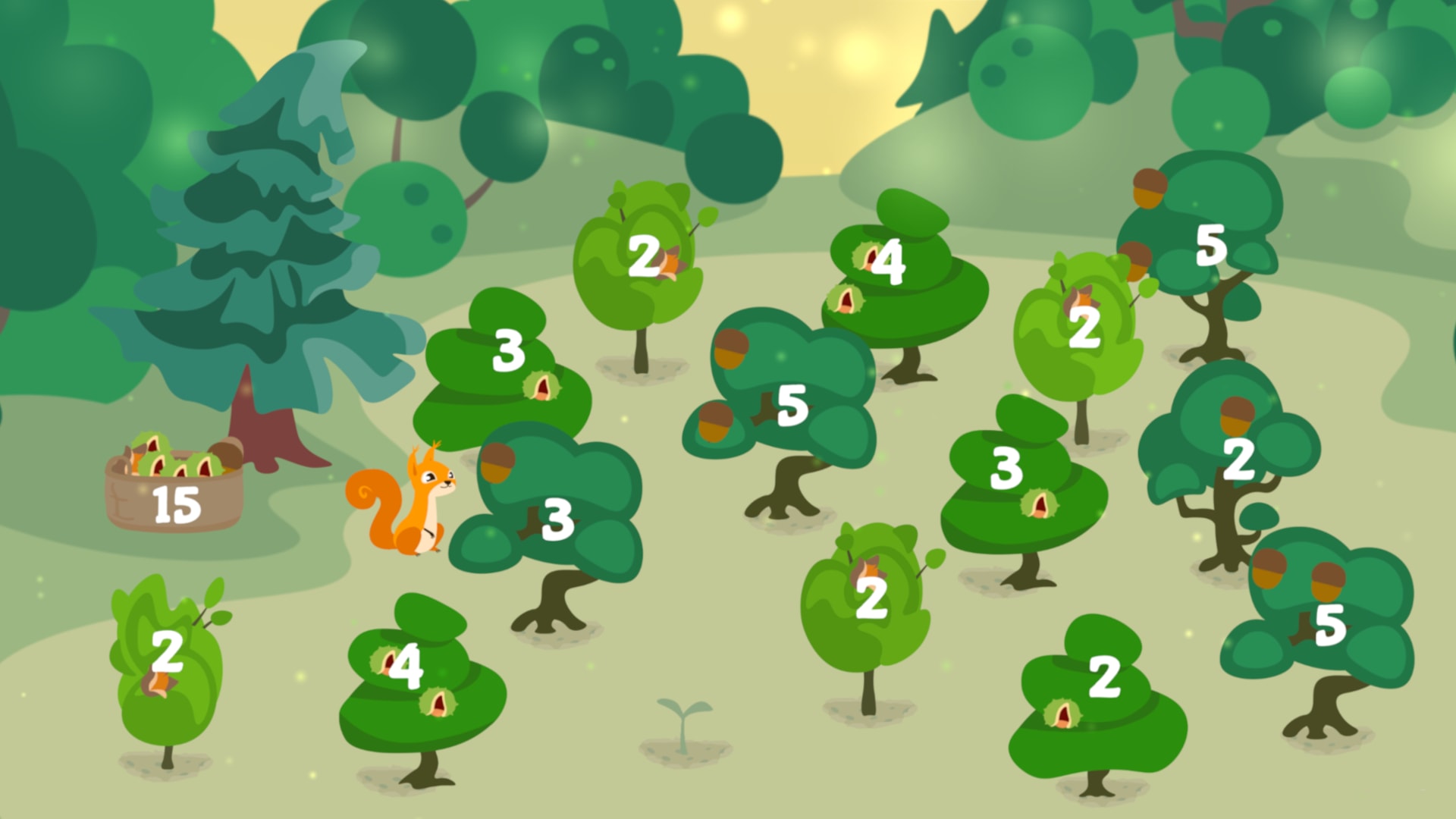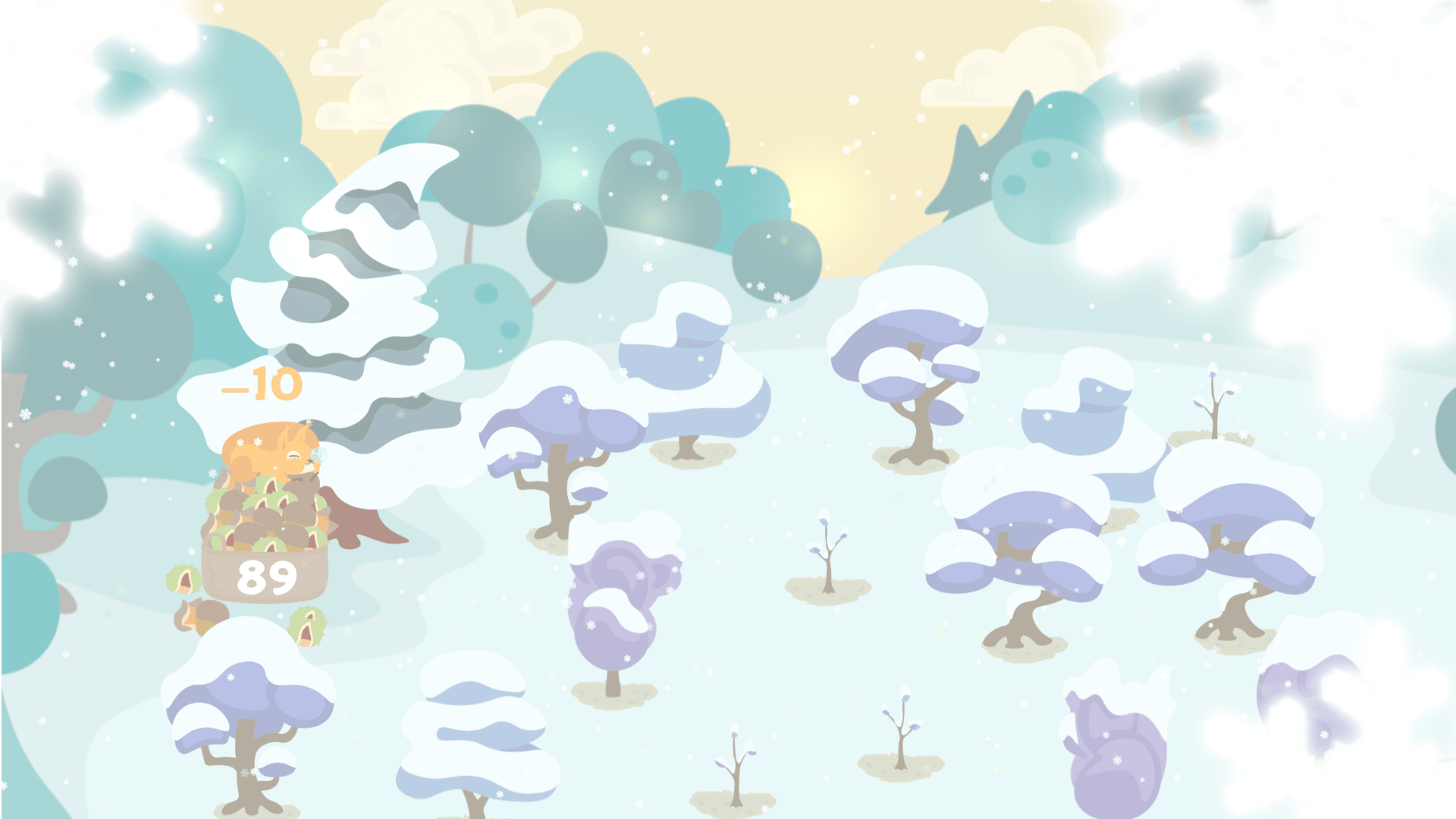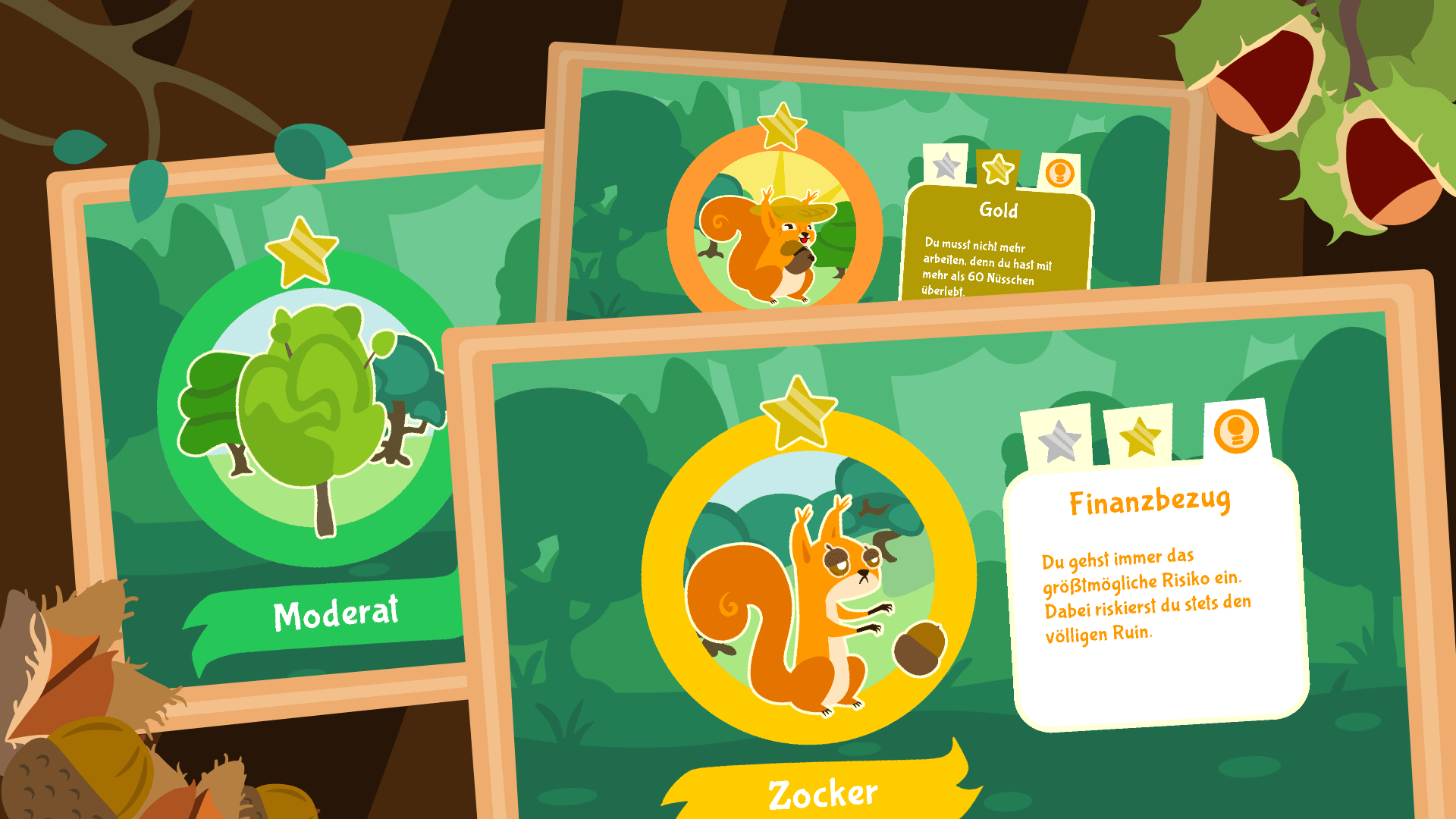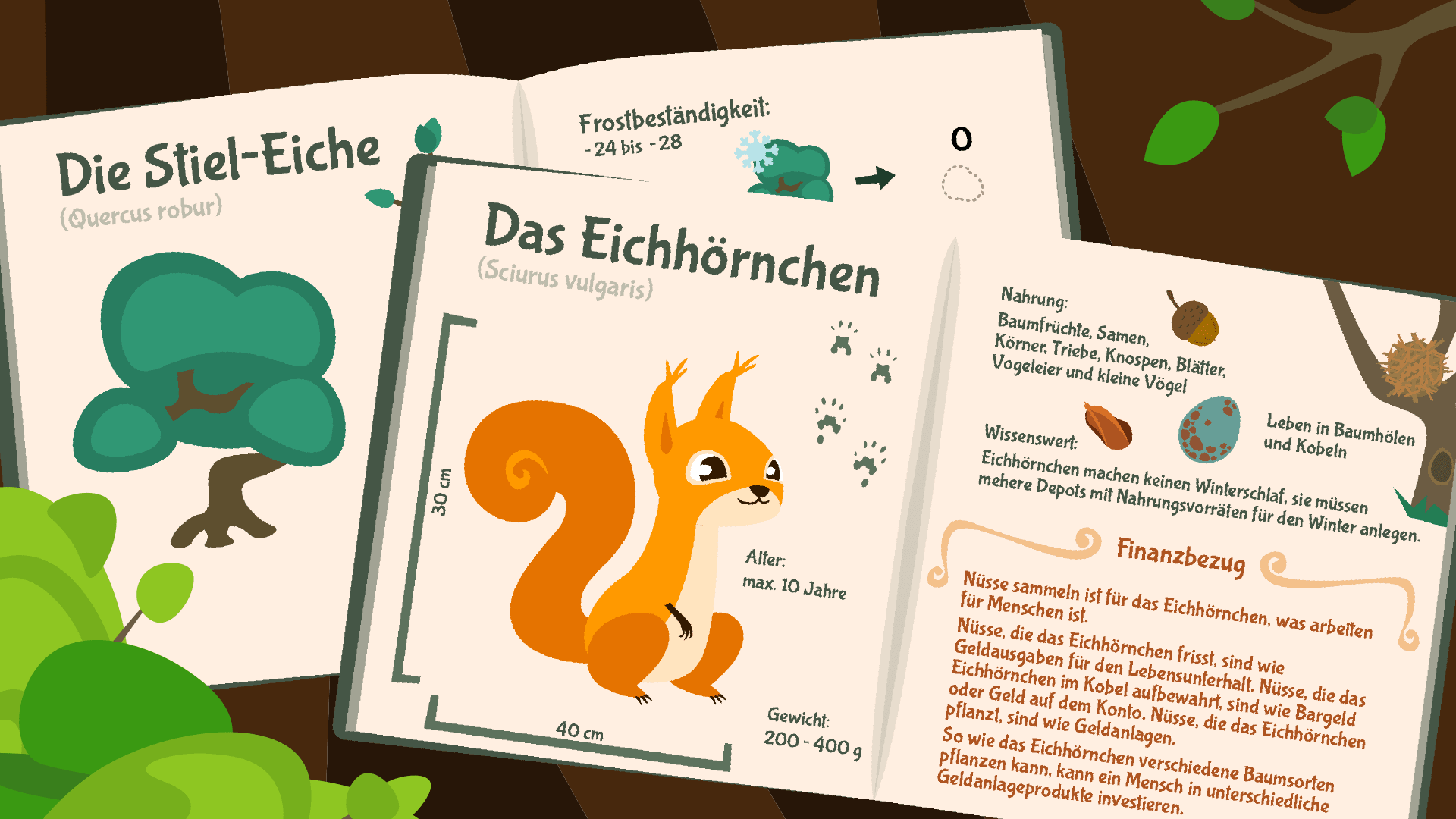 InvestNuts
das Finanzspiel mit Nuss
InvestNuts is a game for all those who find the topic of finances too dry, but would still like to know more about wealth accumulation. With InvestNuts you can playfully try out how risk and return are connected when investing money. You take on the role of a squirrel who is accumulating nuts for retirement by cleverly planting trees and harvesting their nuts. The different types of trees bear different amounts of nuts in the summer and are also affected differently by frost in the winter. By planting skillfully, you can harvest the biggest nut haul and relax when you retire. The game is easy to access and free! - Style yourself with one of over 25 unlockable accessories! - Try your hand at other game types by attempting to complete all of the game's objectives! - Compete with others in the 5 leaderboards! The idea was developed with game students and financial experts in a GameJam and then implemented by GonKu Games in collaboration with digital asset manager VisualVest and its parent company Union Investment. The project is scientifically accompanied under the question of whether games can help to build financial knowledge. Translated with www.DeepL.com/Translator (free version)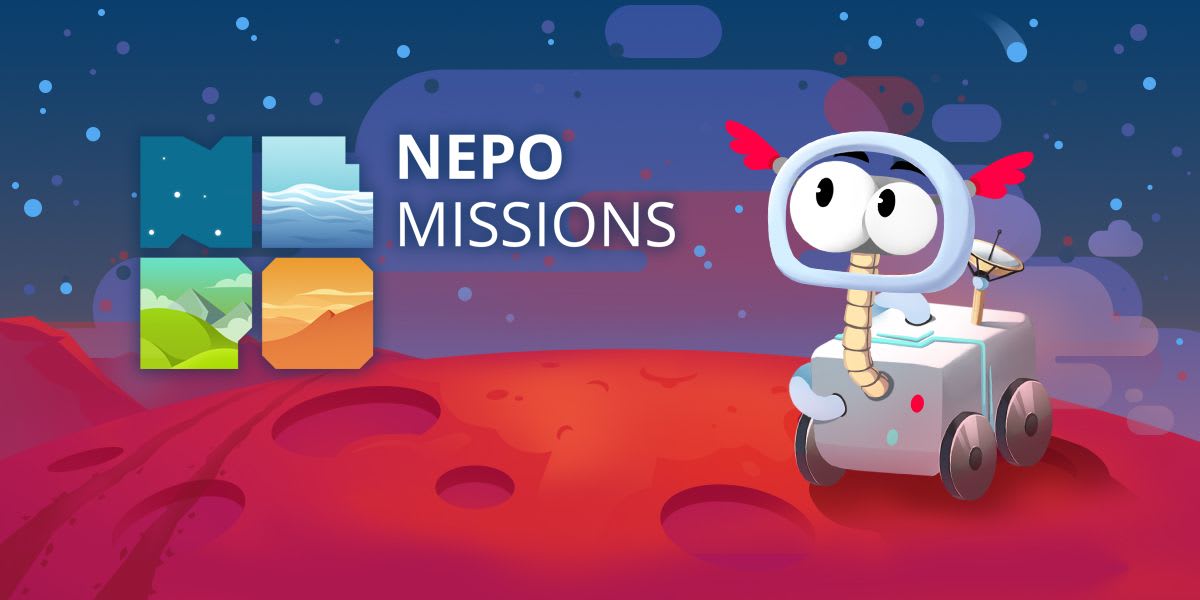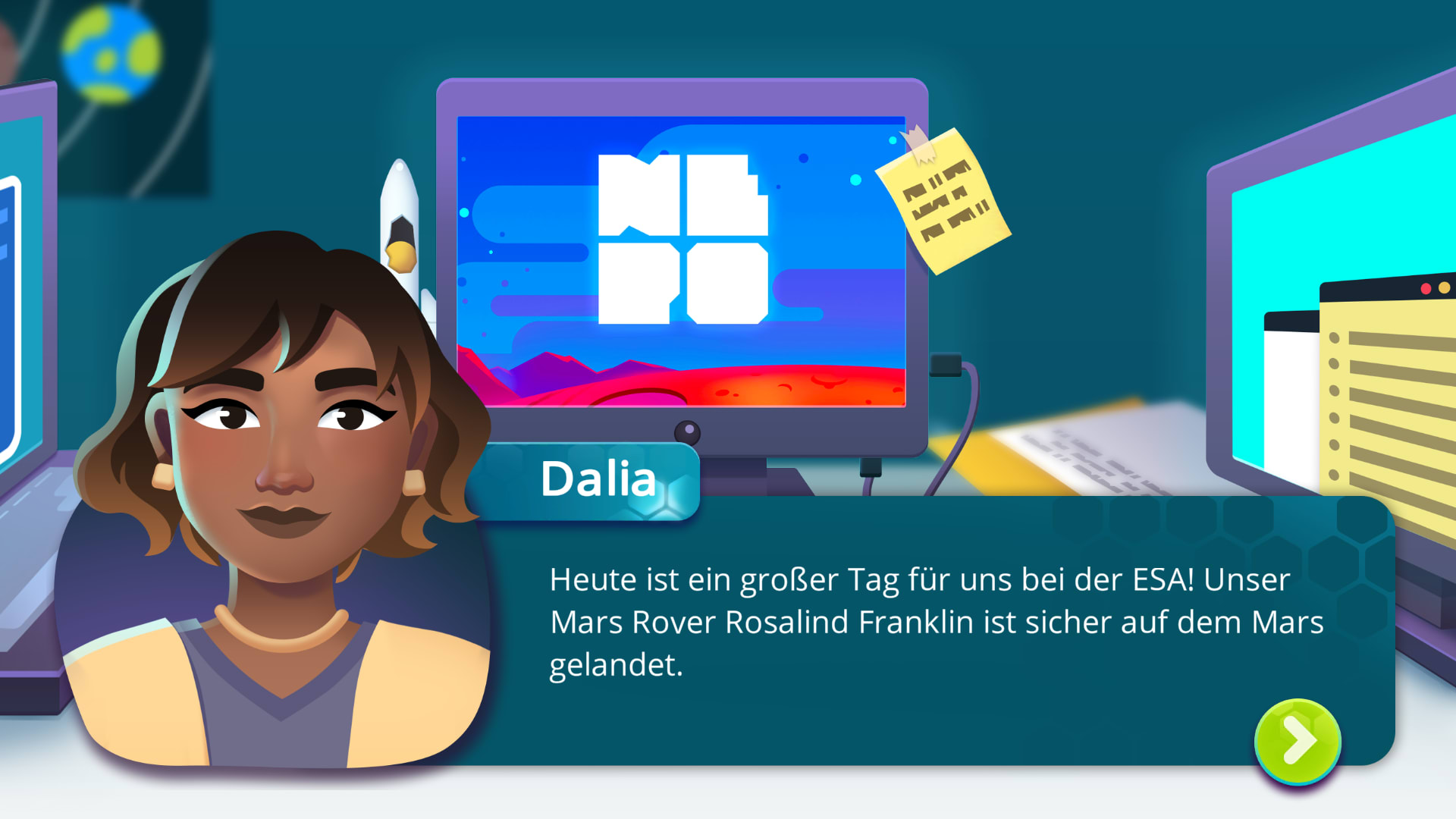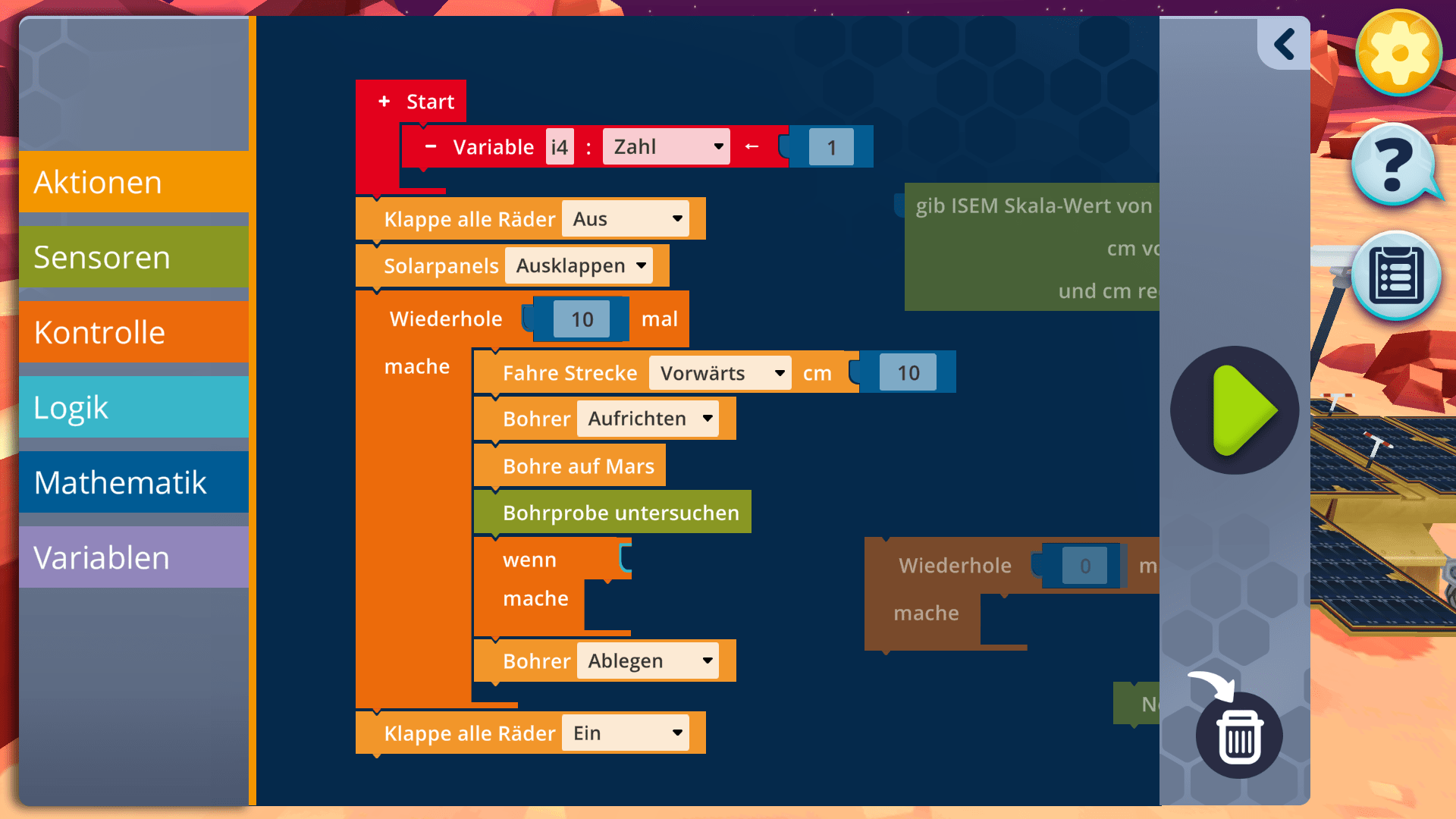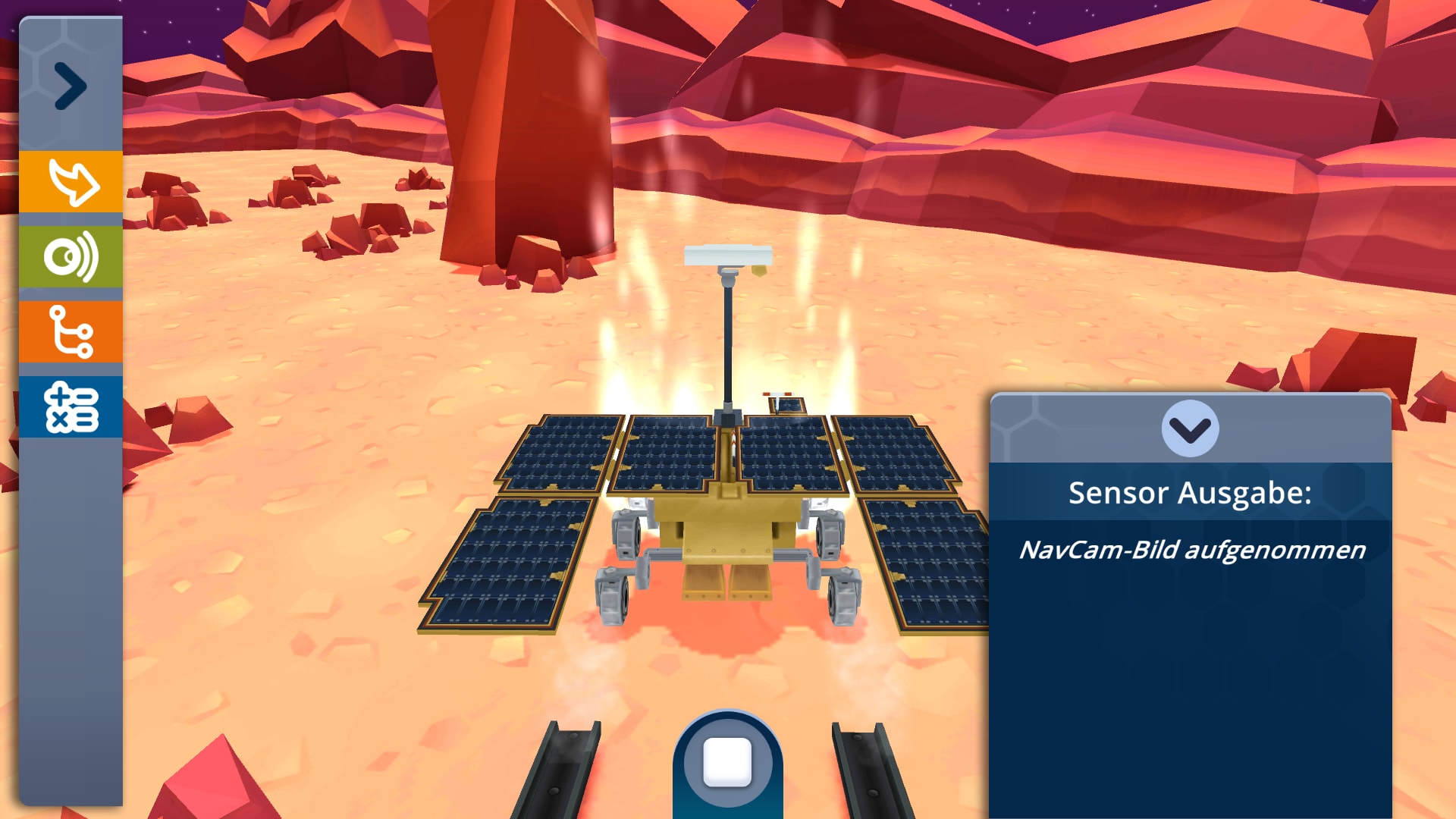 NEPO Missions
In "Nepo Missions" players can go on a mission to Mars with the rover "Rosa". They learn how to use the graphical block-based programming language "NEPO" from Fraunhofer IAIS to control the rover. "NEPO" is used on the "Open Roberta Lab" platform, on which millions of people worldwide already program real robots every year. With the right programming, Rosa can perform the individual tasks of the Mars mission, such as drilling the soil, analyzing soil samples or taking photos of the surroundings. Important feedback and support during the Mars mission is provided by the tutor Dalia, an homage to Mary Jackson, who was an American mathematician and aerospace engineer at NASA. The game was developed by Gentle Troll together with Fraunhofer IAIS and is meant for children and young teenagers.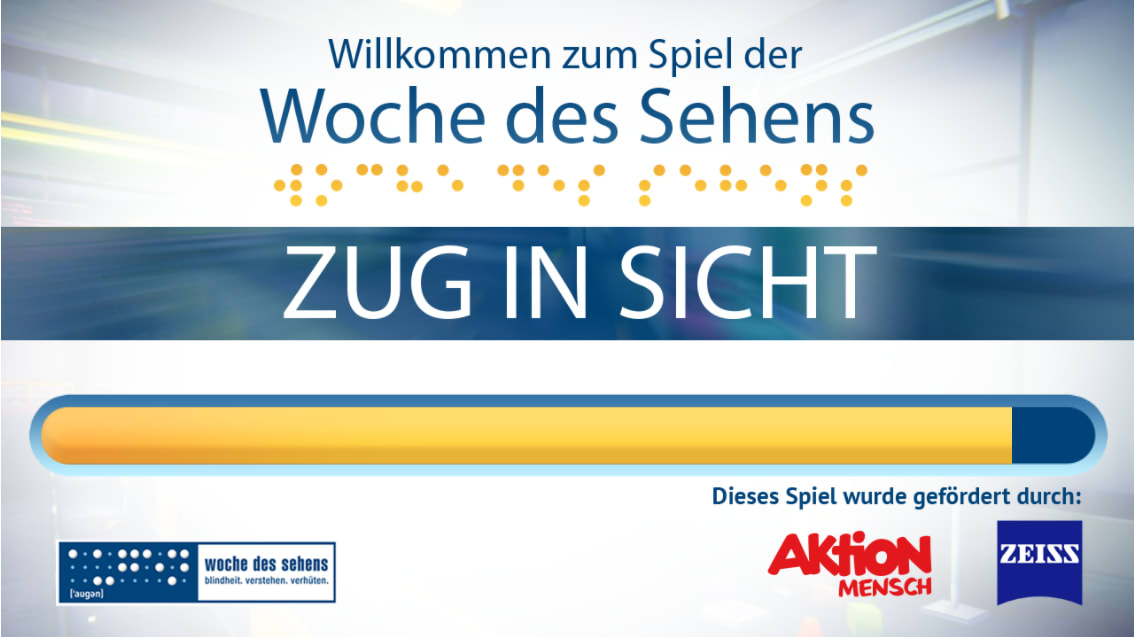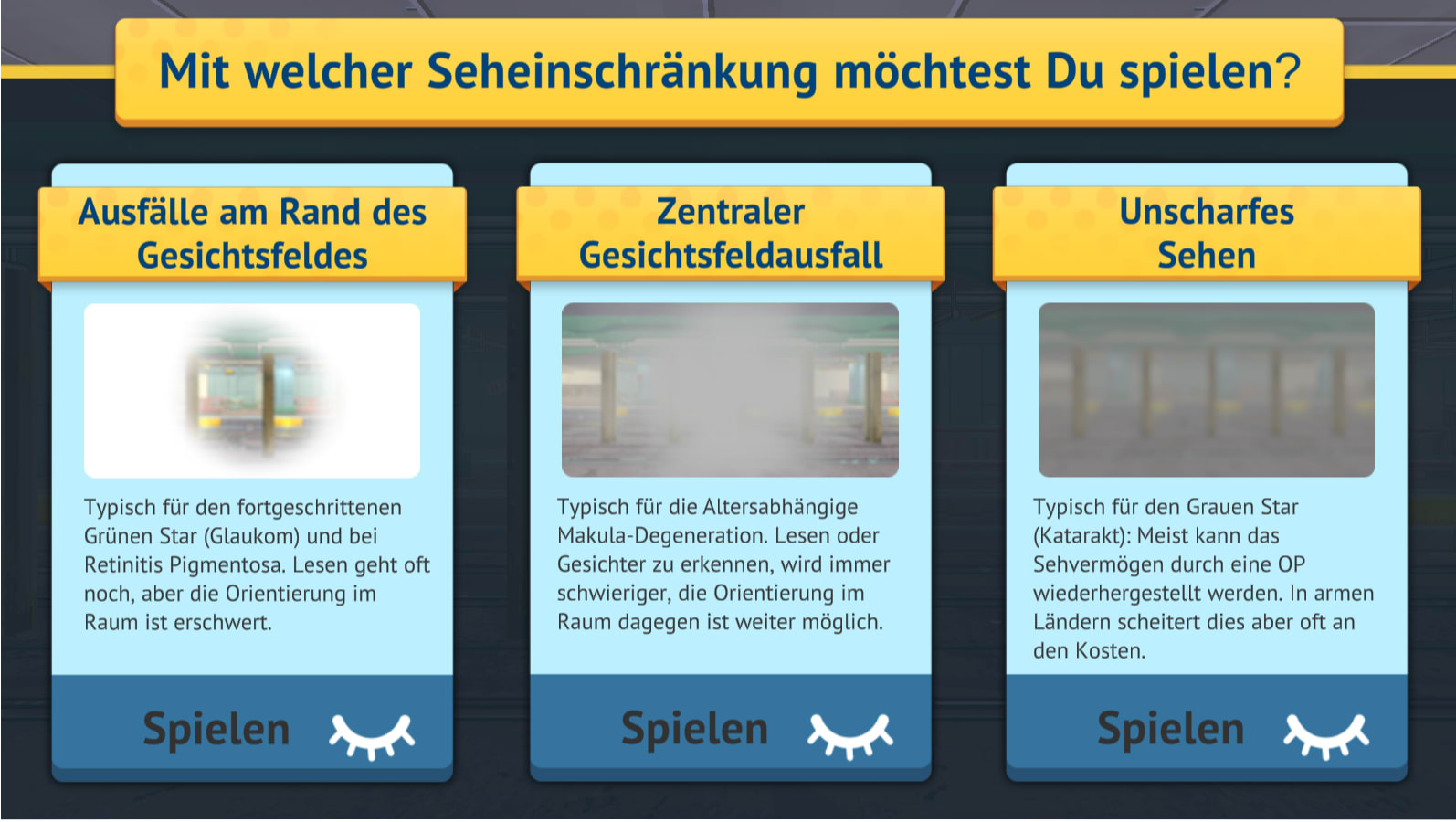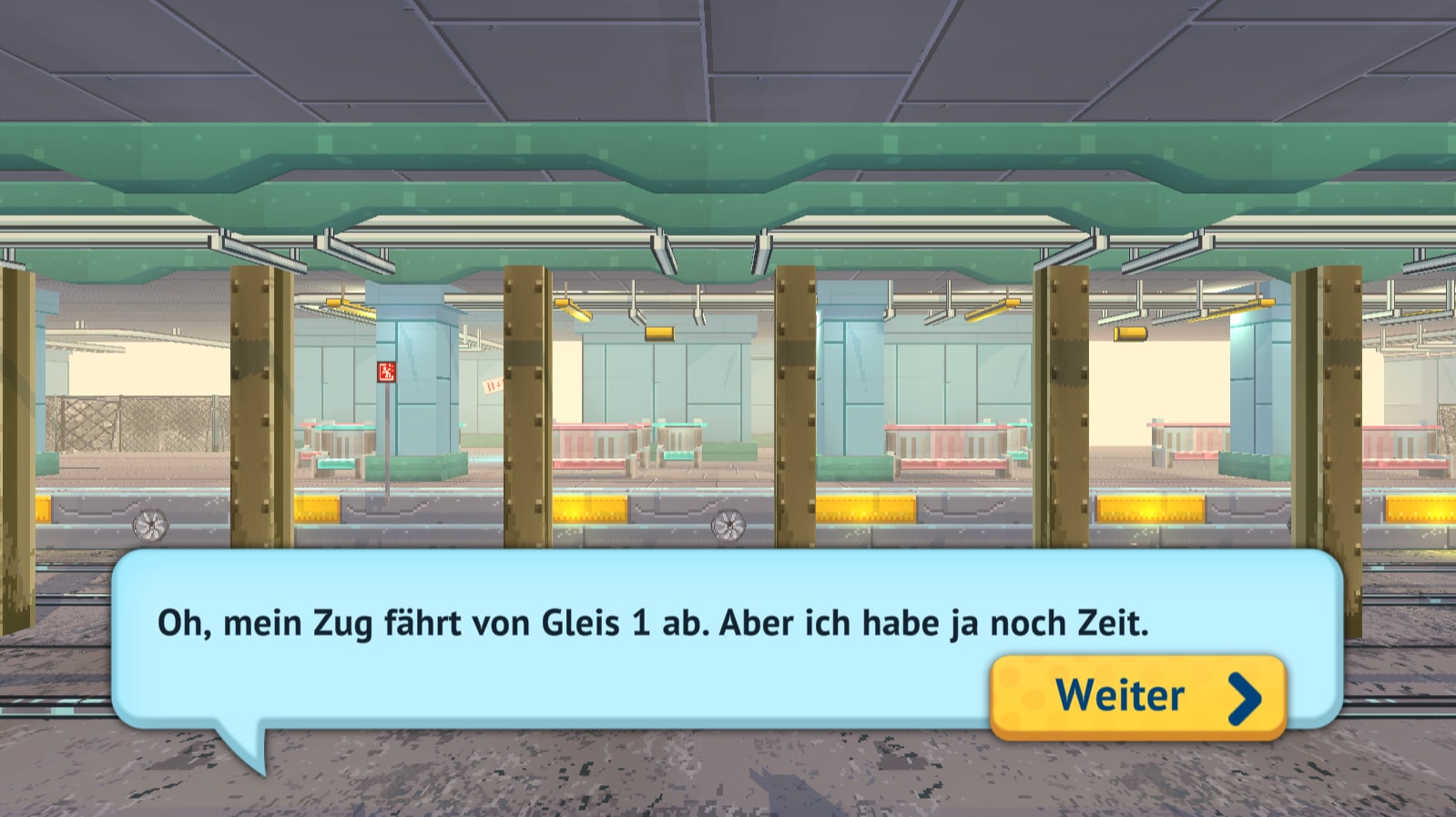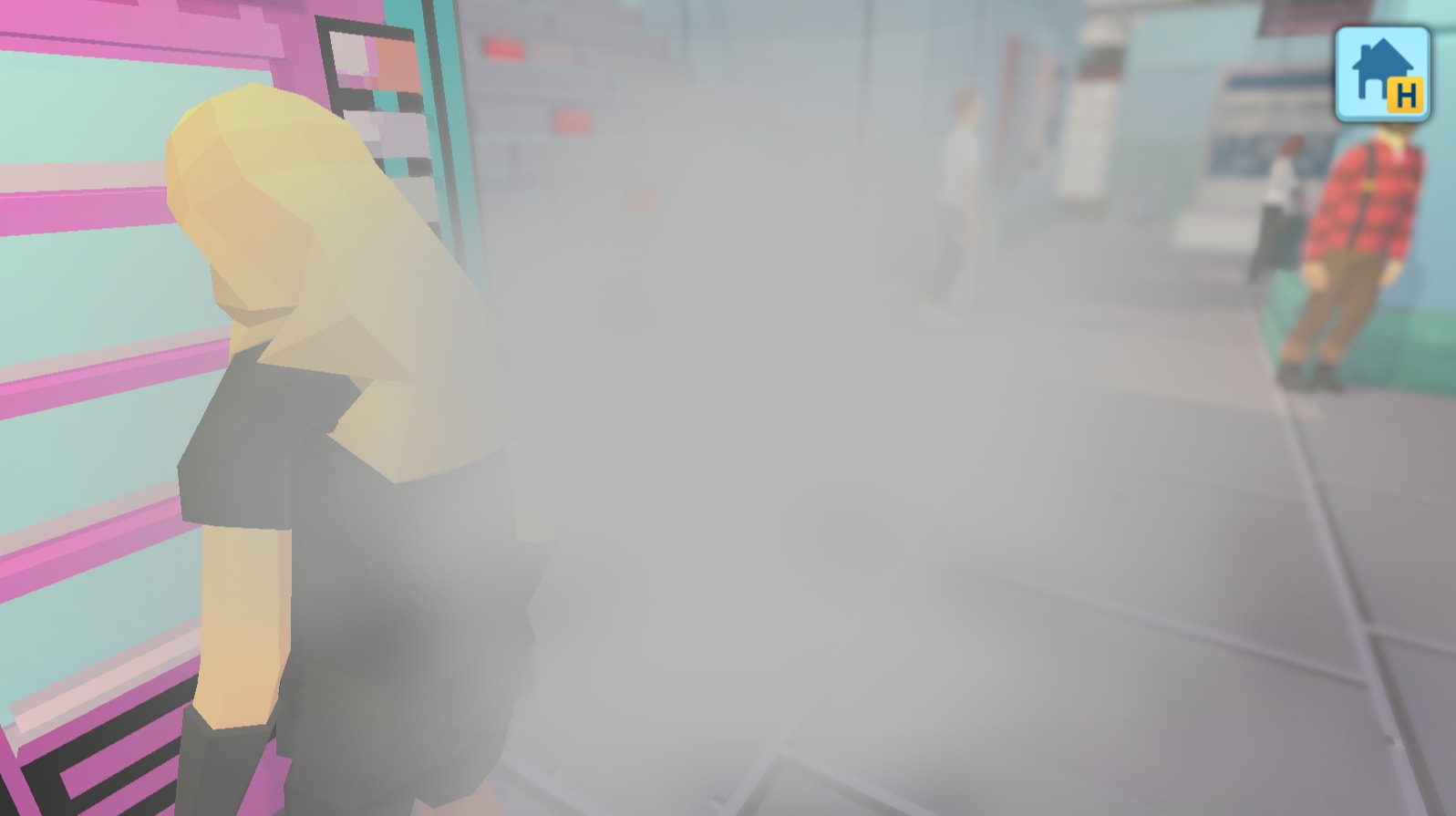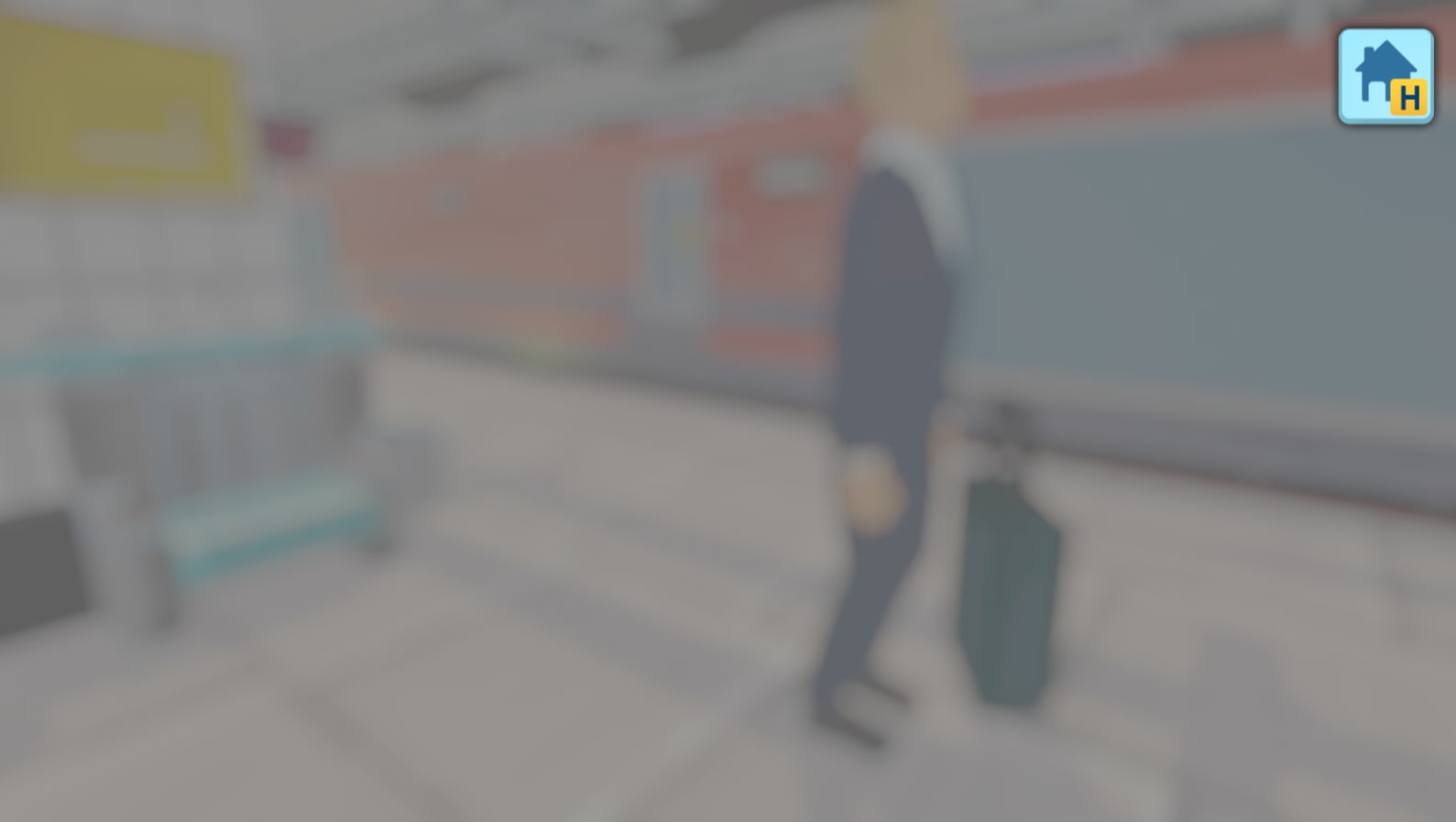 Zug in Sicht
With the Serious Game "Zug in Sicht", players can experience the effects of three different visual impairments. Players can see with which challenges visually impaired people are confronted to overcome everyday challenges such as going on a train ride. How do I find my way through a station with a "tunnel view"? How can I operate a ticket machine if my vision is very blurred? How do I get past passers-by if I can't see anything exactly where I'm looking? If you want to know how easy or difficult it is to cope with these restrictions in everyday life, you should play the Game "Zug in Sicht". The game is aimed at all age groups and was developed by Gentle Troll for the "Week of Sight" initiative.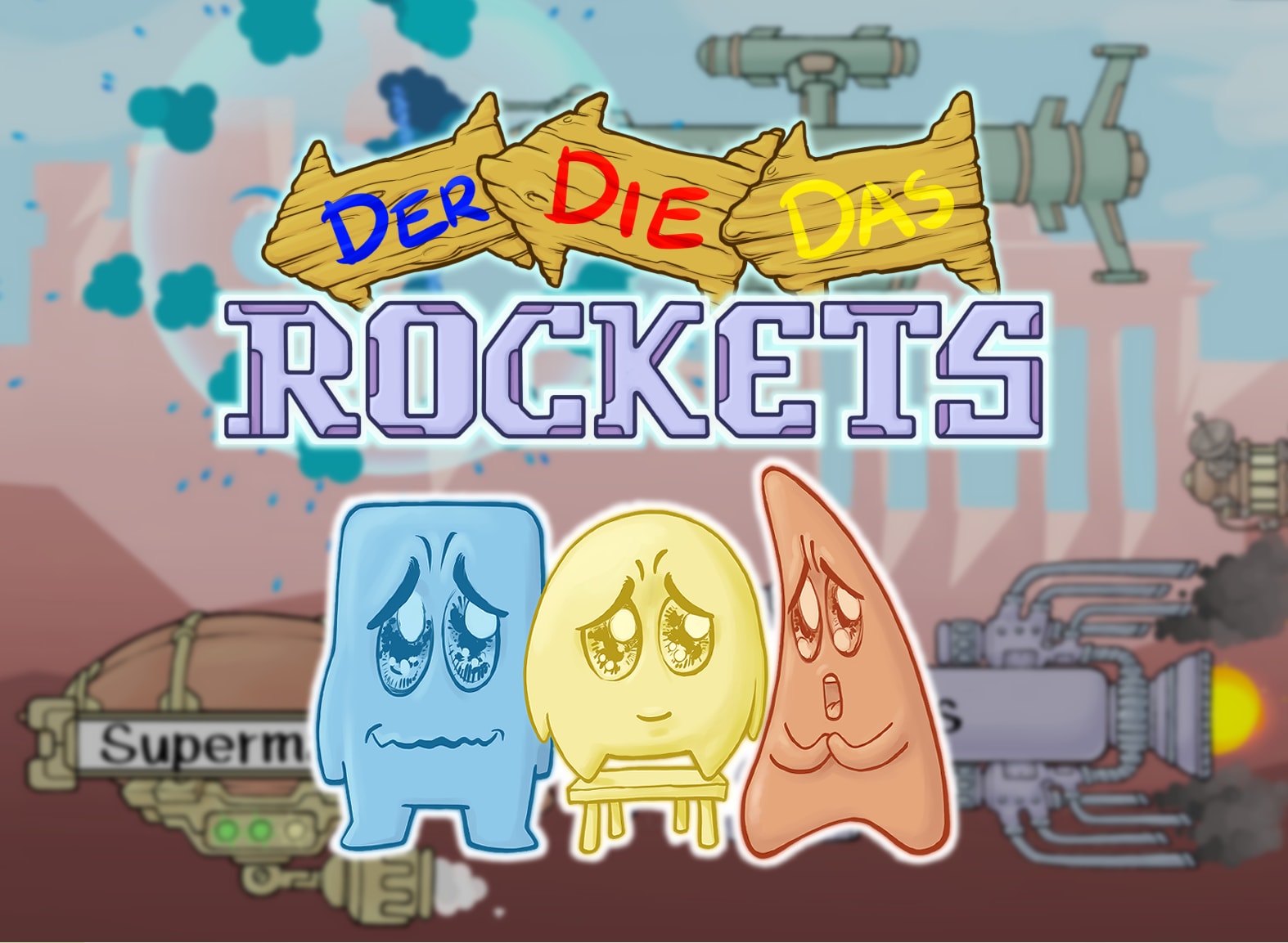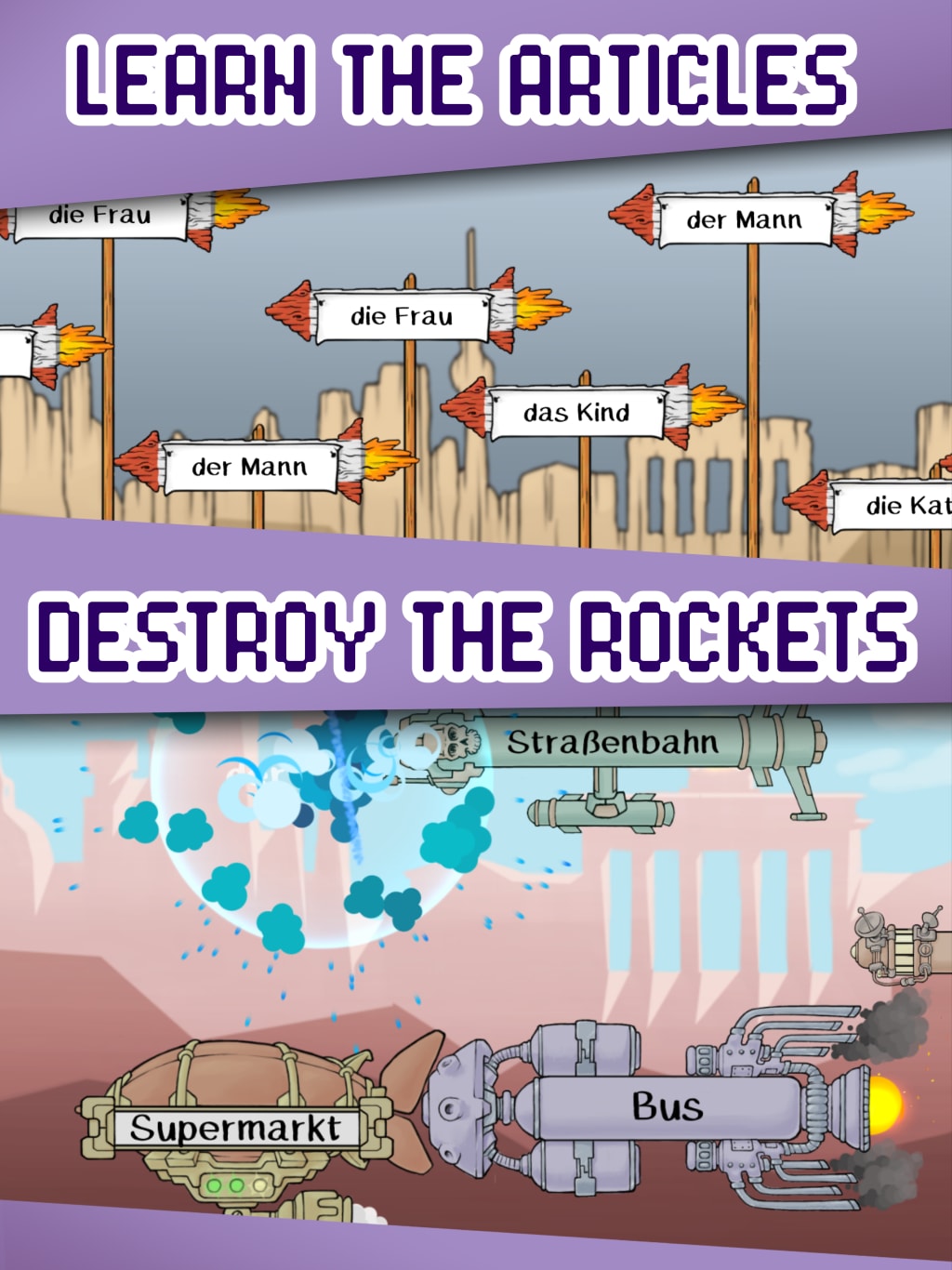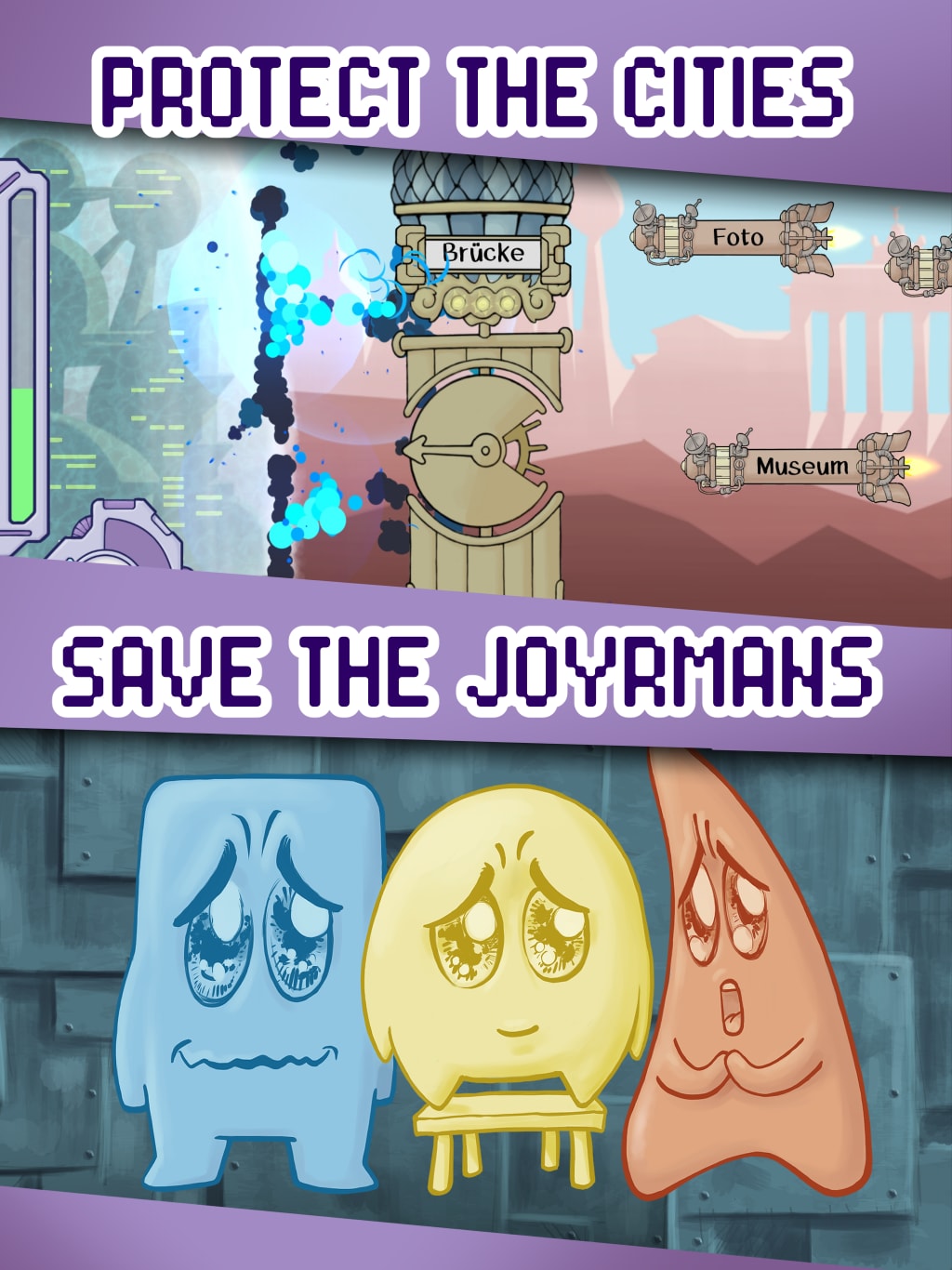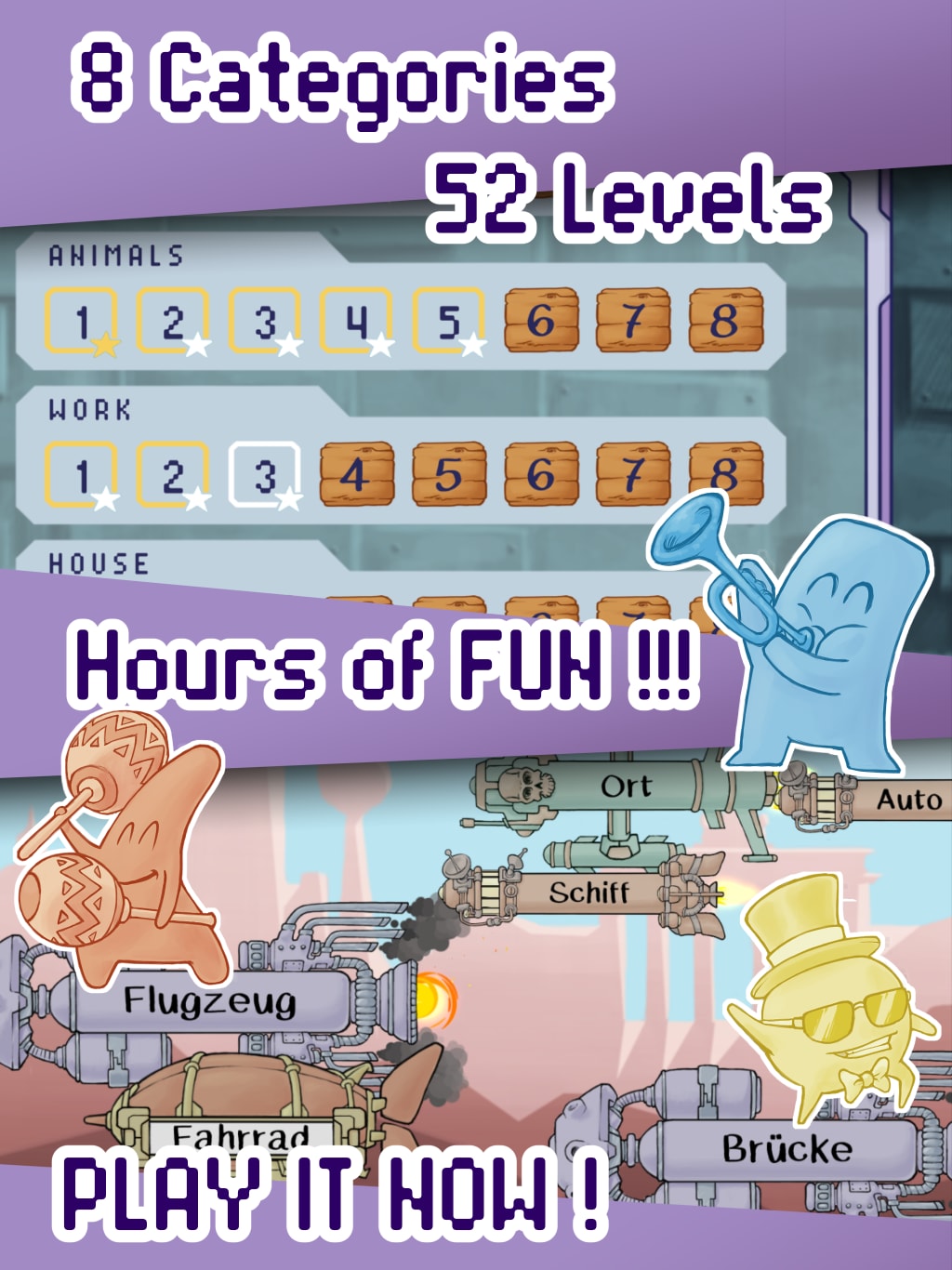 Der Die Das Rockets!
Der Die Das Rockets is a mobile game (for phones and tablets) with which you can learn the gender of German nouns, expressed by their article. Gender is a very crucial feature of the German language and also one of the harderst to learn for students all over the planet. This game allows players to memorize the gender of the most common nouns, while having fun. Gameplay The Joyrmans are unders attack and the player has to protect them, destroying the rockets aiming at their cities. Rockets can be destroyed by swiping on them in three different directions. If the direction corresponds to the right gender, the rocket explodes, otherwise something bad may happen. The game is composed of different difficulty levels, different semantic areas and different kinds of rockets.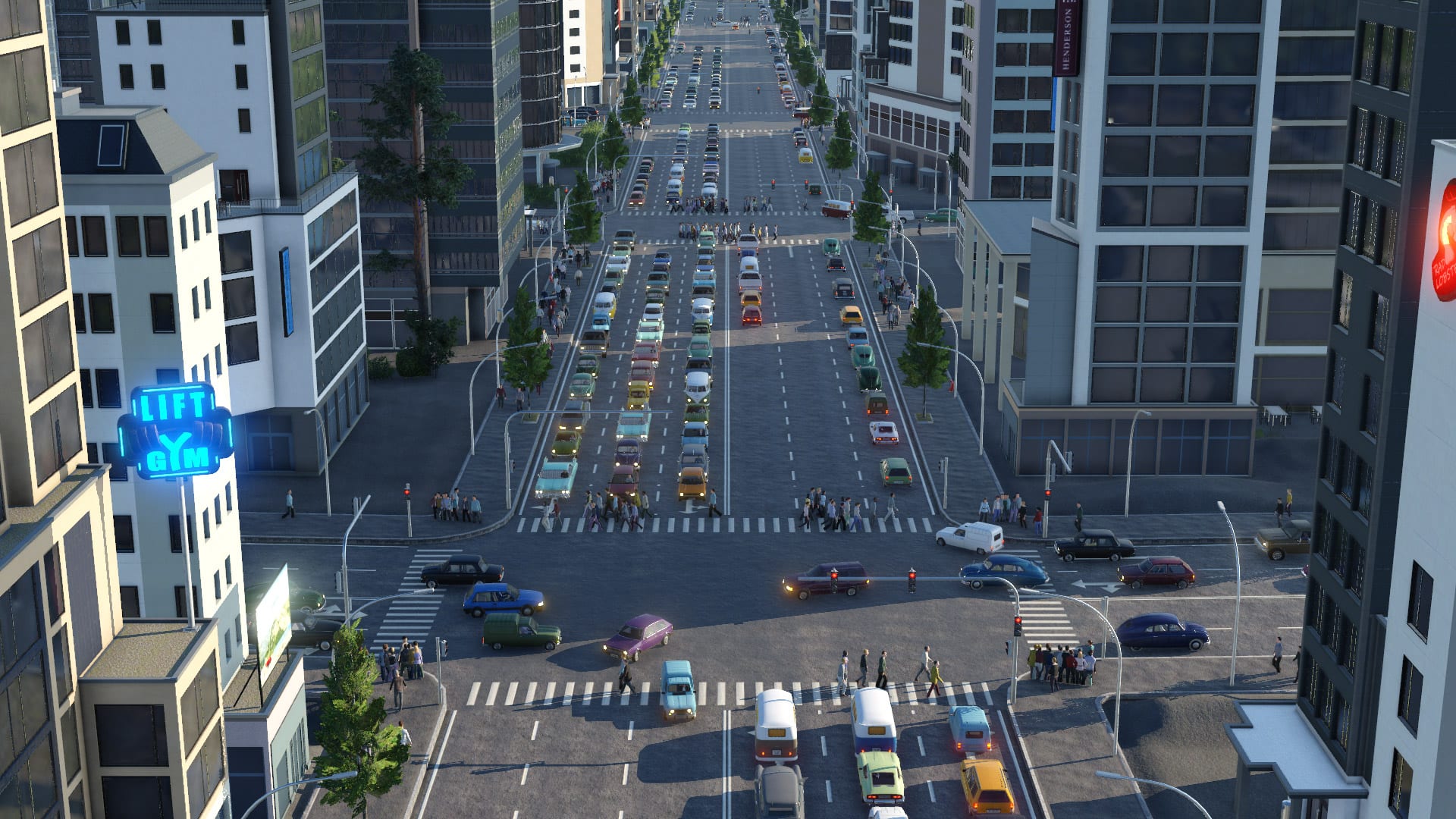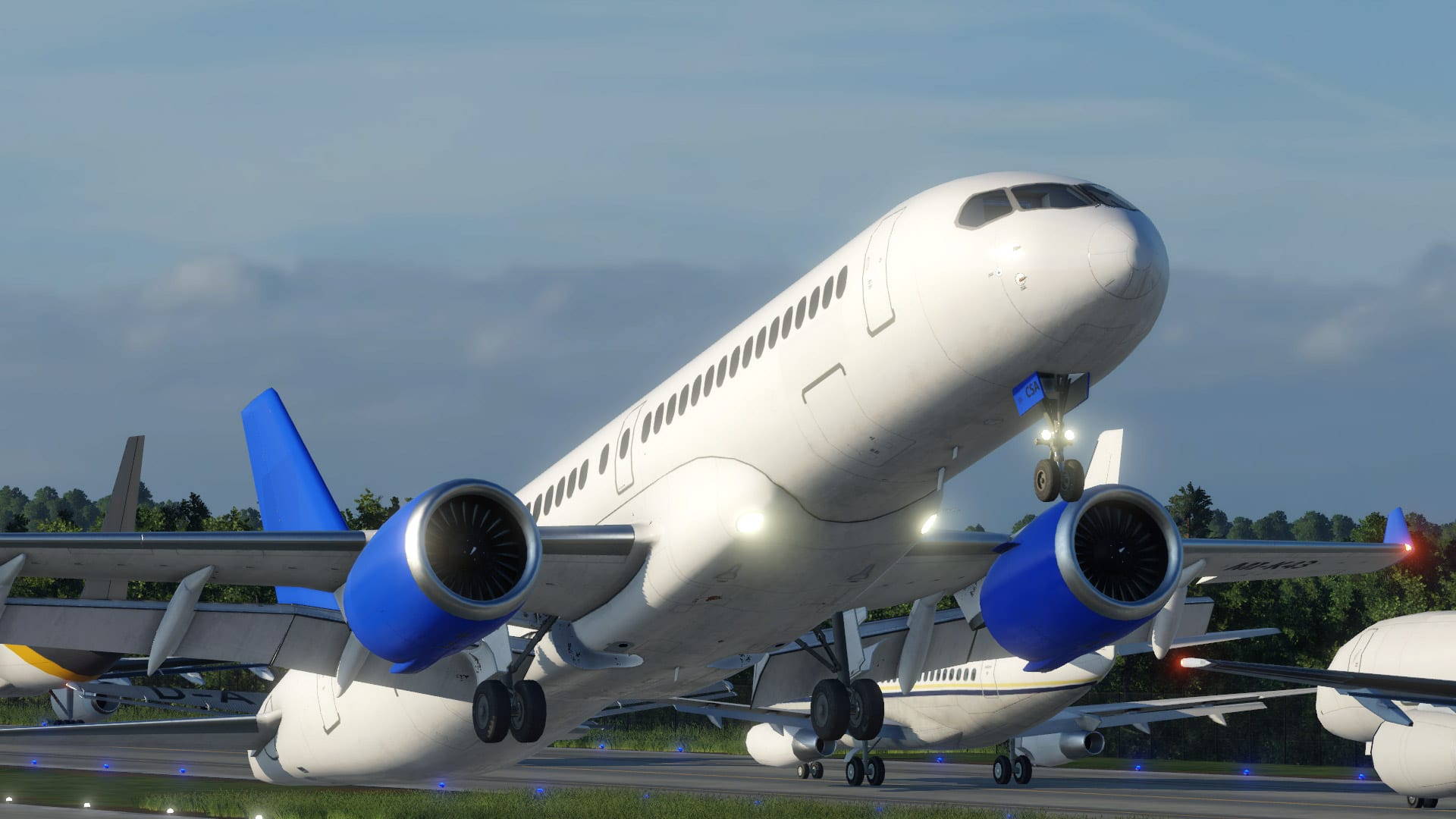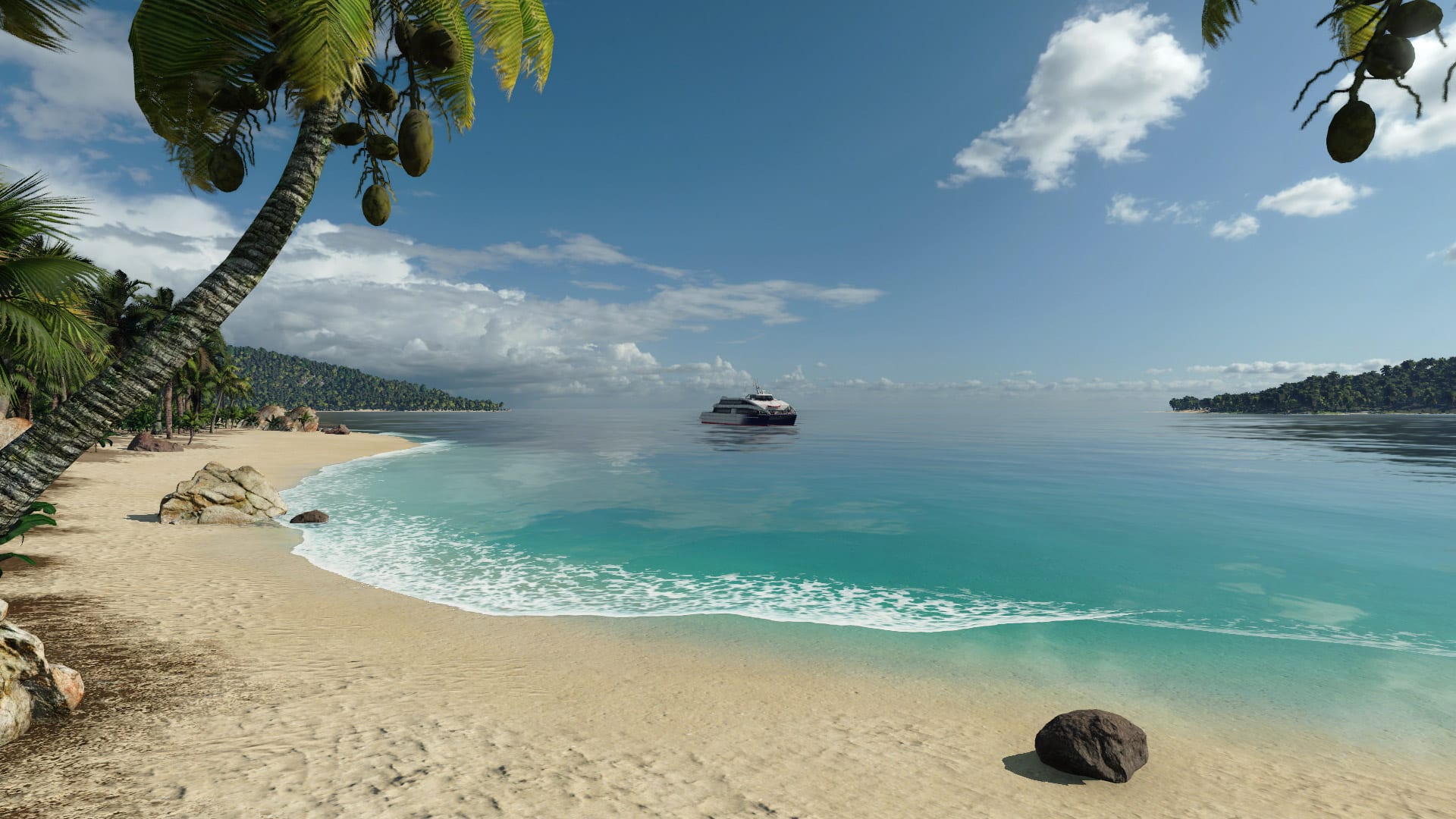 Transport Fever 2
Like the series' previous games, Transport Fever 2 still focuses on the transport evolution of the past fifteen decades. However, the campaign mode rewrites the transport history in comparison to Transport Fever, and takes place across three different continents. The game also features a sandbox mode, a map editor and mod tools.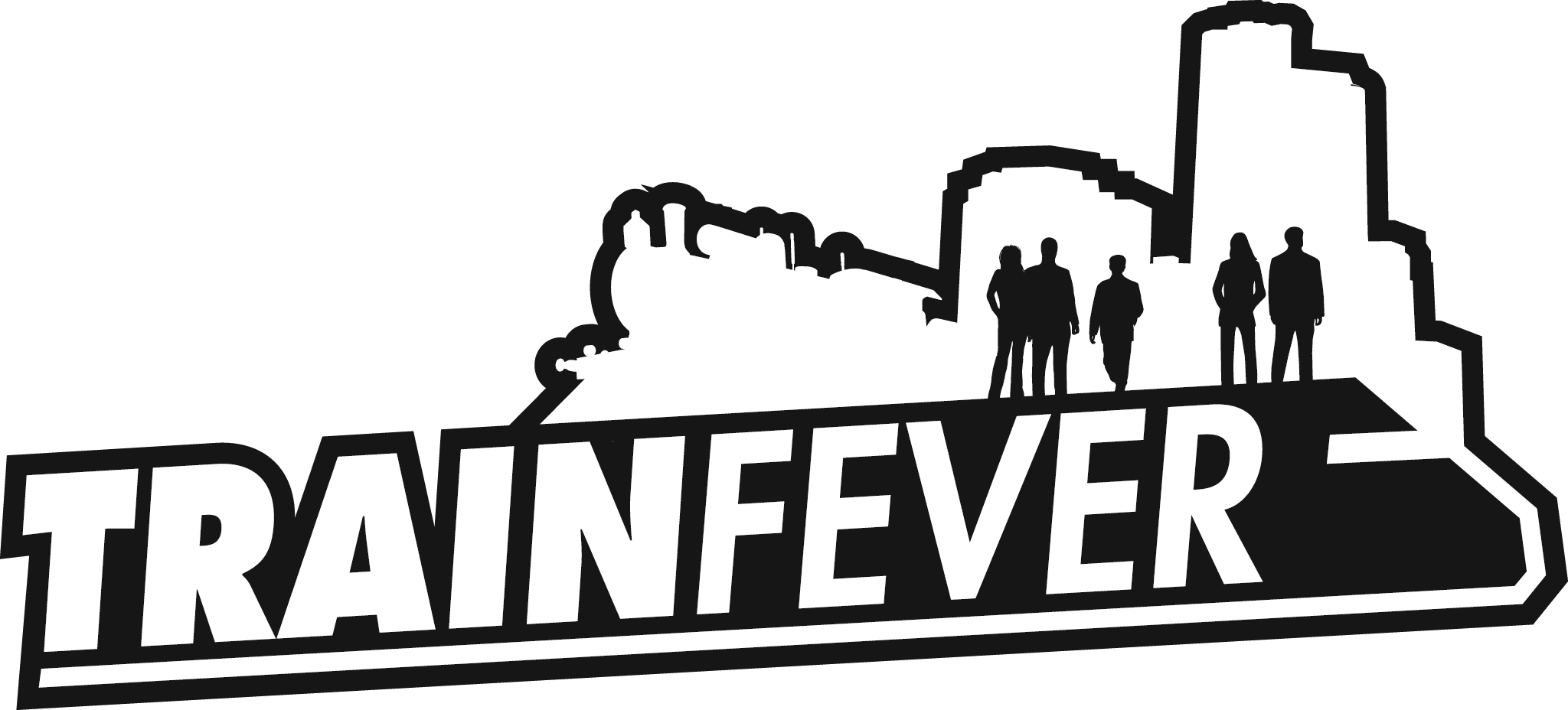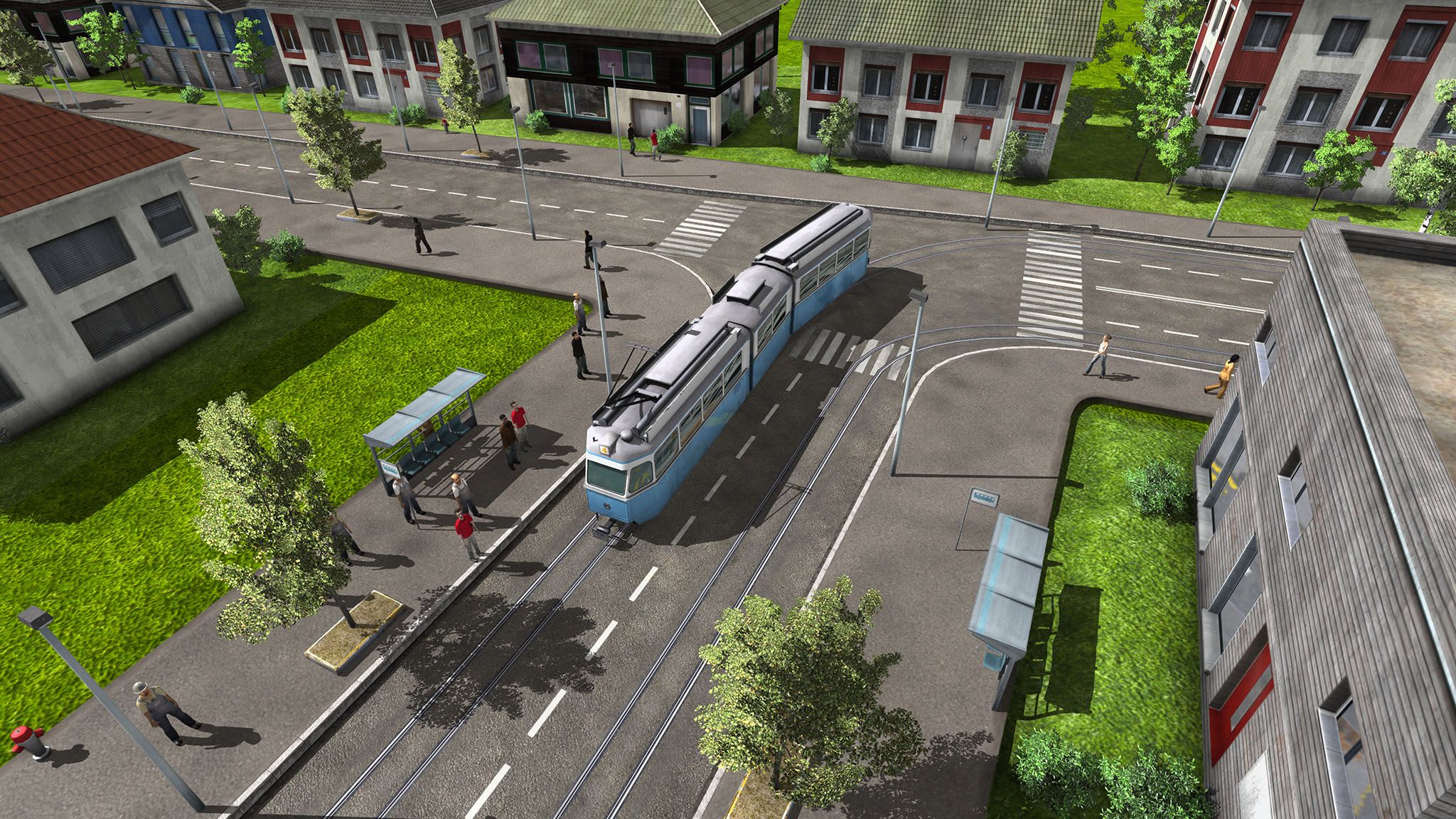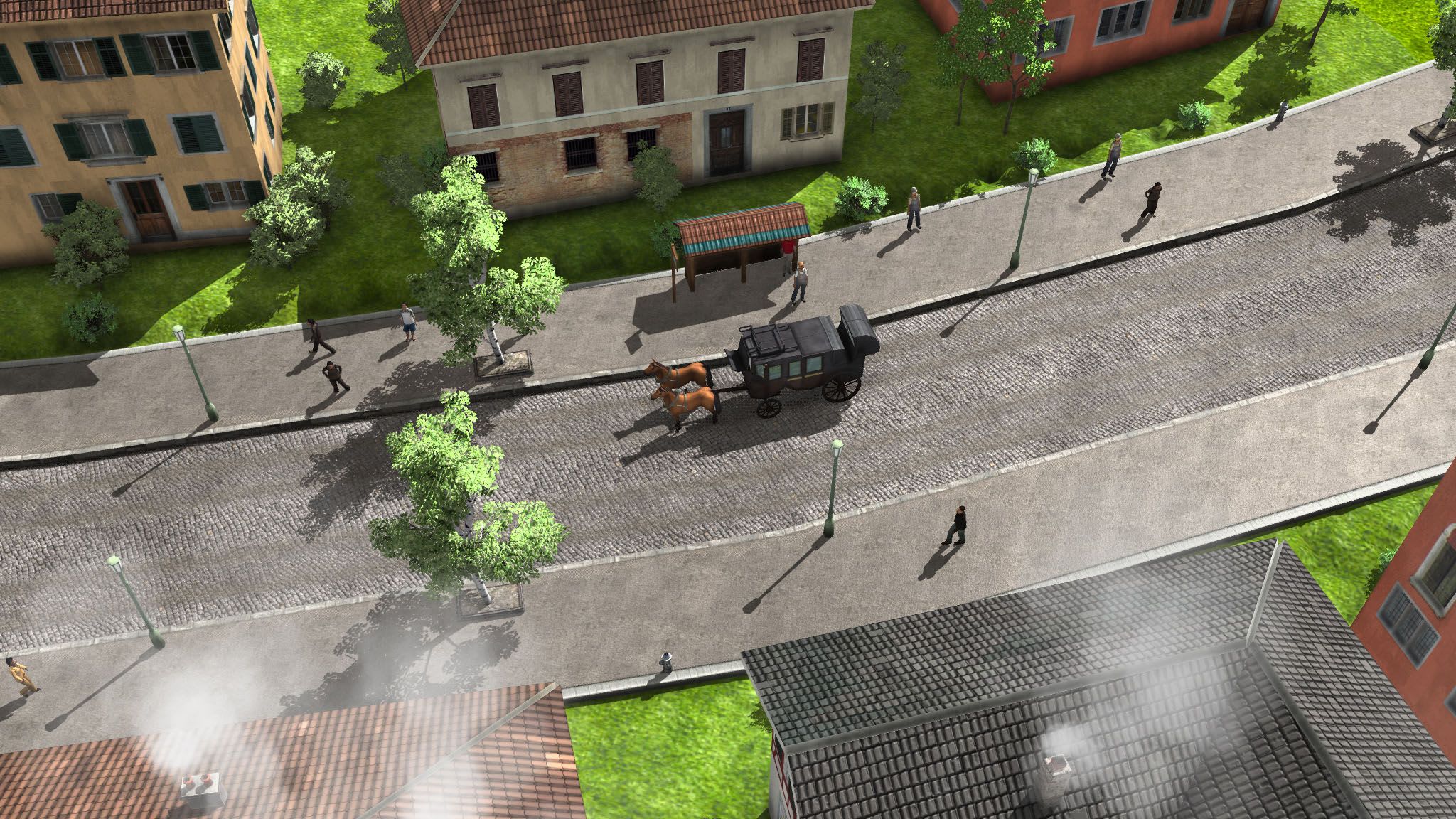 Train Fever
The player is responsible for establishing a functioning public transport network for both passenger and goods. The game begins in 1850 and continues through the present to 2050. Players can start playing in 1850, 1900 and 1950, having to earn the two later entry points first. The player plays on a card of up to 256 km², which offers space for up to 25 cities. He can creat train, tram, bus and truck lines, as well as Carriages in the early days. The game itself has been deliberately designed to be mod-friendly, so that the player community can independently release extensions.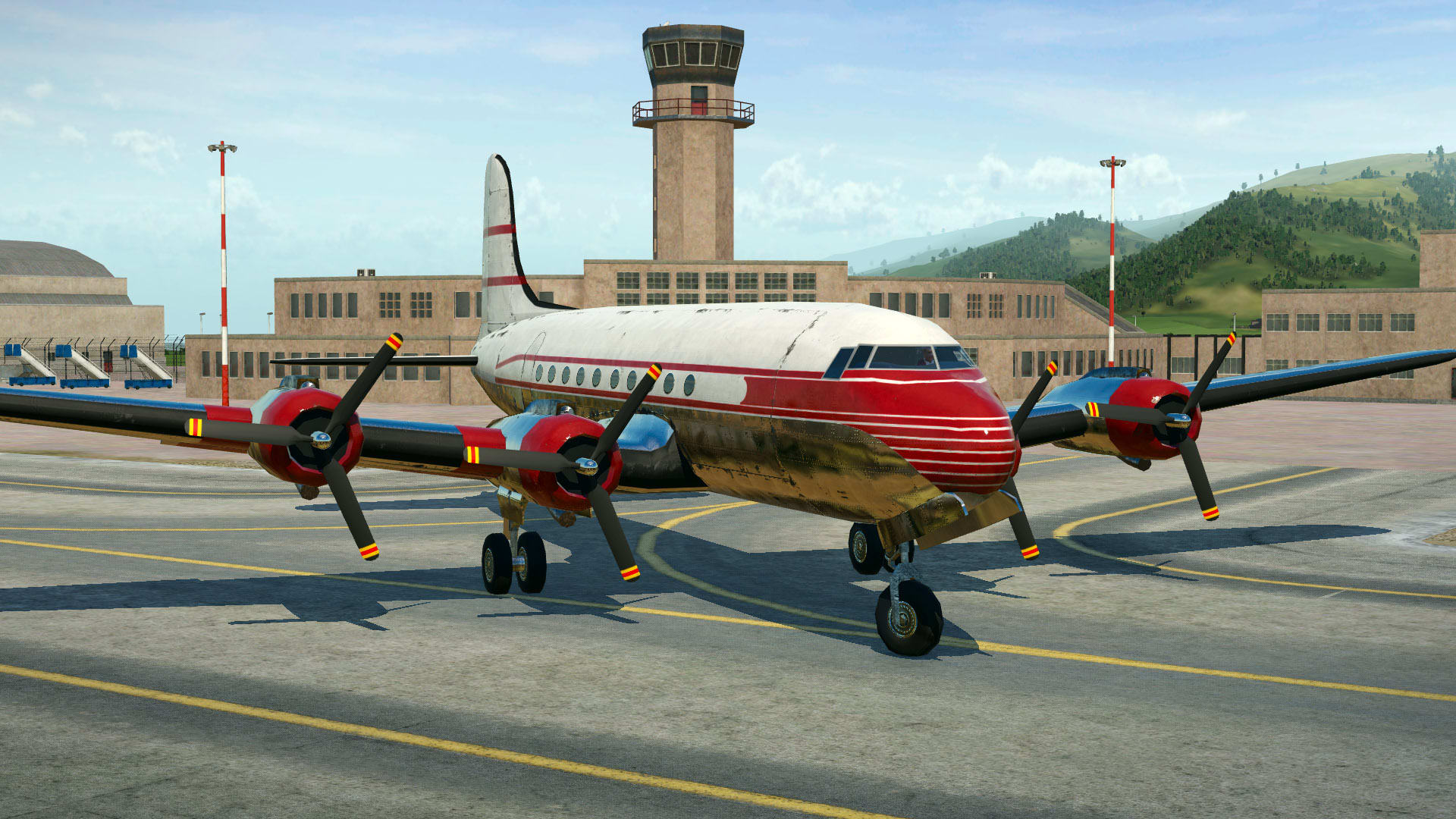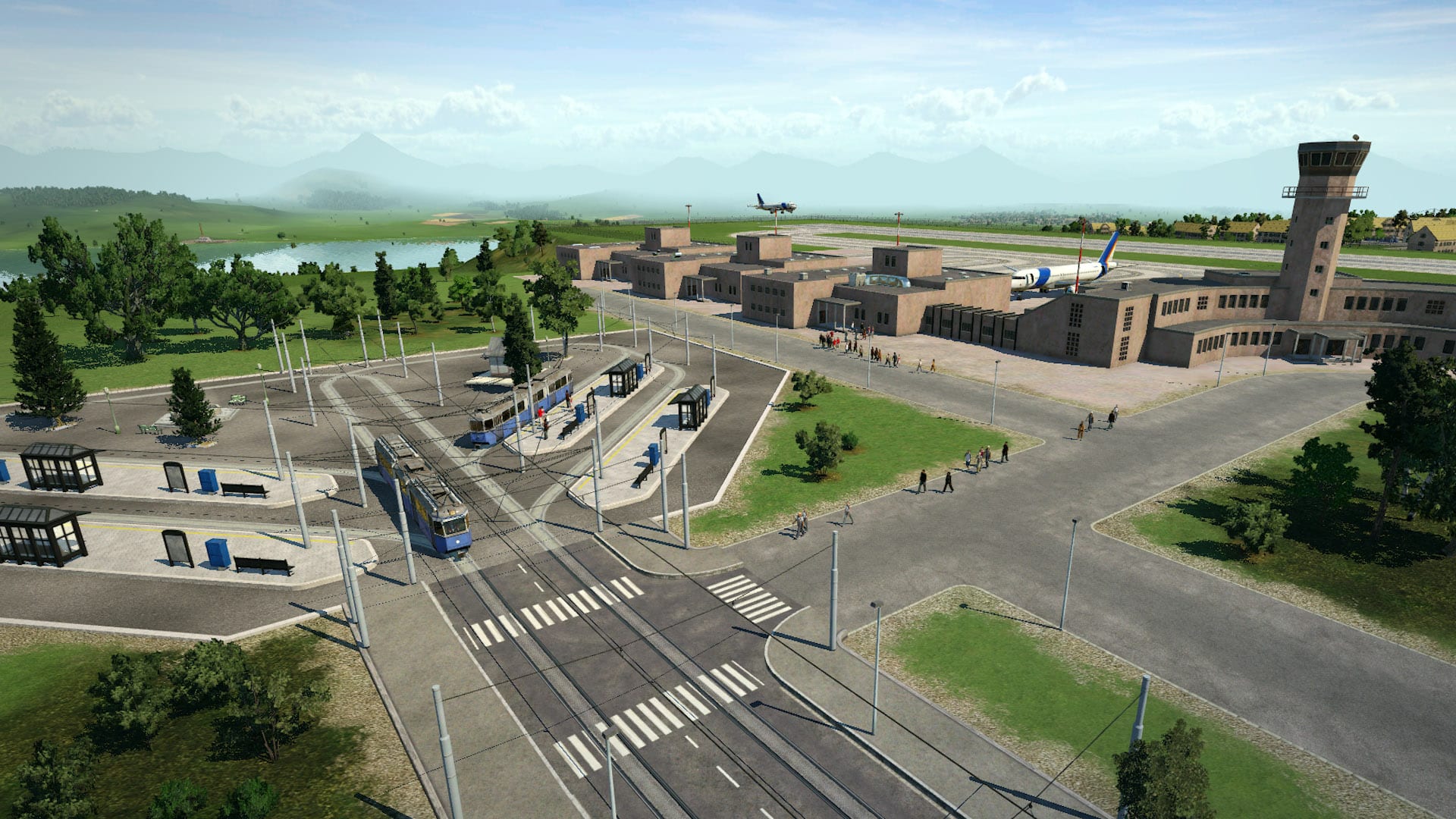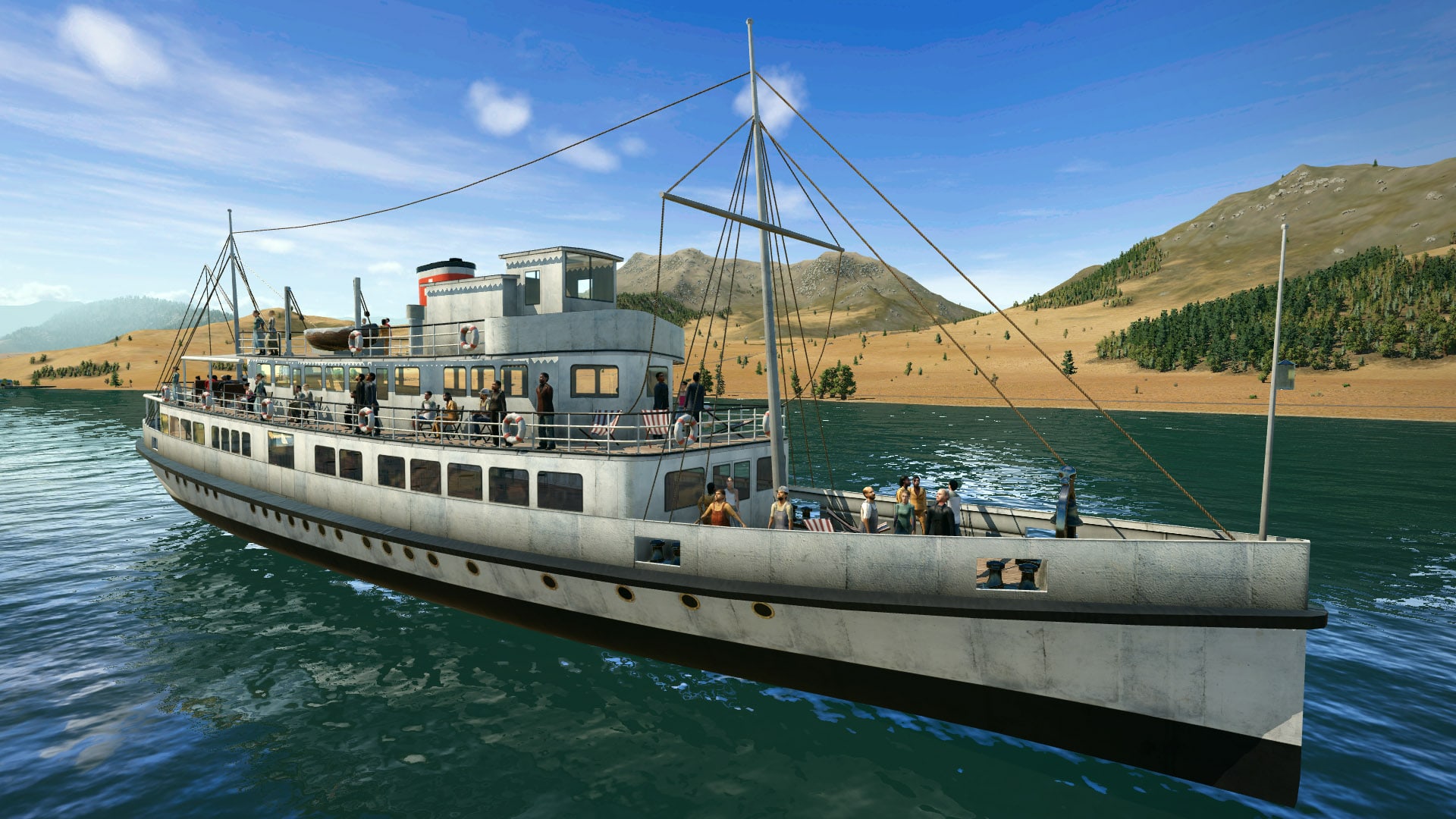 Transport Fever
The player is responsible for establishing a functioning public transport network for both passenger and goods. The game begins in 1850 and continues through the present to 2050. Players can start playing in 1850, 1900 and 1950, having to earn the two later entry points first. The player plays on a card of up to 256 km², which offers space for up to 25 cities. He can creat train, tram, bus and truck lines, as well as Carriages in the early days. The game itself has been deliberately designed to be mod-friendly, so that the player community can independently release extensions.